75 Free Printables for Walls
Need some cool decor ideas for your blank walls? If you are tired of blank boring walls but don't exactly have time to create one or more masterpieces today, why not try printing some of the awesome and easy wall art ideas to add some instant WOW to your bedroom, living room, and kitchen. We found 75 of the best free printable art ideas around for you to instantly decorate with ease. Check out the awesome options and get busy making your home or apartment more incredible than ever. These cheap wall art ideas look anything but cheap. When I was recently in IKEA looking for some art for my bedroom walls, I realized how silly it was to pay them to print things out for me. I did pick up a few cheap frames there, but went home and chose my own free art to put in them. So whether you need cool art ideas for your living room, bedroom, bathroom, hall or dining room, perhaps even all of the above, you are sure to find some free printable art ideas here for those blank walls. There is no longer an excuse for those plain, bare walls, people. Start printing out these cool but completely free printable works of art for instant decor. After you choose a few, if you really think you'd like to make your own work of art, check out our cool and easy canvas painting ideas or our big list of DIY wall art ideas.
1. Free Printables for Art – Gratitude
teepeegirl
If you love having wall art that inspires and makes you happy every morning when you wake up, this awesome free printable idea helps you remember to feel grateful, reminding you that you are blessed. Hang this DIY printable over your bed, in your kitchen or anywhere you want to add this special little reminder. I put one over the crib in the nursery because it is just so cute. Where will you put yours? I made this free printable for the nursey when I needed a DIY baby gift idea for my friend's baby shower and it was quite the hit. She loved it and put this framed art over her son's changing table.
2. Watercolor Flower Printable Art
onsuttonplace
I was recently trying to choose some art for my dining room, and I always seem to want to put flowers there. They remind me of my Mom and our kitchen when I was growing up, I guess. If pretty flowers are your thing, then these lovely printable floral wall art ideas belong in your home, whether it be the living room, bedroom or dining room. With only your home printer and some paper, you can have a whole set for free. I was so happy I printed these out because I get so many compliments, they really bring my entire room statement into focus. If you love flowers and are not quite up for learning how to paint flowers yourself yet, print this art idea with gorgeous free flower printables and enjoy someone else's creativity.
3. Be A Flamingo Free Printable Wall Art
chicfetti
Be a flamingo in a flock of pigeons is such an inspiring quote and inspiring quotes are some of my favorite things to hang on the walls. Whether you are decorating an apartment, house or dorm room, this cool flamingo quote will look great in your room. You will not be disappointed in the outcome of this simple and cheap DIY craft. I love this idea for teen room decor or DIY dorm room decor, but it can be cute anywhere you want to add a fun, motivational quote while adding free printable art to your blank bedroom or living room walls.
Free Printable Art Ideas
4. Oh Happy Day Free Printable Idea
maisondepax
These DIY printables make decorating so easy and fun. I'm a neutral tone lover so I knew this DIY printable was going to look fabulous over my Grandmother's buffet in my neutral-toned dining room. I found some cheap vintage frames at a thrift shop and the gold in them really made my DIY free printable wall art pop. This cool artwork idea is a nice choice when you are looking for printable office or desk decor. Start your day off with this positive quote, it always makes things nicer. That, and lots of coffee.
5. Corkscrew Free Wall Art Printables
kellyelko
I'm in an autumn state of mind. That means out with margaritas (I'll miss you!) and in with the vino (hello, old friend). It's time to snuggle up near a roaring fire, invite friends and family over for an elastic waistband wearing dinner and raise a glass in a toast. Cheers my friends – here are some fun, free DIY wine printables to print, gift, frame … This art make cool printable DIY kitchen decor, and definitely looks nice around the bar area. Once you've saved time on the art for the bar walls, make some wine bottle crafts and cool things with wine corks.
Free Printable Art
6. I Am Loved Free Printable for Walls
evie-s
This DIY printable work of art has all the right elements for the lovers of French Impressionist Painters like Degas, Renoir, and my very personal favorite Claude Monet. It has the subtle tones of the elegant water lilies he painted depicting his beloved garden. Now you take all that and add an inspirational message and you have got a winning combination.
7. Clipboard Wall Art Free Printables
craft-o-maniac.porch
If you want to create a gallery wall, and that is what almost every wall in my house is and you need something new to pull it off. These DIY printables are perfect for this clipboard idea. Some of the printables are song lyric printables, as well as a couple cute sayings. They are all a little bit different, adding a scalloped circle to one, a designer like rectangle to another, and thick stripes to even another. That way they aren't just all black and white! I hope you guys like them. You can print them all out as 8 x 7 and there are a couple that can be printed as both 8 x 7 and 5 x 7. The larger clip boards were found at Staples, and the smaller ones that both come small and large were found at Walmart.
8. Watercolor Hydrangea Free Wall Decor Idea
ellaclaireinspired
I love art, all art! My favorite art in the world are the masterpieces from the French Impressionists, Monet especially. This gorgeous DIY hydrangea printable is so reminiscent of those lovely water lilies and garden watercolors Monet did all those years ago.
DIY Wall Art Printable Idea
9. Free Printable Birch Tree Art Prints With Custom Carved Initials
remodelaholic
My favorite song in the whole world is "Danke Schoen" by Wayne Newton. There's a line in it that sings, "You can see hearts carved on a tree" it just brings tears to my eyes! So when I saw this DIY printable I knew it had to go in my bedroom. These works of art are personal and elegant.
Free Farmhouse Printables
10. Free Floral Bicycle Printables
myinomniaparatus
Free DIY printable art makes for some of the best easy home decor ideas. These floral bicycle prints are pretty and uplifting and will look great in any room! I love putting together inspiring quotes with pretty pictures. Floral bicycle graphics are currently my very favorite designs, so when an online shop had a deal on a cute graphics pack, I was all over it! I've wanted some bicycle prints in my home, and I've finally designed them. These can look great in almost any place in the house. I'm excited to hang some in the office and some in the nursery. Cute with your DIY farmhouse decor or pretty much any look that lends itself to creative, fun art like this, I adore this bicycle wall art you can print at home.
11. Pineapple Wall Art Free Printable
hairsprayandhighheels
Pineapples are so in when it comes to home decor right now, but you don't have to be an artist to enjoy pineapple art on your walls. This pretty free printable wall art idea features a pink pineapple and looks great framed in gold or another contrasting bright color. I still am amazed by the difference one piece of colorful frames art can make to a display on a console table or bookcase.
12. Flock Yeah Printable Wall Art
makeandtell
Don't you just love the colors and the overall design of this flamingo wall art printable? The muted pinks and greens are some of my favorite colors to use in wall art and home decor right now, so I was thrilled when I found this free printable for living room decor. Print it big for a bold statement that looks great over a couch or chair in your reading nook.
13. Geometric Spring Prints
sweetrosestudio
14. It Is Well With My Soul Free Printable
moritzfinedesigns
15. Family Rules Free Printable
tatertotsandjello
16. Free Housewarming Printable
cleanandscentsible
17. Free Printable Initial Wall Decor
freeprettythingsforyou
18. Proverbs 31 Free Original Printables
onsuttonplace
19. Be Thankful Free Printable
lollyjane
20. Be Strong Free Printable
thegirlcreative
21. Floral Initial Free Printable
burlapandblue
22. Free Home Wall Art Printables
meganmoonloves
23. Have Courage And Be Kind Printable Quote
mantraband
24. You & Me Printable Poster
adayfordesign
25. I am a Child of God – Free Printable
398dot2
26. You Are Capable Of Great Things Free Printable
mantraband
27. DIY Wood Sign With Calligraphy Quote Free Printable
angelamariemade
28. Free Feather Printables
ohsolovelyblog
29. Love You to the Moon and Back – Free Printable
kellyelko
30. Woodland Fox Free Printable
burlapandblue
31. Ombre Raindrops Print
blogmilkblog
32. Icy Treats Printable Art
makeandtell
33. Free Kitchen Printables
yellowblissroad
34. Bird Prints Vignette With Free Printable
town-n-country-living
35. Free Printable Travel Quotes
unoriginalmom
36. Free Printable State Art
theshabbycreekcottage
37. Awesome Retro Trees To Print At Home
littlegoldpixel
38. Sunday Shoutouts Free Printable
agirlandagluegun
39. Be Your Own Kind Of Beautiful
eleganceandenchantment
40. Wall Art Collage
smittenonpaper
41. LOVE Free Printable
laurawinslowphotography
42. Bless Our Nest Free Printable
thediymommy
43. You Are Capable Of Amazing Things Free Printable
brepurposed
44. Free Farmhouse Printables For Your Home
themountainviewcottage
45. Anchor Print Free Printable
makinghomebase
46. Free Coffee Printable Art
theshabbycreekcottage
47. The Earth Laughs In Flowers Free Printable
ellaclaireinspired
48. Free Printable – I think I'll Just be Happy Today
shanty-2-chic
49. Shine On You Crazy Diamond Free Printable
brepurposed
50. Kokeshi Dolls Free Printable
lonnies
51. Free Ready To Print Gallery Wall
emilyaclark
52. She Believed She Could So She Did Free Printable
honeyandfitz
53. Printable Gratitude Quotes
thirtyhandmadedays
54. The Mountains Are Calling And I Must Go Free Printable
thekiwiintheclouds
55. Free Art Printable Rock On With Your Bad Self
littlegoldpixel
56. Free Printable Vintage Plane Art
simplymadebyrebecca
57. Hullo Buffalo Art Print
heyletsmakestuff
58. Dream Big Free Printable
inspirationmadesimple
59. Free "I Love You Dearly" Printable
pitterandglink
60. Beach Please Wall Art
chicfetti
61. Spring Floral Watercolors
migonishome
62. Bon Jour Free Printable
lostbumblebee
63. Free Bicycle Printable
irocksowhat
64. Big Happy Dreams Free Printable
inkstruck
65. Let New Adventures Begin Free Printable
cityfarmhouse
66. You Bring Color To My Life Free Printable
theswelldesigner
67. Free Forest Animal Clip Art Graphics
welivedhappilyeverafter
68. Free Mermaid Wall Art Printables
thislilpiglet
69. Free Office Printable Wall Art
lostbumblebee
70. Abstract Watercolor Free Printable
holidayprintablesblog
71. Free Pineapple Watercolor Printable
thegraphicsfairy
72. Free Tune My Heart Printables
ishouldbemoppingthefloor
73. Roll Me In Fairy Dust & Call Me A Unicorn Free Printable
pinkimono
74. CS Lewis Free Printable
theprettybee
75. Free Kitchen Wall Art Printable
the36thavenue
Don't Miss Out! Sign up for the Latest Updates
Sours: https://diyjoy.com/best-free-printables-walls/
Hi, and welcome to the Little Gold Pixel free printables library!
I'm Vanessa, and I love to design freebies for you.
I also love to collect free resources from all my other friends on the Internet, and sometimes I share printable roundups to help you fill your gallery walls with free, quality art.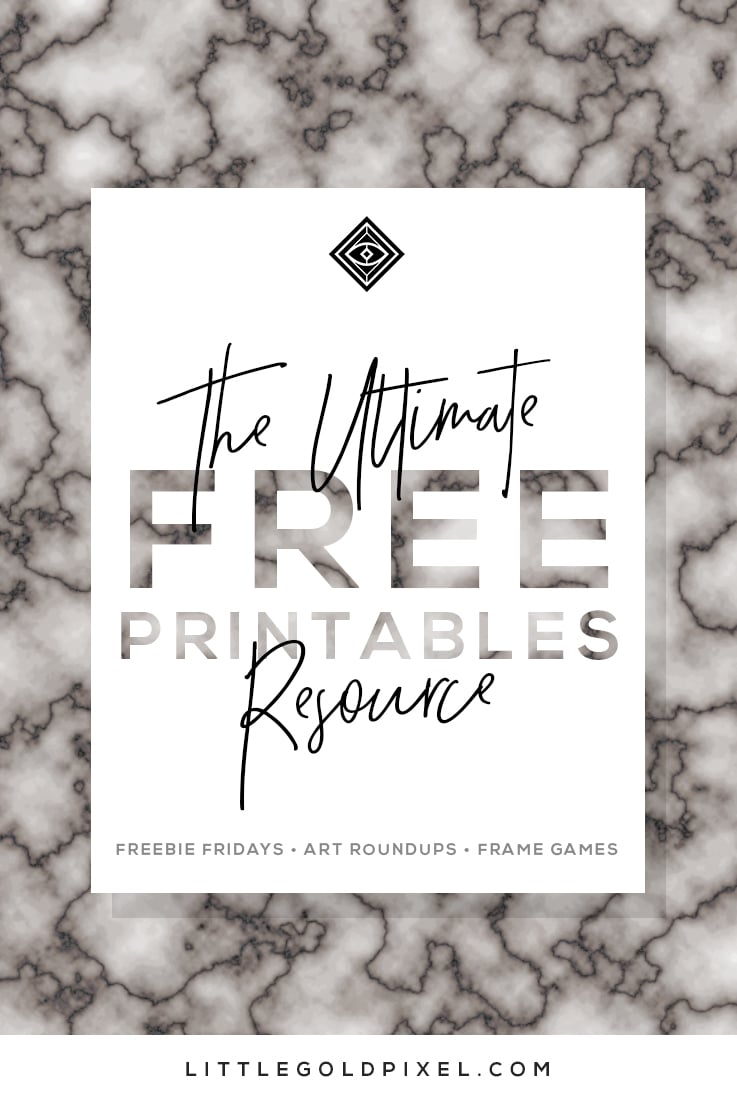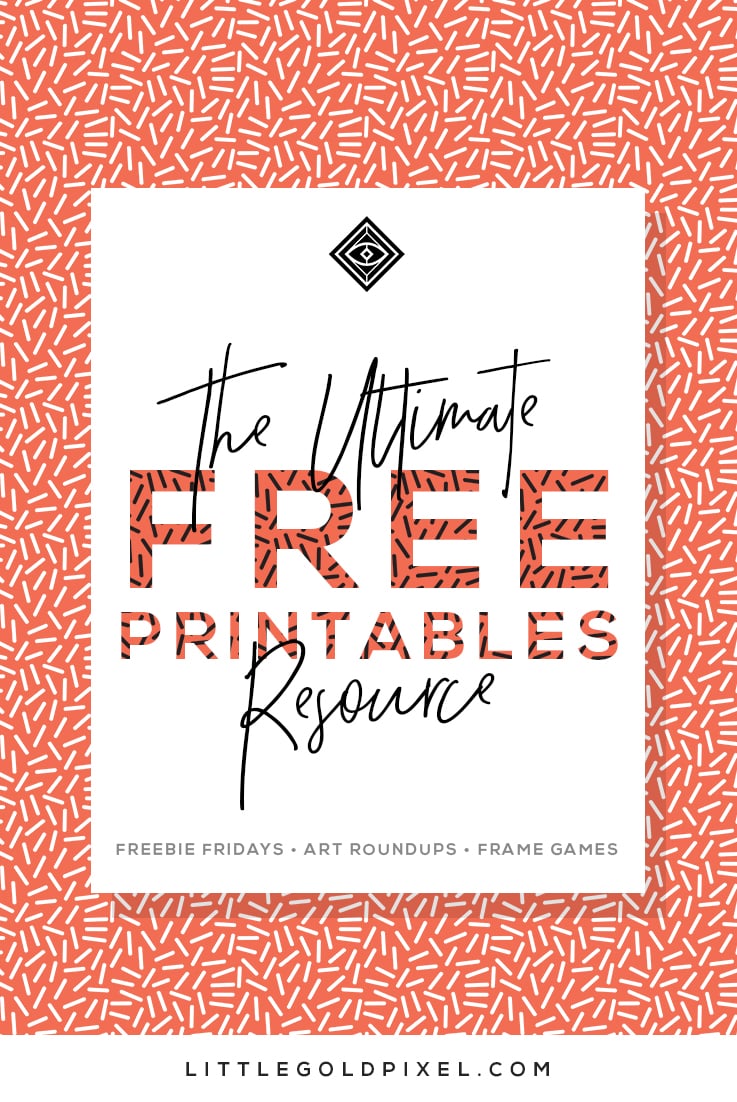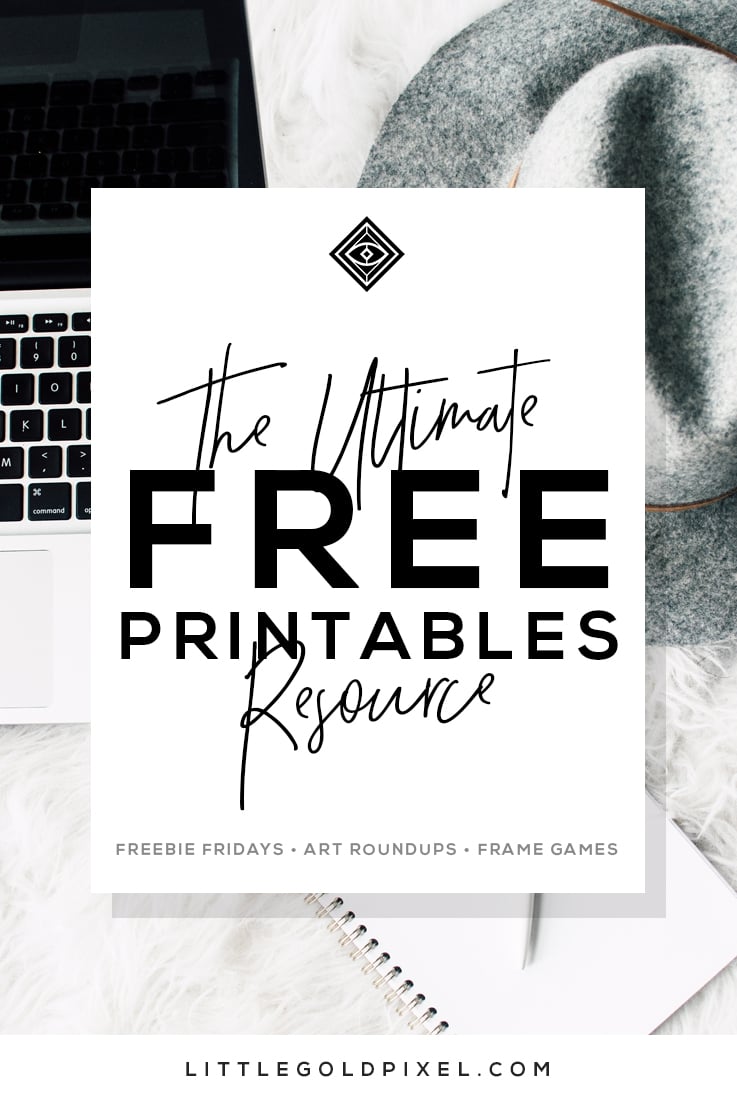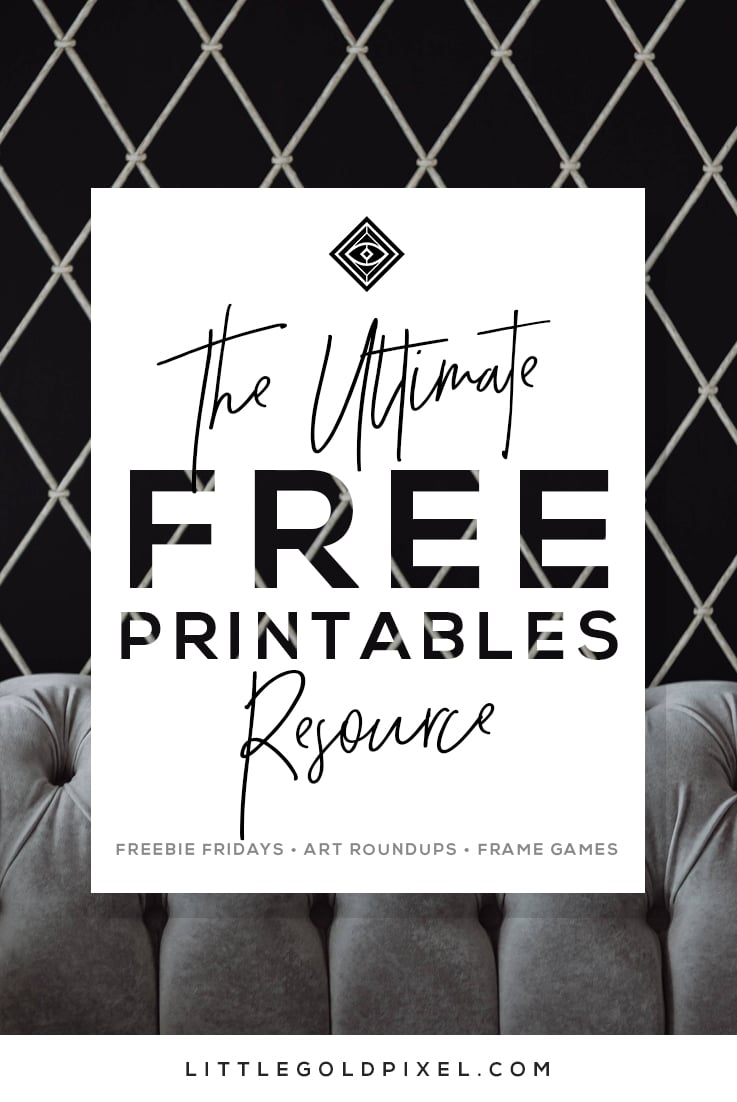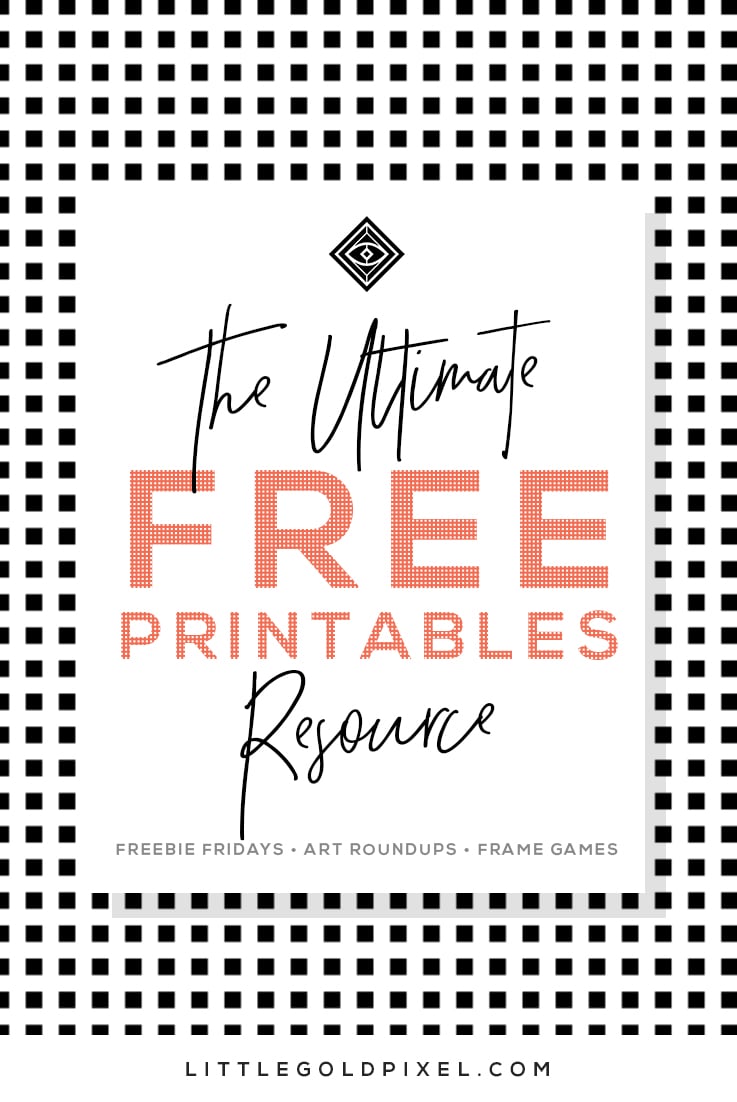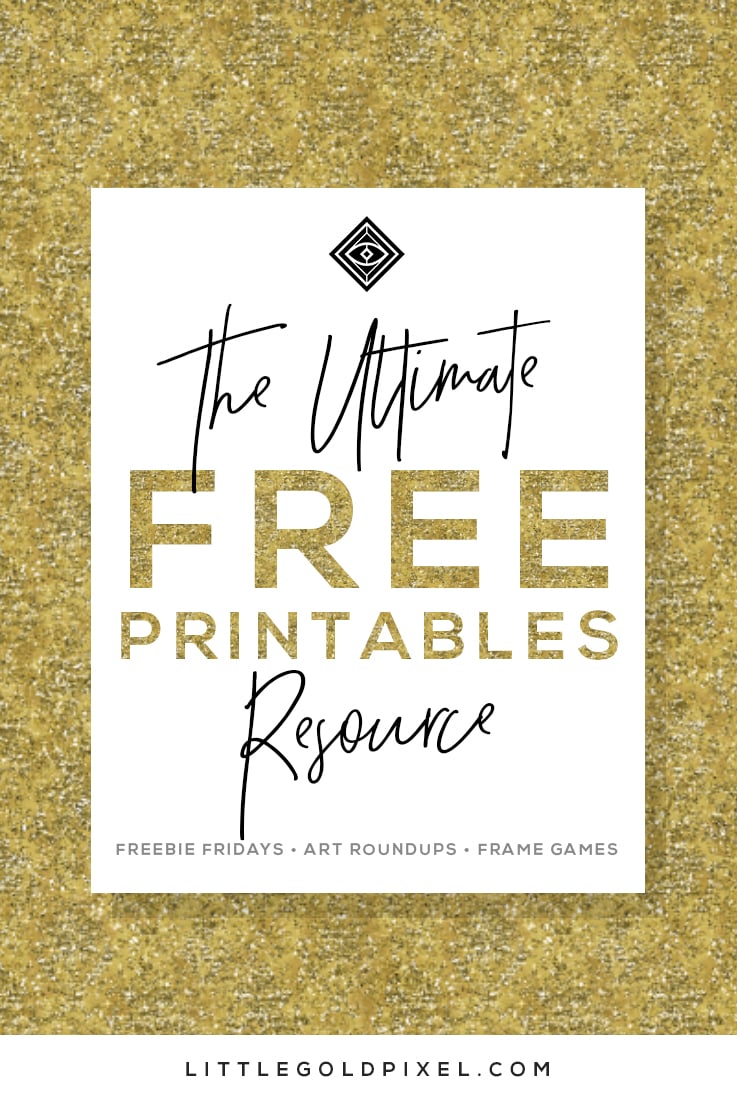 I joke that I'm the Gallery Wall Whisperer, but in actuality I'm just passionate about helping you find your hidden creativity through design and decor.
Do you have a blank wall that needs some help? Here's a good place to start.
Make sure to sign up for my newsletter to receive exclusive freebies that are not available on the blog.
Oh! And stay up to date with my weekly Freebie Friday posts by subscribing via RSS feed or via email.
RULES: Remember to play nice. Free printables are for personal use only. Not for use in commercial projects. Feel free to share, making sure to credit/link back to this post. If you hang one of my designs on your wall, tag @littlegoldpixel on Instagram or use the hashtag #littlegoldpixel so I can see and share it in my stories!
Free Printables Library
All
Freebie Fridays
Frame Game
Film & Frame
Sours: https://littlegoldpixel.com/free-printables/
11 Places to Find Free, Printable Wall Art
Show your home and your wallet some love with these sources to find free art online. It's as easy as finding a photograph, print, poster, drawing, map, quote, or watercolor you love and then following a few simple steps to get that art on the wall.
These free art downloads can be used in your living areas, offices, nurseries, kitchens, kids' rooms, bathrooms, and any other room in your home to add some color and interest. They look just as good as prints you would buy, but these are free and you can have them up within the hour.
When you've found some of the free art online that you'd like to print, make sure you download the highest resolution that's available. This will get you the clearest picture and quality that you may be able to blow up if you'd like. Printing on a good quality cardstock will give you the best look.
You can add free art printables directly to the wall with thumbtacks or tape and they'll also look great in a frame. It's easy to find good quality frames at garage sales, thrift stores, or discount stores if you're looking to save even more.
Don't be limited to hanging this free art on the wall, you can print them on normal computer paper and use them as wrapping paper or as homemade cards.
Sours: https://www.thesprucecrafts.com/where-to-find-free-art-online-to-print-4141247
How To Create Printable Art To Sell On Etsy For Beginners - Create Art Prints In Canva
.
Printable art 4x6
.
How to create STUNNING frame mockups - Etsy Printable Wall Art Tutorial
.
Now discussing:
.
68
69
70
71
72