This post may contain affiliate links. This means if you click a link and purchase an item that I recommend, I will receive an affiliate commission at no extra cost to you. All opinions are my own.
Finding fonts to use in Cricut Design Space to create the perfect craft project can be somewhat difficult. Yes Cricut Design Space has some fonts that are free (although some of the fonts aren't the prettiest), there are paid fonts as well which will cost you less than $10.
The font you use for your Cricut projects can make or break the overall look of your project. There are some fonts that are very popular now such as the Rae Dunn font (or similar font), cursive/script fonts, and fonts that have glyphs (those curly lines at the end of fonts).
There is also a lot of conversation about how to find Cricut fonts that look good together or how to find masculine fonts. Honestly, it just takes time to go through fonts and find some that you like and want to use. I will say that I use Adobe Illustrator when I'm creating my designs and svg files and I'm able to favorite the fonts that I like best so that I can easily find them for future designs. 
In today's blog post, I will walk you through some of my favorite fonts from Dafont.com. While I only include 10 in the post and in the free PDF that's in my Free Resource Library, there are other fonts I use on a regular basis.
Quick Links to Sections in this Post
Where to find the best free fonts for your Cricut machine
You can find fonts for your Cricut in a variety of places including Etsy, Creative Market, Dafont.com, Adobe fonts (if you subscribe to Adobe products like I do), and so many more places. When it comes to finding free fonts online you have to be careful that you're not infringing on the rights of others. What that means is that you can't just find a font online and start using it on the projects you make and sell. A lot of free fonts that you find online will require personal use only and you can purchase a license in order to use the font in projects that you sell. 
People who are creating free fonts that you can use with your Cricut machine put a lot of hard working into designing their fonts, so be sure to give them the credit they deserve and following their instructions when using their fonts. 
How to find fonts that go together
Designs that draw you in typically have at most 3 fonts and colors and graphics/icons that draw you in; the design speaks for itself. When you're creating with your Cricut machine and want to use a variation of fonts, try pairing cursive fonts with basic or regular fonts. If you use multiple cursive fonts in one design, your design can start to look very busy. If you use only basic or regular fonts together, your design can look plain unless you play with colors and uppercase and lowercase letters. When I'm designing my svg files,  I typically put words that I want to stand out in cursive font or regular bold font. At the end of the day, after you've created lots of designs, you will develop an eye for how to find fonts that go together.  
Why you need a Cheat sheet
Once you've spent some time finding fonts that you like and want to use on a regular basis, it's best to keep up with those fonts in some form. There are two primary ways you can do that which include putting the fonts you use in an Excel spreadsheet or putting them in a Word document and creating a "font binder" or a "font cheat sheet". A font cheat sheet allows you to quickly find what font you want to use for all the different Cricut projects you make.If you have alternative ways to keep up with your fonts, please comment below and share them with me. 
My favorite fonts from Dafont
Adreena
The first font that I use a lot from Dafont is Adreena Script Demo Regular. I like Adreena because it's cursive and it pairs with a lot of other fonts.
Amarillo

My second favorite font that I use is Amarillo. This is a bolder font and very distinguishable. It also pairs very well with other fonts.
Amelya
Amelya is another cursive font that pairs well with other fonts. Amelya is somewhat of a bolder font and mimics real handwriting.
Angellina

Angelina is near and dear to me because it not only is cursive, but also has loops on the capital letters. 
Anisha

Anisha is bold, cursive and doesn't have all the special loops.
Annamellia
This font is bold, cursive and looks very similar to actual handwriting.
Charlinda

I love love love this font and one of the reasons why is because of the tails or glyphs as they are called. In a way this font reminds me of Angellina.
DK Lemon
This font is most similar to the famous Rae Dunn font on all of her signature kitchen accessories. This font is easy to read and very clean and sleek.
I Love Glitter
I Love Glitter takes my heart because it also has the tails or glyphs. There are multiple tails or glyphs that come with this font; some are open hearts with the outline, some are closed hearts like in the image. There are also tails/glyphs that are regular and somewhat similar to Charlinda.
Waltograph
Many many people love the Waltograph font because it looks very similar to the Disney font. People who are Disney fans and have Cricut machines go crazy with using this font to make Disney accessories for their family and friends.
If you haven't noticed, most of my favorite fonts are cursive, which I just adore. I have put all of these fonts in an easy PDF with links that take you right to these fonts. If you want to get your font cheat sheet started, be sure to download the free PDF from my Free Resource Library. Crafting with your Cricut machine just got elevated by using free and easy fonts. 
Note: Please read the "READ ME" file that comes with the fonts that you download from Dafont.com. Majority of the fonts you get from that site are for personal use only. If you want to use those designs in what you create to sell, you will need to reach out to the creator of the font to get permission to use the font or to purchase a license to use the font in projects you sell. 
'For I am not ashamed of the gospel, because it is the power of God that brings salvation to everyone who believes: first to the Jew, then to the Gentile.' Romans 1:16
Comment below and let me know what your favorite fonts are and where you get them.
Sours: https://insideoutlined.com/2020/06/cricut-fonts/
Where can you find the best free fontsfor Cricut? From script fonts, cursive fonts, fonts for monograms, the options are endless! If you're looking for the best fonts for your Cricut Maker, Cricut Explore Air 2 or the best free fonts to download from sites like dafont, I've got you covered.
Fonts can be finicky when it comes to using them on your Cricut. Some fonts could be too intricate and when you go to cut it, it completely tears apart. With so many different font choices, how do you know which one is best to use?
I've included my favourite fonts below along with some very popular fonts that you might have seen on your favourite Cricut projects in design space or on social media. These are perfect for the budget-strapped crafter!
First things first.
What is the difference between Cricut fonts and System fonts?
If you've browsed in Cricut Design Space, you may have noticed there are three tabs under fonts. "All", "System" and "Cricut".
All: Shows you all of the fonts you have between "System" and "Cricut".
System: Fonts you have installed on your computer, tablet, or phone.
Cricut: Fonts you can use with a Cricut Access subscription.
Do I need Cricut Access?
It depends.
If you are new to Cricut, Cricut access gives you access to a whole database of projects and resources. Note that when you stop paying for Cricut Access, you lose access to any projects you made using Cricut access resources.
If you already have a growing list of resource files on your computer (SVGs, fonts, etc), I would skip Cricut Access.
Do you want free SVG files to get you started? Join our Facebook community where I post my free SVG files and resources! You'll find resources like a list of all the best places to buy vinyl.
This post contains some affiliate links for your convenience (which means if you make a purchase after clicking a link I will earn a small commission but it won't cost you a penny more)! Read my full disclosure policy.
CRICUT FONTS CHEAT SHEETS
Head over to the free resource library (Get the password by filling out the form on the sidebar or below) to get the Cricut Fonts Cheat Sheets.
This cheat sheet has a list of all of my favourite fonts listed here and can be used as a quick reference guide for your next project.
BEST FREE SCRIPT FONTS FOR CRICUT
There are SO many different fonts to pick from. I've put together a collection of my personal favourite script fonts that are available on Dafont.com for you to download.
Note that most of these fonts (if not all) are free for personal use only. If are using these fonts for any product you plan on selling, remember you will need to purchase a commercial license. I've included links to the commercial licenses for your convenience.
PHOTOSHOOT
Dafont download (free for personal use)
Commercial license
HELLO VALENTICA
Dafont download (free for personal use)
Commercial license
SALTY OCEAN
This font is great for many small-scale projects because of it's bold nature. That means that you'll have less "super thin" parts that easily tear when you go to weed your designs. Check out my Glitter ornaments tutorial to see this font in action.
Dafont download (free for personal use)
Commercial license
MANGO SALSA
Dafont download (free for personal use)
Commercial license
SHORELINES
Dafont download (free for personal use)
Commercial license
I LOVE GLITTER
Wow is this ever a popular font. So many people love it because you can add little hearts that connect words to this script font so you have one full piece. It's great for projects that have many names you want to interconnect like on this super popular Mom Tile project.
Dafont download (free for personal use)
Commercial license
BROMELLO
Dafont download (free for personal use)
Commercial license
MANGOSTEEN
Dafont download (free for personal use)
Commercial license
RAUSTILA
Dafont download (free for personal use)
Commercial license
AMERTHA
Dafont download (free for personal use)
Commercial license
FLASHBACK
Dafont download (free for personal use)
Commercial license
BIG SNOW
Dafont download (free for personal AND commercial use)
ANGELINA
Dafont download (free for personal use)
Commercial license
SUGAR & SPICE
Dafont download (free for personal use)
Commercial license
ELOWEN
Dafont download (free for demo purposes)
Commercial license (personal and commercial use – looks free with certain uses)
NAISHILA DANCING SCRIPT
Dafont download (free for personal use)
Commercial license
DEAR JANE
Dafont download (free for personal use)
Commercial license
SOPHIA
Dafont download (free for personal use)
Commercial license
FATHER FARMHOUSE SCRIPT
Dafont download (free for personal use)
Commercial license
ANANTHA SIGNATURE
Dafont download (free for personal use)
Commercial license
Did you like this list? You can download a cheat sheet over in the free resource library so you can keep it handy near your Cricut and easily reference at your pleasure! If you haven't signed up yet, you can grab it by signing up below.
Sours: https://pocketwonders.ca/best-free-script-fonts-for-cricut/
Free Cursive Font Generator with Swash (Swoosh) Calligraphy
Use this free cursive font generator to create personalized, decorative, modern lettering with a swash (swoosh) calligraphy (typography) tail at the end. Great for baseball jerseys, wall art, and other DIY projects. For more ideas see personalized designs, monograms, and banner maker.
Step #1: Enter Characters.
(Guide)
Step #2: Select Tail (Swash) and Length.
Step #5: Save Printable Cursive Font Image.
If saving in PNG, JPG, or PDF format, you may specify the desired width and height of the new image. SVG images can be scaled to any size after downloading. See the Guide & Tips for more details.
$ Donate / Purchase / Terms of Use
To learn various ways to print images see resize and print images. To create a multiple page poster from an image see block poster.
NOTE: If you experience any problems with this cursive font maker / generator, please send a brief message to: [email protected]. Please indicate what is not working! Thank you.
Step #6: Find more Ideas.
Try the Stencil Maker to create personalize word art or to create your own alphabet, letter, and number stencils. Use the Monogram Maker to create personalized monograms.
Find more patterns, printable letters, and designs.
We will be adding more frames in the upcoming weeks. Current frames include: baseball, blank, dancer ballet ballerina, decorative, dinosaur, heart, music note, tennis, and unicorn. Let us know if there is a design you would like.
Use this free online cursive font maker to create your own personalized, printable images that look like handwriting. After entering your characters, the generator allows you to select a calligraphy tail (swash), a tail length, background image, along with specifying the color of the text and background. Great for baseball t shirts, sports uniforms, wall art, and other DIY crafts. Great for cutting machines (Cricut and Silhouette), for stencils, for painting and coloring, for sewing and quilting, for wood working projects and patterns, and other DIY arts and crafts. Your create image can be printed or downloaded in PNG, JPG, PDF, or SVG (Scalable Vector Graphics) format.
Pin for later!
Sours: https://suncatcherstudio.com/cursive-font/
Working with Text and Fonts in Cricut Design Space - Beginner's Guide
The Blog
Disney Cricut | Free Disney Fonts | Free Travel Fonts | Best Cricut Accessories | Star Wars Cricut
Download 50+ FREE Cricut Fonts
As experts in Disney Cricut Projects, we love these…
OVER 50 OF THE BEST FREE FONTS FOR CRICUT
FREE FOR PERSONAL USE
Every included free Cricut font was discovered around the web. Each has a license for personal use only.
DOWNLOAD NOW
---
About the Fonts
Picture the Magic did not create these fonts but assembled them for you from free font distribution sites online. Each has their own license agreement. Each free Cricut font is available for free personal use only as of the date of this writing. The fonts presented on this website are their authors' property, and are either freeware, shareware, demo versions or public domain.
---
Free Cricut Fonts
There are so many incredible fonts available on the internet FOR FREE!  Thousands of them are perfect for using with your Cricut. But many are not.
What makes some fonts more Cricut-friendly than others?  CLEANLINESS.
When choosing a font for a vinyl project, for example, you don't want to weed hundreds of microscopic pieces out of a font that's made to look purposely distressed.  That would be tedious, time consuming, and ultimately infuriating.
It's better to stick with fonts that are easy to read AND easy to weed!
PRO TIP: For water bottles and tumblers, I recommend using script fonts with connected letters, and avoiding anything overly skinny.  This will help them hold up better to water and washing. Makes sense, right?
I spent hours scouring the internet and compiling this collection of 50 of my favorite fonts to use with your Cricut Maker or Cricut Explore!  They are all FREE for personal use.
And when I say these are my favorites, I mean it.  I have personally used each one of these fonts in a project for me or a Cricut craft for the kids…  I hope you love them as much as I do!
---
Handwritten Script Fonts
Always in My Heart
This cursive font is clean and streamlined, and looks best when used in all lowercase!  Pair it with a simple uppercase handwritten font for a well-balanced look!
DOWNLOAD NOW
Better Together
This thin, whimsical cursive font is eye-catching and fun!  It's one of my favorites!
DOWNLOAD NOW
Billskates
Billskates is a strong, grounded cursive font that adds gravity to designs.  It's great for t-shirts and signs.
DOWNLOAD NOW
Boho Script
This whimsical font has a lot of up-and-down movement of the letters.  It looks like a real signature, and is one of my favorites for shorts phrases or adding interest with a few words in a project.
DOWNLOAD NOW
Bromello
Bromello is a bold brush script font.  It exudes handwritten charm and holds its own in any project.
DOWNLOAD NOW
Lavanderia
If you're looking for an elegant, formal calligraphy font, look no further.  Lavanderia adds an air of sophistication with is gentle curves and sweeping style.
DOWNLOAD NOW
LillyBelle
LillyBelle is a fun mix of bold, handwritten script.  The lowercase letters are cursive and the uppercase letters are disconnected.  It's playful and intriguing.
DOWNLOAD NOW
Marline
Marline is the Valentine's Day of fonts!  Even the i's are dotted with hearts! So cute, curly, and fun!
DOWNLOAD NOW
Kitten Monoline
This streamlined cursive font is lilting and smooth.  It pairs well with bold statement fonts and can stand alone as well.
DOWNLOAD NOW
Sacramento
Sacramento offers a streamlined, slightly masculine vibe in a category primarily dominated by ultra-feminine cursive fonts!  It's one of my favorite for any gifts, nametags, etc. for the men in my life!
DOWNLOAD NOW
Shorthalt
This is one of my favorite fonts EVER!  Why? Because it has a perfectly gorgeous lowercase script AND equally adorable uppercase sans.  Hence, it's featured twice in this post, so you can see it at work both ways! Trust me when I say you'll go back to this one over and over and over again!
DOWNLOAD NOW
Sweet Hipster
Just like Shorthalt, Sweet Hipster has earned itself a double-listing.  It also has an amazing brush script lowercase as well as cutesy uppercase letters!  Tied for my favorite!!
DOWNLOAD NOW
---
Handwritten Sans Serif Fonts
Amatic SC
Skinny.  All-caps.  Youthful. This is one of my go-to fonts for chalkboards and gift tags because it pairs so well with a variety of script fonts!
DOWNLOAD NOW
CF Jack Story
CF Jack Story is the font you would get if a Kindergarten Teacher with perfect handwriting and a Crayola marker wrote for you.  It is fun, dreamy, and as cute as they come!
DOWNLOAD NOW
Coconut Cookies
Sweet and Chunky.  This font is everything I would want in an actual coconut cookie.
DOWNLOAD NOW
Dancing Marker
I love that Dancing Marker includes some letters that look slightly quirky and unexpected!  It makes a fun addition to any project, and definitely looks handwritten.
DOWNLOAD NOW
Jenna Sue
My best friend in college had handwriting that looked exactly like this… effortless perfection.  I always wished I wrote like that… and now (my Cricut) can!
DOWNLOAD NOW
KG Dark Side
There's nothing "dark" about this font.  It is Kindergarten-teacher Perfection!
DOWNLOAD NOW
KG Next to Me
KG Next to Me looks like you used a marker to mimic a typewriter.  It is a fun crossover font that tows the line between handwritten and machine-made.
DOWNLOAD NOW
KG Seven Sixteen
This cute font reminds me of my sister's handwriting.  It's cute without trying too hard. Very unassuming.
DOWNLOAD NOW
KG Strawberry Limeade
Playful.  Curly. Capitals mixed in with lowercase.  This is my DREAM handwriting. I find myself going back to this one time and time again.
DOWNLOAD NOW
Luna
Luna is a non-cursive brush script.  It is easy to read, looks genuinely handwritten, and is perfect for mixing with script fonts!
DOWNLOAD NOW
Please Write Me a Song
Kindergarten teacher, meet fine point marker!
DOWNLOAD NOW
Shadows Into Light
Shadows Into Light is another breezy handwritten font.  It's not frilly or fluffy. It can stand alone or pair with other, more decorative fonts.
DOWNLOAD NOW
Shorthalt (sans)
As I mentioned above, I cannot get enough of this font.  It's basically two fonts in one and pairs well with itself!
DOWNLOAD NOW
Sweet Hipster
Oh, Sweet Hipster… I just love you!  If you liked the lowercase script, be sure to check out these uppercase cuties!
DOWNLOAD NOW
The Absolute
The Absolute is another one of those rare handwritten fonts with a masculine vibe.  And I am here for it, my friends!
DOWNLOAD NOW
---
Strong, Statement Fonts
Anchor Jack
I love the personality oozing out of this font.  It is the perfect mix of strong and playful.
DOWNLOAD NOW
Bebas
Bebas is big, bold, and unapologetic.  This font has presence to spare!
DOWNLOAD NOW
Birmingham
Birmingham is so regal.  I imagine if I was commissioned to do a Cricut project for the Queen, she would insist I used this font!  😉
DOWNLOAD NOW
Cocogoose
I love how round, smooth, and balanced Cocogoose is.  It is perhaps my favorite of the super-bold fonts I've included in this category.  And it paris beautifully with delicate script fonts!
DOWNLOAD NOW
Eccentric
This all-caps font is tall, quirky, and makes a big statement!
DOWNLOAD NOW
Grand Hotel
This swift, retro-feeling cursive font is so versatile.  It pairs best with a clean modern typeface font.
DOWNLOAD NOW
Leixo
Bold, smooth, and beautiful.  The lowercase is totally connected versions of the letters.  And the uppercase letters feature ultra cool missing sections.  It's fun to mix and match this font!
DOWNLOAD NOW
Lemon/Milk
Lemon/Milk is a strong, angular font that feels distinctly masculine to me.  It's a great stand-alone that can also pair well with lighter, more playful fonts!
DOWNLOAD NOW
Lobster
This bold cursive font is perfect for retro-looking projects!  It is easy to read and just begs to be on a giant sign!
DOWNLOAD NOW
Market Deco
This font just begs to be on a storefront.  It is angular, not too wide, and perfectly spaced.  All the heart eyes for this one!
DOWNLOAD NOW
Mouse Deco
Mouse Deco is very similar to Market Deco, just more angular, and more condensed.  It is a great alternative if you want something a little less round.
DOWNLOAD NOW
Neon 80s
If round is your thing, Neon 80s is the font for you!
DOWNLOAD NOW
Pacifico
Pacifico just screams ocean to me… so I like to use it for beach-related things… party invites, printables, vacation shirts, etc.
DOWNLOAD NOW
Ritzy Remix
The Great Gatsby himself would have used this daring font on an invitation for one of his lavish soirees.  It is simply fantastic!
DOWNLOAD NOW
Swistblnk Monthoers
This font is the only exception to my easy-to-weed rule because it is so dreamy!  I usually just don't weed out the tiny dots in the middle of the letters…
DOWNLOAD NOW
---
Clean & Modern Fonts
Caviar Dreams
Skinny.  Clean. And SUPER pointy.  I love this font, especially when used in contrast with a super curvy handwritten script font.
DOWNLOAD NOW
Champagne & Limousines
This is hands-down my go-to font when I want a simple, minimalist aesthetic.  I love how round the letters are, and how streamlined the font is.
DOWNLOAD NOW
Cocomat
Cocomat feels like a slightly gentler version of Champagne & Limousines.  It pairs well with most other fonts, and while it doesn't stand out on it's own, it's the perfect team player to complete a project with!
DOWNLOAD NOW
Debock
Debock feels like a futuristic typewriter to me.  It's a little familiar, and a little quirky. And I really dig it!
DOWNLOAD NOW
Josefin Sans
Speaking of futuristic typwriters, Josefin Sans is another typeface that feels old and new all at the same time!
DOWNLOAD NOW
Quicksand
If I'm not using Champagne & Limousines, there's a good chance I'll pick Quicksand.  It is gentle, simple, and practically perfect!
DOWNLOAD NOW
Raleway
Raleway is an unassuming typeface with a surprise "w" for the win!
DOWNLOAD NOW
Simplifica
Simplifica just screams clean and modern to me!  I am mesmerized everytime I use it!
DOWNLOAD NOW
Speedball No3
By far the quirkiest of the fonts I included on the Clean/Modern list, Speedball No. 3 is clean and playful.  It provides levity and attitude!
DOWNLOAD NOW
Star Avenue
This Star Wars-esque font is a great option for this, yet simple typeface letters.  I like that the letters are slightly rounded, and yet still create clean lines.
DOWNLOAD NOW
---
How to Install Your New Fonts
Are you new to the world of custom fonts?
Note: these fonts will not work on a phone, mobile device, or table. 
Here are some resources to help you:
---
How to Use a Downloaded Font in Cricut Design Space
Once you have installed a font onto your computer, it is EASY to use it in Cricut Design Space.  Here's how you do it.
From any project canvas, insert TEXT.
Click on the dropdown font menu (top left) to change the font.
At the top center of the screen, select SYSTEM.  This will show you all the fonts you have installed on your computer.
If you want, you can SEARCH for the name of the font to find it quickly!
---
Get More Free Fonts
Looking for even more free fonts for Cricut or other use?  Check out our collection of free TRAVEL fonts, our Collection of free DISNEY fonts, or the Star Wars font.  The majority of those font collections would also work well with your Cricut!
Happy Crafting!  And as always, please tag us in your projects, @picturethemagic, for a chance to be featured on our social media!
Pin for Later
Sours: https://www.picturethemagic.com/free-cricut-fonts/
Font generator cricut
Free Pretty Fonts For Cricut
---
A collection of free pretty fonts for Cricut that you can download and use for free in Cricut design space. With just a few steps you can use any of these fonts in design space.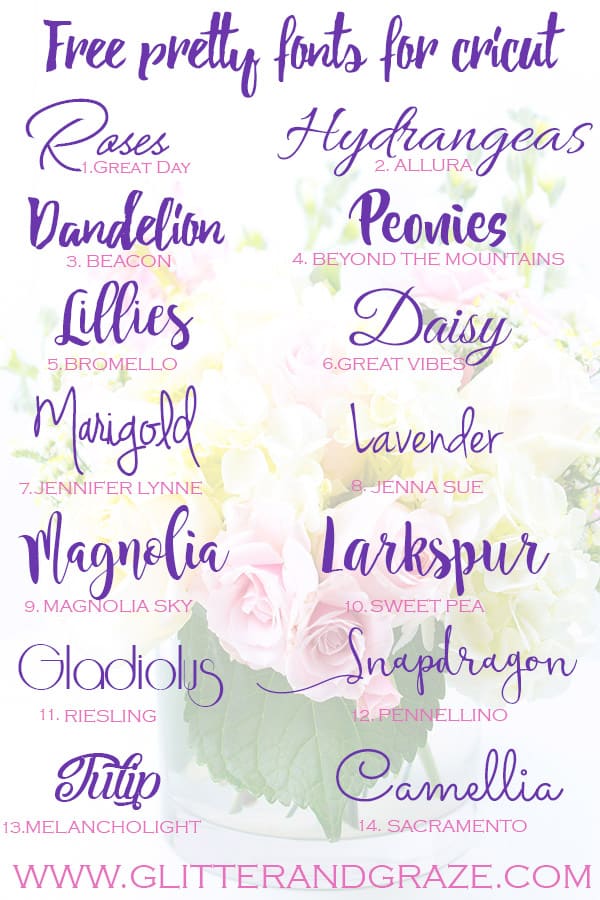 1. GREAT DAY 2. ALLURA 3.BEACON 4. BEYOND THE MOUNTAINS 5.BROMELLO 6. GREAT VIBES
7. JENNIFER LYNNE 8. JENNA SUE 9. MAGNOLIA SKY 10. SWEET PEA 11.RIESLING
12.MODESTY 13. MELANCHOLIGHT 14. SACRAMENTO
We all love working in design space, but the font selection does come limited until they want you to buy them to use. Why pay for fonts if you can download them for free?
If you don't know the steps in downloading fonts so they will show up in design space go to the post Free Fonts for Cricut and learn how. It's so simple.
The number 1 thing I always remind people is before the fonts will show up in your design space is you have to completely close out of design space after installation before the fonts will show up.
If you don't already have design space open then that's good. After installing the fonts just open design space and your fonts will be there.
Filed Under: Crafts, FontsTagged With: Cricut, fonts, free fonts
Sours: https://www.glitterandgraze.com/free-pretty-fonts-for-cricut/
Working with Text and Fonts in Cricut Design Space - Beginner's Guide
Free Fonts For Cricut That You'll Love
Your Cricut comes with some great fonts, but there are loads more out there worth using.
Free fonts don't always make the best fonts, so I had to dig pretty deep to find some of these designs. I'll include both my top 5 sites of free fonts for Cricut, as well as my favorite fonts that I keep returning to for craft after craft.
If you haven't loaded in fonts to Cricut before, I'll also teach you how to do that with a quick tutorial at the end + cover how to download fonts so they work in Design Space.
I made this resource because other lists were full of fonts that weren't free, the links were broken, or they just didn't cut or draw correctly. I've made sure to only include fonts that I've tested myself on real projects.
(If you have a Silhouette machine, I'm adding a quick tutorial at the end for you too!)
Featured Top 5 Sites
I'll start off this list with where I go first to download free fonts. If you're looking for more of a curated list of only the best fonts, you can skip to that below. We've partnered with each of these sites to offer exclusive fonts bundles (a few of them might require signing up, but they will be free).
1. Creative Market
Creative Market is one of the first places I look for a Cricut font when I'm looking over a new project. They have loads of exclusive fonts that you can only find there, weekly free releases, and a huge marketplace if none of their free fonts quite work.
2. Font Bundles

Font Bundles has quickly become one of my favorite places to find free fonts for Cricut. Not only do they have free font releases for most holidays (like Christmas and Halloween), they have tons of PUA encoded fonts and a 30-day money-back guarantee if you decide to make a purchase.
3. Creative Fabrica
Creative Fabrica is a wonderful Dutch site with a great collection of free fonts for Cricut. Their site is made by crafters, for crafters, and goes well beyond just fonts. They have a huge selection of SVGs and 3d cut files, along with a lot of fonts that are not only free for personal use but commercial use as well. Their free selection currently boasts more than 1800+ free fonts & more, so it's definitely worth checking out.
(If you wind up liking their fonts, they have a pretty affordable flat fee you can pay for 48,000+ additional fonts if you're crazy like me!)
Oh, one last thing! They tag their fonts which work with Cricut's Design Space and Silhouette, making it easy to know which fonts to use.
4. The Hungry JPG
Founded in 2014, The Hungry JPEG keeps me coming back for the free weekly releases and really cute themed collections (like Winter, Mystical, and Floral Ink). They have an entire section for crafters with fun borders and images, but their font collection is what I love the most.
5. So Fontsy
If you're planning on selling products on Etsy or elsewhere, So Fontsy is a great resource of fonts. They have a great policy which they called "Standard Commercial Use" which allows you to sell anything you make with their fonts without having to worry about paying more later. It's nice to have one less thing to worry about, and they also have really great crafting tutorials and examples of projects people have made using their fonts.
Our top free font picks
All of these fonts below have been tested to work great with Cricut Design Space. But before I get to the fonts, I wanted to give you guys a quick glossary and explain some of the common terms you might see.
Serif/sans-serif: If you take a look at the above image, you'll notice that one of the fonts has small details on the ends of the strokes. These are known as serifs. Serif fonts are designed to be more legible at smaller font sizes, but when you download fonts, you might find them a bit harder to cut or draw.
PUA/Glyph-support: A PUA encoded font is one that has "private use areas" enabled. This means that the extravagant flourishes you'll see on the ends of letters (think of them like exaggerated serifs) will appear when you load them into Cricut Design Space or Silhouette Studio. If you find a font that has those decorations and swirly lines but isn't PUA encoded, you'll still be able to use it with your cutting machine but those swirls won't show.
Commercial-use: Fonts that come with a commercial-use license mean that beyond using them for personal use (things you make yourself or share with friends) you can also sell products made with those fonts or designs. Not all commercial-use licenses are the same, so be sure to read the details if you're planning on selling a large number of t-shirts or another product.
OK, on to our favorite fonts that are free!
(If you're looking for Cricut SVG files, check out our other article.)
1. Paper Phil
Features: A cute, bold font that was inspired by cutting out construction paper letters. Super playful and as you might imagine, it cuts out really well. I love using it when I want a handmade look that's still somewhat neat and regular.
Great for: Headlines, titles, or any feature in a design you really want to pop. Works great on t-shirts, vinyl, or, as you might imagine, with papercrafts.
Find it here.
2. Joy Maker
Features: Our second font in a row from Font Bundles (you can see why they made the list above!). Joy Maker is another bold display font that's super easy to read while still adding some weight to your design. Based on its name alone, you just know it's going to work nicely with Cricut.
Great for: Vinyl or any design that you want to cut cleanly. I've used this on a few mugs, but I find the design looks best when it can be really scaled up to a large size, like HTV on a t-shirt.
Find it here.
3. Browie
Features: I'm a little partial to this one because I really love David Bowie (its name is… close enough!) – this is also the first handwritten font we're highlighting. With this font you'll want to either have it scaled up for cutting (so the cuts are easier) or scaled down for using a Cricut pen. Comes with a free commercial license.
Great for: Baby shower invitations, quirky projects, or anything you want to give a real human element to.
Find it here.
4. Echizen
Features: Echizen was inspired by the bold display handwriting you might find on the blackboard menu on a sidewalk cafe. It's a versatile font that looks wonderful at large sizes. This font comes with a lot of swishes and font decorations that you can use to really customize the look and make it pop out. This font comes as part of a large free bundle, but you can also just download it on its own if you don't need the rest.
Great for: Vinyl outdoor display signs, or any use where you want the font to be the centerpiece of the design.
Find it here.
5. Abril Fatface
Features: Abril Fatface is a heavier version of the popular Abril font family. It's inspired by the heavy display fonts seen in 19th-century French posters and advertisements. Only the heavy Fatface version is available for free, so unlike other fonts, you can't customize its weight. What I love about this font is that it adds class to designs without taking away or stealing the spotlight.
Great for: Large designs where you don't want to steal the show with your font. A surprisingly subtle font for how bold it is.
Find it here.
More sites for Cricut fonts
If you're still looking for how to get Cricut fonts for free, don't worry, I have a few more sites that have great collections (but my favorites are still those above):
Mighty Deals. The fonts and SVGs on this site are always changing weekly, so I usually give it a look a few times a month to see what they've added.
1001 Fonts. With over 12,000 fonts and a helpful search feature, I can usually find what I'm looking for here. The downside is these fonts are more targeted at graphic design and don't always work without some tinkering with Cricut machines.
Dafont. These fonts are generally only free for personal use, so make sure to check the license before using them in a commercial project.
Font Squirrel. A cute name with loads of commercial fonts.
Font Space. A lot of really… unusual fonts. Not all of them work great with Cricut, but when I find one that does, it's usually a font I couldn't find elsewhere.
Font Fabric. Their free fonts can be a bit limited and plain, but there are some treasures here (like their Pixer font). They do have a great collection of bundles.
Urban Fonts.
Next, I'll give the essential tips on picking out fonts for your Cricut. This next part is maybe the most important section if you don't have a lot of experience downloading or installing fonts for Cricut.
Design Space comes with a lot of fonts that work great out of the box as they were tested for Cricut, but when you start downloading third-party fonts, you want to make sure that not only will they install properly but that they'll cut or draw perfectly.
Picking the right font for a Cricut machine
If you're like most crafters, most of the fonts you've used with your Cricut are those which came with it, that you purchased for Design Space, or that came with a subscription to Cricut Access.
This is definitely the right way to start off when learning how to use your Cricut, but there comes a time with every crafter when they have ideas for Cricut projects but can't find the right font or design to use. That's where downloading fonts can come in handy.
I have some tips for you, some of these will be true for both the fonts you're using in Cricut Design Space and those you might download.
Don't mix and match too many fonts in a single project. Once you get started with downloading fonts, all of a sudden you have 20 or 30 new ideas and you want to explore them all at once. Trust me, I've been there! Until you get your footing, I'd stick to two different fonts per project. You'll find that your designs come together a lot more easily, that they're easily to layout, and they're a lot more coherent.
If you're using vinyl, make sure the fonts are easy to weed. Fonts with a lot of serifs (the small decorations attached to the ends of letters) can be really difficult to weed, similarly cursive or fancy fonts. Unless you're a weeding wizard, I'd start by using blocky, simpler fonts like those I recommended above.
Stick with fonts others have used while you're getting started. Especially when you're following a tutorial on a new kind of Cricut project, it's a lot easier to follow along if you use the same font they are. We have a lot of free tutorials on this site, and whenever possible I use either the fonts you'll have by default in Design Space or fonts that you can grab for free.
Some fonts are great for writing, others are for cutting. When I recommend a font, I'll always specify which that font is designed for. The thin, cursive fonts that look like handwriting turn out great with the Cricut Pen Tool, but they'd be a jagged mess if you tried cutting with them. Similarly, the blockier fonts that make for great cuts can look downright strange if you try to draw them.
Check to see if your font is PUA or if it has support for glyphs. Many free fonts that you'll find don't have glyphs included.
Finally, I'll quickly cover how to download and install free fonts right into Cricut Design Space
How to install free fonts for Cricut Design Space
You want to follow these easy steps to install your fonts:
Install the font on your computer. It will usually come in a zip file, so you'll want to unzip it. If you have MacOS, you'll right-click, open with Font Book, and then click "Install Font." If you have a PC, it's one step easier: just right click on the font (you can highlight multiple) and click "Install."
Open up Cricut Design Space and verify the font is installed. You'll see both Cricut fonts and the fonts you have installed on your operating system here, so just search for the font you installed and verify it shows up okay.
That's it! Told you it was easy to upload fonts to Cricut Design Space.
If you have any Cricut fonts you absolutely love that I haven't mentioned, please share them with me in the comments.
Or share any projects that you might have made, I love to see the crafts you guys come up with.
FAQ
Can you use these fonts for commercial products or selling on Etsy?
For the sites I recommended, I try to mention whether or not they have free commercial licenses available, most of them do! You should always make sure to verify that the font you downloaded isn't just free for personal use but commercial use as well.
What about SVG files?
I have another article that collects my favorite sources for free SVGs. There are 18000+ free files available there!
Sours: https://www.cutcutcraft.com/free-fonts-cricut/
Now discussing:
.
507
508
509
510
511