What Is Different About Japanese Quilting
A year ago yesterday, we moved back to Australia. I thought it fitting to share an article I wrote for Make Modern (issue 13) about comparing Japanese quilting to Australian quilting.
Having just spent four years living and quilting in Japan, I'm often asked how Japanese quilting differs from the rest of the world. It's hard to say definitively, but there are a few points that can be made from my experiences at various quilt shows in Japan, where one presumes that the best of the best is shown. But these points also pervade the shopping there – the way sewing is marketed, the handmade items I saw in daily life.
Handwork
There is a big focus on hand work – hand piecing and hand quilting feature very heavily in the quilt shows I've visited. This is due in part to the history of sewing in Japan with the classic sashiko and other embroidery styles employed in Japanese sewing. Whether it was on a beautiful kimono, or practically used to create warm clothes by adding layers and heavy stitching, hand sewing is ingrained in Japanese culture. From a practical standpoint, many quilters may simply not have the space to set up the table space needed to machine quilt at home. Related – long arm quilting certainly hasn't taken off in Japan either, presumably for the same reasons!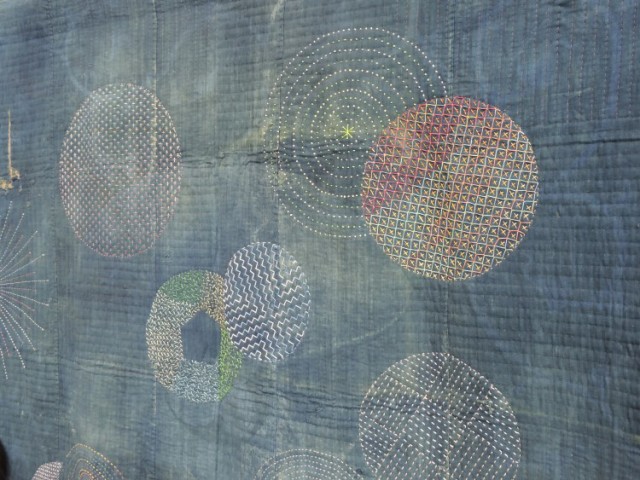 Thrifty
Japan is a very resourceful country. Having to eke out an existence for 100+ million people on a tiny land mass means that the Japanese people have become very thrifty, with tricks to make most out of any space, and also a rather complicated system of waste disposal. Just ask anyone who has visited Japan and tried to find a bin while out and about! This need for thrifty is reflected in Japanese quilting, where it relatively rare to find a quilt that hasn't been made from scraps and/or many different, small, pieces of fabric. Whether intentionally scrappy, or thrifty buying of small selections of fabric, there is a sharp contrast between more "cohesive" quilts with the same line or style of fabric (such as solids), and those that are a glorious riot of colour and prints. Even the more traditional Japanese style of quilts that use indigo fabrics will include a range of different shades and textures within the quilt.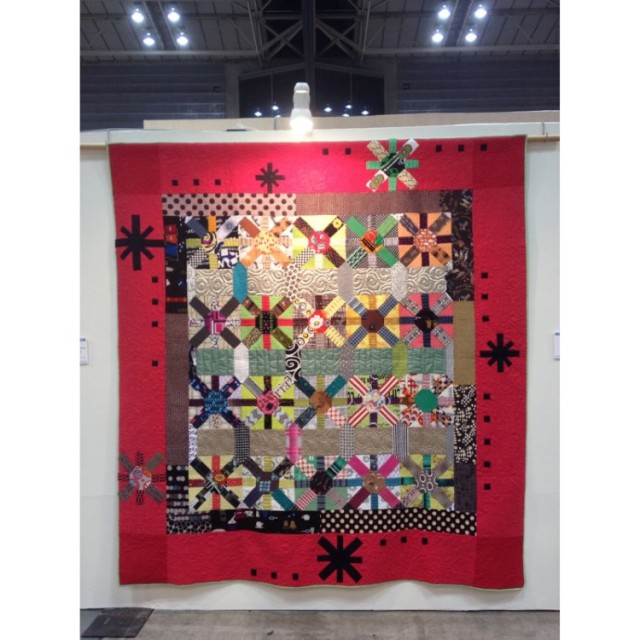 Improvisational
Related to the scrappy fabrics, is the high rate of improv-style quilts. As someone who prefers geometric, ordered quilt designs, this is something I've especially noticed. Even a simple background section may be made of multiple small pieces sewn together in an improvisational type manner. Similarly, they are not afraid of partial or Y-seams. This may play back into the high use of hand piecing, which makes it easier to make those kind of seams.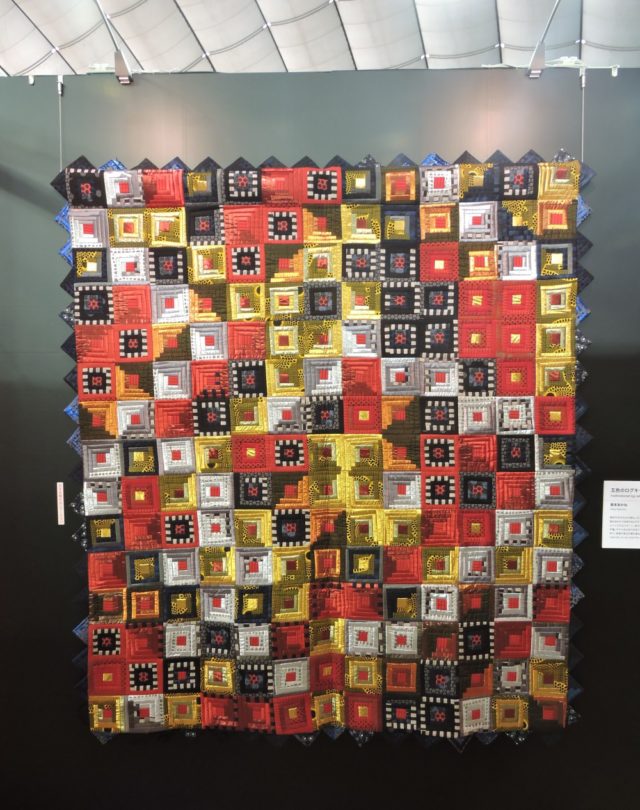 Materials and more
Japanese quilters are also not afraid of including different textiles and bling in their quilts. Yoshiko Jinzenji's style of silhouette quilts is one such example, where she often uses a shiny metallic fabric as the base for her quilt top upon which she places cut out pieces, which is then topped by a sheer, netted fabric and quilted in place. I've also seen quilts with what can only be described as a piping edge instead of binding. Applique quilts may include a range of different textiles to create the shapes, and beads or sequins or other similar types of materials are not uncommon either.
Everyday life
But how do these quilt show masterpieces compare to what I saw every other day of the year? I saw many tiny, hand-pieced quilt blocks turned into hand bags, or more simply-pieced bags covered in sashiko. I made many different bags for my kids and friends' kids for Japanese preschool, and those that didn't make their own or buy from a handmade business, bought bags that still looked like handmade from the store. Handmade is highly valued, and sewing is still a big part of everyday life, as evidenced by a craft store being included in every mall built by huge department store chain, big or small. Can you imagine being able to get your groceries, a new pair of socks, and some quality fabric or thread, in one stop? And no one ever blinked or gave a puzzled look when I told them I quilted and sewed.
Quilting In Australia
Having just attended my first Australian quilt show, as well as having attended a symposium on the history of quilting in Australia, I can see the subtle and not-so-subtle differences in quilting between the two countries. Quilting in Australia was not born, or continued, out of necessity to keep warm. Our winters are a lot milder than those in the northern hemisphere! But rather, the tradition continued as a way of providing a decorative touch to homes, or as a family heirloom to record the story and life of the maker. As quilters tended to have a lot more space in their houses too, many quilts were large and pieced as a whole-picture, rather than block by block.
Which continues to this day, but many are pieced and quilted by machine instead. Our quilts tend to feature larger pieces of fabric, and only use quilting cotton fabric at that. But that's where the main differences in our quilting stop. Because many Australian quilters do make improv quilts. And scrappy quilts. And hand-pieced and/or hand-quilted quilts. While it may be fair to point out that most quilts at shows are machine-pieced and made with incredible precision and points compared to the scrappy, improv masterpieces of Japan, there is still a wide range of quilting styles present in the much-smaller quilting population of Australia.
Everyday life
Gone are the one-stop shopping trips for supplies, and the cheap prices for top quality quilting cottons! Back are the puzzled looks when I respond to, "What do you do?" with the answer, "I'm a quilter". Gone are the everyday glimpses of handmade items everywhere. But back are the readily-found quilting and sewing groups, with many more quilters and groups using the internet to share information and details of classes and sewing days. Australia has embraced the online world of quilting, through blogs, websites, and online shopping, something in which Japan has yet to really find its footing.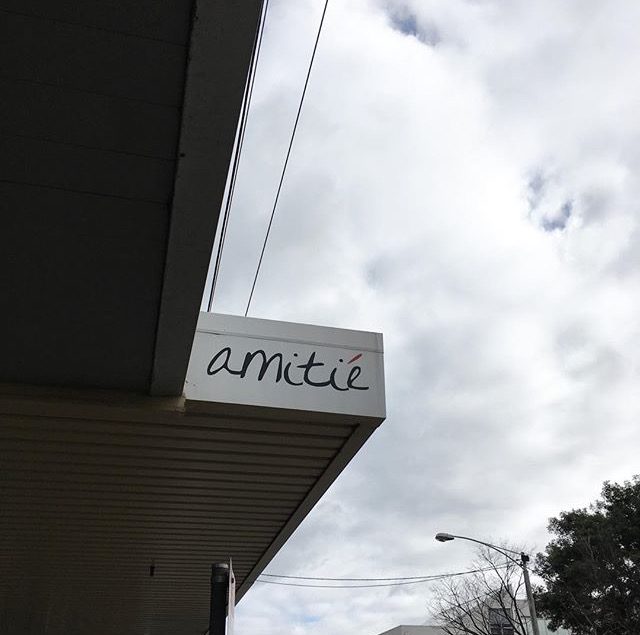 Both countries have some clear differences in style and methods, and prices of supplies! Yet one thing is clearly the same – we love quilting for the love of making and creating. That speaks through all of our work, whether it be improv or precise, bright or dark, big or small. And if we were all the same, life would be so boring!
Save
Japan22
Sours: http://www.blossomheartquilts.com/2017/04/difference-in-japanese-quilting/
Introduction to Japanese quilts: inspired by fabrics
Have you ever come across quilts made with Japanese fabrics? If not, you're in for an elegant treat. Today we'll shed light on three time-honored approaches to making Japanese-style quilts, where fabrics, motifs, and stitches combine for a dramatic look.
First: discover the fabrics! You'll learn how authentic Japanese fabrics—like indigo, kasuri, and yukata—are made and used in Japanese quilts. Then, you'll learn about the eloquent motifs celebrated in those fabrics, and how you can incorporate them into geometric quilt patterns that you're already familiar with. Finally, you'll be inspired to quilt in a whole new way when you see what you can achieve with beautiful sashiko stitching. (Believe it or not, there is a way to replicate sashiko by machine!)
Whether you've got a stash of Japanese-style cottons, collect the real thing, or are completely new to Japanese textiles, there might just be a trip to Japan—via your sewing room—in your future. Immerse yourself in these exotic Japanese-fabric quilt patterns with one of the books featured below, or start with one simple quilt pattern that spotlights Japanese fabrics.
Authors Kitty, Sylvia, Sharon, and Karen welcome you to fall in love—just as they did—with the beautiful textiles of Japan!
---
From Asian Elegance by Kitty Pippen and Sylvia Pippen
Japanese fabrics come in the form of a tan, a roll of cloth 14½" wide by 14′ long—just the right amount for constructing a kimono. Textiles are highly valued in Japan, and kimonos are often saved and handed down from generation to generation. Valuable kimonos are taken apart, washed, and reassembled when they become soiled. Many of the quilts in Asian Elegance are made with new materials as well as old hand-sewn kimonos that have been ripped apart. Here, we introduce you to some fabrics of Japanese origin.
Indigo

Indigo fabrics have been used traditionally for Japanese and Chinese clothing. The indigo dye is made from a variety of plants. Leaves are cut, dried, and composted to promote fermentation. The dye is stored in vats that are buried in a clay floor and kept at a constant temperature. It is a long process to make a vat of dye, and the cloth dipped in each vat may produce a different shade of indigo. Deeper shades may be achieved by dipping the cloth multiple times. Natural indigo dyes continue to bleed whenever the fabric is washed. For this reason, we recommend using an indigo-colored fabric that has been dyed using a chemical process if you want to incorporate it into a design with yukata (see below) or American-made fabrics.
White sashiko worked on dark indigo is a beautiful combination. You can see an example of this in the "Linked Shapes Sashiko Panel" below.

"Linked Shapes Sashiko Panel" by Kitty Pippen
Kasuri and Ikat

Kasuri is one of the most fascinating Japanese fabrics because of the many steps involved in making it. Threads of the warp and the weft are marked with resist, a substance that resists dye, before they are dyed and woven. Each length of thread from selvage to selvage has a different marking. The resulting designs have characteristic fuzzy edges.
Ikats are also made with resist-marked threads, but many of the steps are done by machine. Ikats are marked to create geometric designs and are traditionally used for men's kimonos. Try using them in your quilt borders to create excitement and movement.
The dragon, sky, and cranes in "Night of the Dragon" below use kasuri fabrics.

"Night of the Dragon" by Kitty Pippen
Yukata

One of the most useful fabrics for quilting is yukata because it is soft, lightweight, and easy to needle. Yukata patterns vary from blue-and-white geometrics, used for men's clothing, to colorful florals, used for women's garments. The designs on yukata are made by the katazome method, which involves dyeing through a stencil. Because the dyes penetrate the material, there is no right or wrong side. This makes reversing directions of a design possible.
Large, bold yukata designs combine well with smaller designs and are useful for all kinds of quilts. You can see how they were used in the "Scrappy Yukata" detail below.

Detail of "Scrappy Yukata" by Kitty Pippen
Silk

Silk is one of the finest and most beautiful natural fibers. The Japanese and Chinese weave shantung, crepe, and brocade fabrics from silk yarns. These fabrics all work well for appliqué. American-made marbled silk is also very useful in quiltmaking. Raw silk, which has a nubby texture and stable weave, is good for use as a background.
Many quilters avoid using silk because it can be difficult to handle. To overcome the tendency of silk to shimmy and slip, try using the paper-piecing method for appliquéing pieces. This involves basting the fabric over a paper pattern to help stabilize the piece.
"Notre Dame Rose," shown below, was made using this method.

Detail of "Notre Dame Rose" by Kitty Pippen
American-made Japanese fabrics

American fabric stores carry many cotton fabrics with Japanese-inspired prints. Designs include traditional Japanese motifs, such as fans, bamboo, cranes, and cherry blossoms. Because these fabrics are three times as wide as traditional Japanese yukata, they have many motifs to work with. These fabrics may be used to make any of the projects in Asian Elegance.
Here are just a few of the step-by-step projects you can make from Asian Elegance, which also features quilts to make with exotic Polynesian fabrics.

"From China with Love"

"Springtime Dogwood"


"Hexagon Centerpiece"
---
From Quilting with Japanese Fabrics by Kitty Pippen
Left: "Scenes by a Garden Path" by Kitty Pippen.
Japan's profound appreciation of nature is reflected in its long history of traditional textile design. As you page through books of Japanese fabrics and kimono designs, you will see one example after another of motifs from nature combined with geometric forms. Natural elements such as cherry blossoms, maple leaves, bamboo, pine boughs, cranes, ducks, and stylized clouds will be artistically intertwined with wheels, bridges, fans, boats, boxes, paper scrolls, or bundles of ribbons. The four seasons are often evident: the plum blossom represents spring; the iris and a flowing stream, summer; the chrysanthemum, autumn; and bamboo leaves, winter.
In Japanese art, asymmetry and irregularity are preferred over symmetry and balance. Designs may be off center, actually "disappearing" over the edge of a composition, leaving the viewer to imagine what has been omitted. Designs will overlap or scatter at random. Circles, hexagons, and diamonds appear as background, or they may be used to outline or contain other designs. With thought and ingenuity, you can easily adapt these elements of Japanese design to create innovative quilts of which you will be proud. Below are examples of projects from Quilting with Japanese Fabrics.

"Hexagon-Sashiko Quilt." Crane and flower motifs combine with geometric hexagons in this quilt. To make this arrangement of hexagons appear more oriental, dark indigo bands were added to the top and bottom. All the fabrics in this quilt are American made.

"Japanese Octogonal Block Quilt." Two octagonal sashiko blocks alternate with larger blocks featuring traditional Japanese floral motifs.

"Linked Shapes." In this design—actually a well-known Japanese sashiko pattern called Linked Tortoise Shells—equilateral triangles and hexagons fit neatly together to form an overall pattern. (Learn more about the Japanese art of sashiko below.)
---
From Sensational Sashiko by Sharon Pederson
In the spring of 2000, I was asked to teach a machine sashiko class at a local quilt shop. Sashiko, a centuries-old Japanese stitching art, was something I'd been interested in for a long time, but up to that point had done nothing about. There's nothing like a deadline to focus the mind; having agreed to teach the class, I began researching this kind of Japanese embroidery.
Sashiko has come a long way from its humble beginnings in fifteenth-century Japan. At a time when the type of fabric available to working people wasn't thick enough to provide the warmth needed for outdoor wear, enterprising women (I know it was women who did this) stitched many layers of fabric together using a running stitch. The word sashiko actually means "little stabs," which translates to the running stitch we are familiar with. The fabric used was often indigo and the thread available was heavyweight white cotton so it made a strong statement on the fabric. As women always do, they recognized that even though the embroidery was done for practical purposes, it could also be beautiful. So the art form we know as sashiko was born.
When researching anything Japanese, you quickly discover Japanese family crests—or kamon. Their origins can be traced back to the tenth century. At the height of the feudal era, these emblems would have been found on battlefield flags, camp curtains, and coats. There are approximately 200 basic designs, but thousands of variations. Any collection would keep a quilter happy and inspired for years.
Combining these two beautiful art forms, I offer suggestions on how to make it easier to incorporate the designs into your projects and make them machine friendly. Below are a few of the projects you can make in Sensational Sashiko. Many of the projects use my reversible-quilt technique, so you can spotlight the beauty of sashiko and Japanese family crests on both sides of your quilts—and do it all by machine!

"Touched by Japan"

"Sashiko Table Runner"

"Praise to Pippen"
---
Feeling inspired to try a Japanese-style quilt, but not sure where to start? Feature authentic or reproduction Japanese fabrics in this beautiful, simple design from our own managing editor, Karen. She makes it easy to bring many beautiful colors and patterns together in this tranquil little quilt, titled "Japanese Circles."

"Japanese Circles" by Karen Costello Soltys (finished size: 17½" x 20½")

Download the ePattern right now—or choose from one of the books featured above and take a deeper expedition through the textiles and quiltmaking methods of Japan.
---
Have you made quilts inspired by other cultures? Tell us your quilt story in the comments!
Related Posts
---
Sours: https://blog.shopmartingale.com/quilting-sewing/japanese-fabric-quilt-patterns/
Japanese Fine Quilting Is Beating Handmade American Quilts
By Linda Lee
Things turn in cycles. Asian artisans discovered silk thread and invented embroidery. Their work traveled the silk road and influenced every style of decoration since. Cutting up blocks of cloth and making a patchwork quilt has always been considered an American "thing." But, says Patricia Belyea of Okan Arts in Seattle, an expert on quilts and textiles, "in 1976 there was an American quilt show in Tokyo, and the Japanese were exposed to patchwork."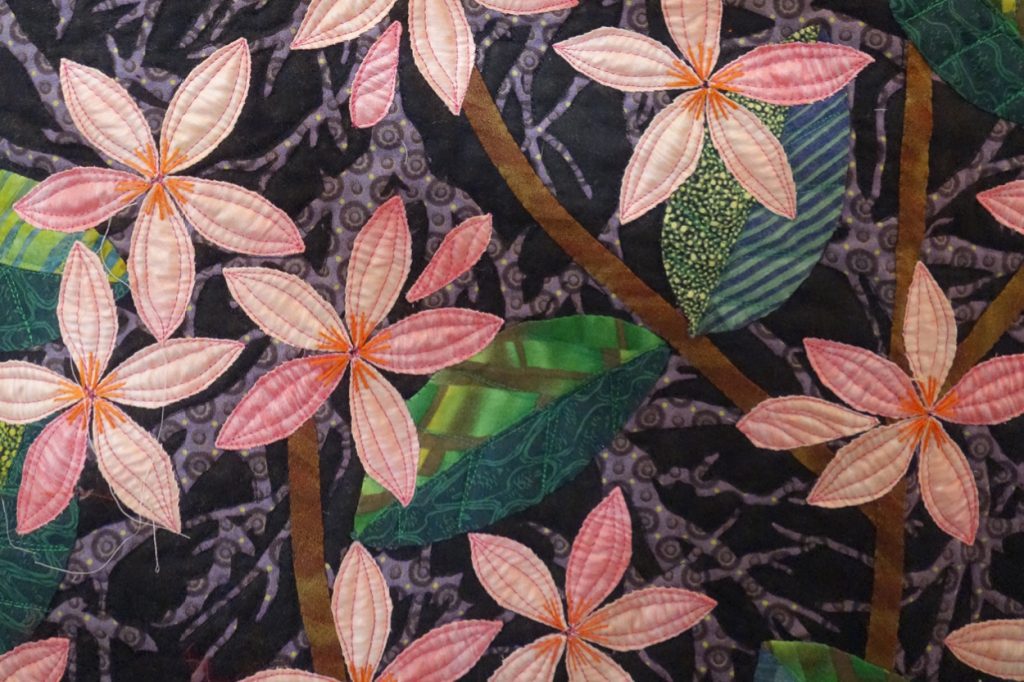 Plumeria detail from the 2017 Tokyo Festival of Quilts, flower section Photo credit, Okan Arts
The Japanese have always been connoisseurs of textiles, and before long, quilting caught on. But, says Belyea, whereas other textile arts are a male domain in Japan, quilting is almost entirely female. It has become a national obsession. There is a festival every January in Tokyo that attracts hundreds of thousands of people. The range, imagination and skill of work is astonishing. Perhaps not so astonishing, considering the beauty of Japanese kimonos and embroidery over the centuries. Those skills have just found a new canvas.
"All the major quilt shows in American include an exhibit of Japanese quilts," Belyea says. "People want to see those quilts up close."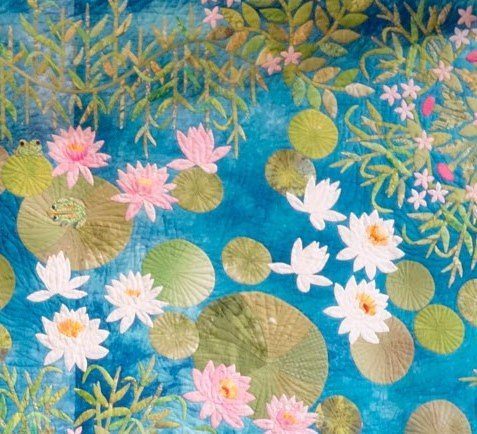 Detail from a flower quilt at the 2019 Tokyo Festival, photo credit Okan Arts
American quilters can rarely afford to fly to Tokyo; the quilts have to come to them. And increasingly, Japanese quilters are entering American quilting competitions. Their quilts of course cover every subject imaginable. We have chosen to look at the ones portraying flowers.
As long as humans have worn clothes they have patched them. When clothes wore out, there were still parts worth saving. Cloth was made by hand; it was precious. So pieces were sewn together. In China wealthy families accepted a 100-family-robe for a son, made with pieces of silk from 100 family members, all pieces embroidered with wishes for long life and pieced together in hexagons, squares or rectangles.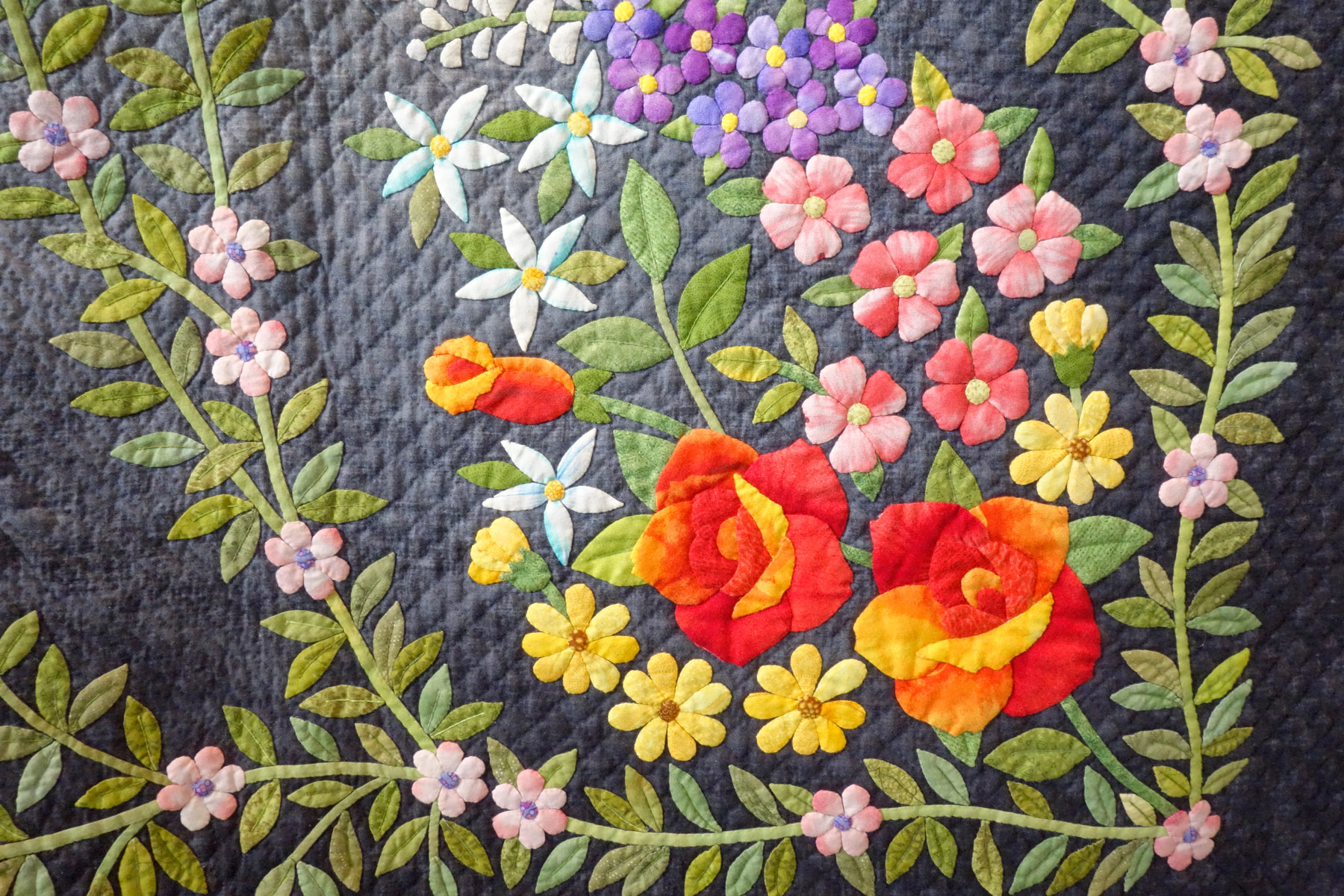 Details of a Japanese quilts, photo credit okanarts
Quilting was simply a way to stitch layers of cloth together. In the beginning there might have been dry grass between a rough cloth and pieced-together scraps of old clothes – anything for warmth. These days quilters have the luxury of soft batting and their choice of quilting stitches, done by machine or by hand.
American quilting was a somewhat neglected art until a show at the Whitney Museum in New York called the Quilters of Gee's Bend snagged the kind of reviews that announced the quilters from Alabama had created "some of the most miraculous works of modern art America has produced." These were not log-cabin-jelly-roll-Mrs.-Lincoln-Sampler quilts. They were free form, sometimes wandering and free-spirited group projects, hand-sewn, made of scraps of work clothes. Quilts were being taken seriously.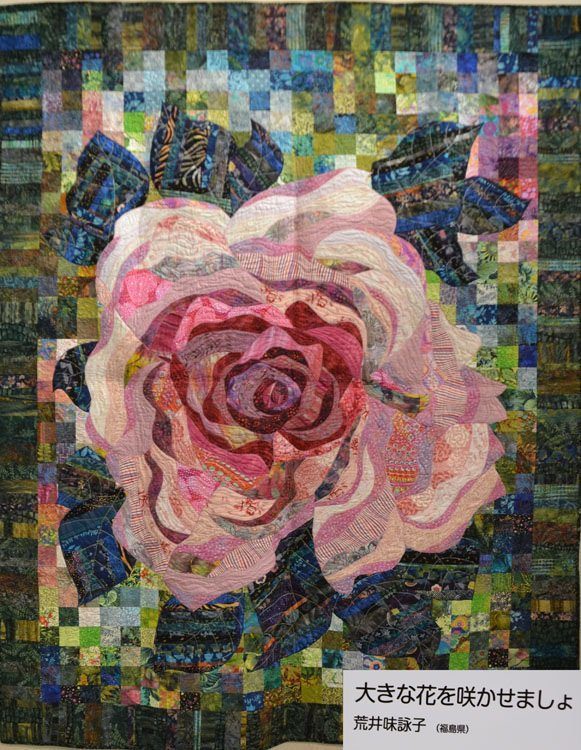 The work being done now in Japan and the United States is clearly an artistic expression. One category is called "Wall Art," and in fact it is hard to see where "quilting" comes in. None of these pieces is ever going to be tossed onto a bed, but wall art doesn't even look like a quilt. The piece below, which won the wall art competition at the American Quilt Society's Daytona Beach's Quilt Week, which ended March 2, is called Dance of the Twirly Girls. It is by Andrea Brokenshire, of Round Rock, Texas.
I don't see a stitch, do you? This is painting.
On the other hand there were two Japanese competitors, and they both did all their own needlework. Below is "Flower News," by Sachiko Chiba, of Morioka, Japan. Let's contemplate the work. The flowers are made of fabric, which she says she chose carefully to accurately represent the actual color of the many kinds of flowers. They are appliqued onto the quilt. Leaves and other flowers are embroidered. And the fancy relief stitching is called trapunto. This quilt came in second in hand-made quilts. But it has also competed in Houston and in Dayton last year, when it came in first.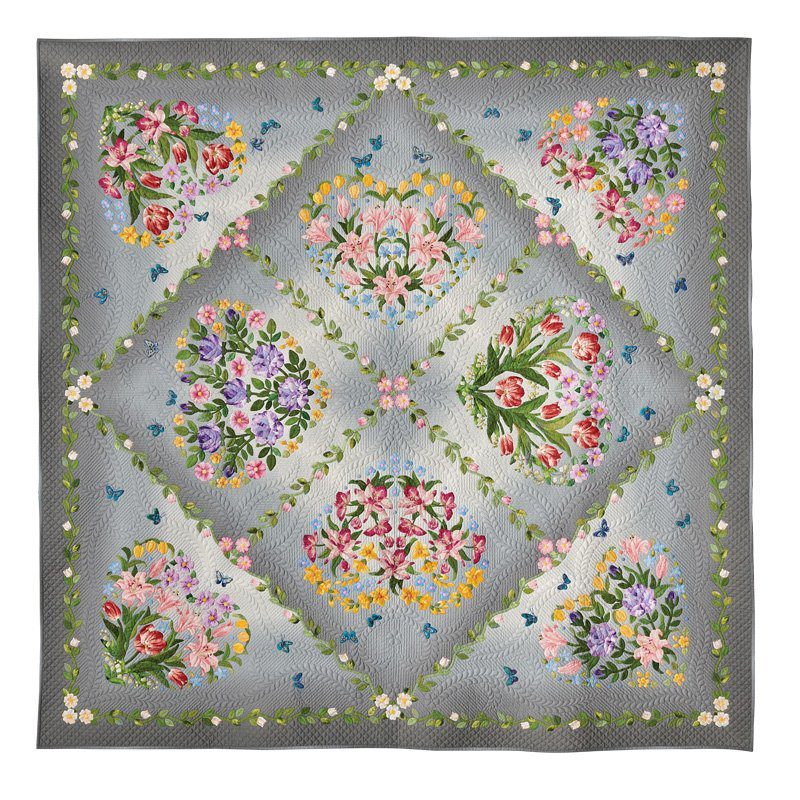 And here we have "Kirara's Garden Party" by Ayako Kawakami of Funabashi, Japan.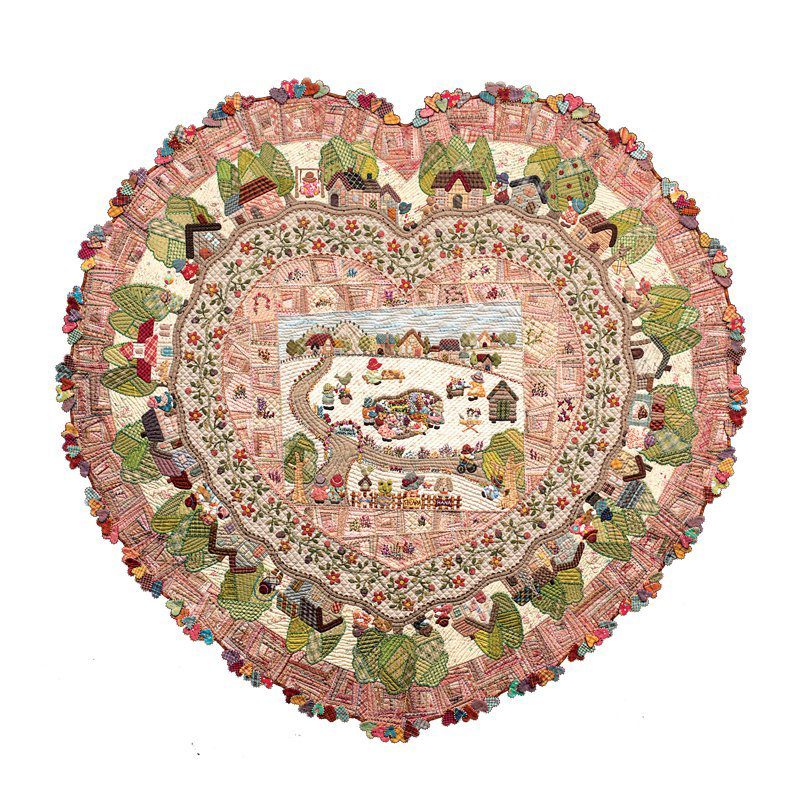 It took first place in the hand-made category. Patricia Belyea of Okan Arts teaches workshops on quilting, sells vintage Japanese textiles and makes quilts on commission. She goes to the Tokyo quilt festival when she can and writes the charming Okan Arts Blog about her travels.
If competitive quilters in America feel that the Japanese are beginning to encroach on their territory, Belyea has some words of warning: "There are now quilt shows in China and India. And these people have great skills in needlework."
Yikes!
Share this post:
Sours: https://flowerpowerdaily.com/fine-quilting-from-japan-increasingly-beating-american-handmade-quilts/
Yukata Quilt Inspirations
.
Quilts japanese patchwork
.
How To Make the Japanese Lanterns Quilt
.
Now discussing:
.
491
492
493
494
495