Utah's Best Storage Sheds for over 23 Years
Apex Shed Company builds storage sheds, Playhouses and other out buildings and utility sheds all up and down Utah's Wasatch Front from Fillmore to Ogden. A list of buildings we build includes: Storage Sheds, Tool Sheds, Garden Sheds, Potting Sheds, Wood Sheds, Garages, Carports, Playhouses, Work Shops, Portable Offices, Shed Kits, Dog houses, Well Covers, Utility Sheds, Portable Cabins and much, much more. If you need any of these products, Apex Shed Company can build whatever you want. If you are more interested in the do-it-yourself shed, we also build storage shed kits, and playhouse kits in many sizes and styles. If you would like more information on shed kits or are interested in having a shed kit or playhouse kit shipped to another state, please contact Apex Shed Company at 801-754-3334. Our do-it-yourself kits can be picked up or delivered completely pre-fabricated and ready to assemble for the do-it-yourself person. Customers are responsible for any and all permits required for shed installation. For a complete list of cities we service click here Utah Cities. Don't throw away your money renting a storage unit, buy an Apex Shed. With payments as low as $40 a month anyone can afford to put a quality building in their backyard. Need room to park your car in your garage? We can help you take back your garage. When Tuff ain't enough, choose Apex.
We service the following Utah County areas: Storage Sheds Springville, Sheds in Provo, Lehi, Pleasant Grove, Lindon, Payson, Santaquin, Salem, Woodland Hills, Spanish Fork, Orem, Cedar Hills, Alpine American Fork, Highland, Eagle Mountain and Saratoga Springs
We service the following Salt Lake County, Utah Areas: Draper, Sandy Riverton, Bluffdale, Herriman, South Jordan, West Jordan, West Valley City, Murray, Midvale, Salt Lake City, South Salt Lake City, North Salt Lake City, Taylorsville, Cottonwood Heights, Magna and Copperton. We build sheds in all Salt Lake County Cities.
We service the following Davis County Utah Cites: Bountiful, Woods Cross, Farmington, Centerville, Layton, Kaysville, Syracuse and all other Davis County areas not listed
We service the following Weber county cities: Clearfield, South Weber, Roy, South Ogden, Ogden, Pleasant View, Harrisville, North Ogden, Morgan, Huntsville, Eden and every other Weber County City.
We build Sheds in the following Tooele County areas: Tooele, Grantsville, Stansbury Park, Erda and Stockton
We service the following Wasatch County and Summit County areas: Charleston, Wallsburg, Heber City, Park City, Peoa, Kamas, Francis, Oakley, Daniels Summit, Coalville and other areas.
Sours: https://www.apexshedcompany.com/
Sheds
Our sheds are built using materials and techniques commonly used in the home building industry. Every feature gets attention, from a high-tech rugged floor, to sturdy walls, to the one-of-a-kind Tuff Shed door to a roof system that we like to drive vehicle on just to demonstrate its strength. Just for the sake of having a place to start, here are some standard specifications of our popular PRO Series sheds.
Galvanized steel floor joist system
Treated, interlocking SmartFloor Plus floor decking
2×4 wall framing, placed 16" on center
Rafters and trusses joined with steel plates
LP® radiant barrier siding and roof decking
Treated LP® SmartSide® siding and trim, covered by manufacturer's 50-year lmited warranty
One-of-a-kind, large, steel-reinforced Tuff Shed door
Owens Corning® dimensional shingles with manufacturer's lifetime limited warranty
6" boxed eaves on all walls
Ability to add accessories, customize materials and select building size, wall height, roof pitch and door placement, etc.
Garages
We've applied our years of experience and commitment to detail to our line of garage products. Many of the building specs from our line of Pro Series sheds translate to our top of the line Pro Series of garages.
2×4 wall framing, placed 16" on center
Rafters and trusses joined with steel plates
Variety of truss designs, including styles that allow for overhead storage
Overhead garage door available in standard and custom sizes and styles
Residential, steel access door in standard and custom styles
LP® radiant barrier siding and roof decking
Treated LP® SmartSide® siding and trim, covered by manufacturer's 50-year limited warranty
One-of-a-kind, large, steel-reinforced Tuff Shed door
Owens Corning® dimensional shingles with manufacturer's lifetime limited warranty
12" boxed eaves on all walls
Ability to add accessories, customize materials and select building size, wall height, roof pitch and door placement, etc.
Z-Box Containers
With some of our commercial customers wanting a storage solution that was more easily moved/re-deployed from site to site, Tuff Shed partnered with the makers of the unique, Z-Box Container. This insulated, collapsible, smooth-sided container is popular with customers wanting a more attractive solution than the typical Conex type shipping container. The advantages to sourcing this product through Tuff Shed include quicker turnaround time, delivery of the units fully assembled, and the ability to purchase in single unit quantities.
8×8, 8×12, 8×16 and 8×20 sizes available
Insulated, double thickness steel walls
Heavy duty coated wood subfloor
Steel floor system with integrated fork lift pockets
Heavy duty double door
Stackable, even when loaded• Easily assembled, disassembled and moved with fork lift
Contact
Need More Specs
Give me a call or email me if you're looking for more detailed specifications on any Tuff Shed product.
Business Development Center
Email:[email protected]
Phone: 303-474-5510
---
Commercial Credit Application
Download Credit App
Sours: https://www.tuffshedpro.com/specs/
Tuff Shed 12x16 VGS-WPC instruction manual and user guide
Approximate Depth (ft.)
16
Approximate Width (ft.)
12
Assembled Depth (in.)
192 in
Assembled Height (in.)
117 in
Assembled Width (in.)
144 in
Coverage Area (sq. ft.)
192
Door Opening Height (In.)
72
Door Opening Width (In.)
60
Exact Width x Depth
12 ft x 16 ft
Sidewall Height (in.)
72
Assembly Required
Yes
Capacity (cu. ft.) - Total
1152
Color Family
Browns / Tans
Door Type
Double
Features
Door Latch,Double Door,Lockable Door,Paintable
Floor Options
Without Floor
Foundation
Foundation Not Included
Included
No Additional Items Included
Manufacturers Recommended Assembly Time (hours)
24
Manufacturers Recommended Tools needed for Assembly
Drill, #2 Sq Drive Bit, Hammer, Step Ladder, Tape Measure, utility knife, Speed Square
Maximum Roof Load
40
Maximum Wind Resistance
95
Number of People Recommended by Manufacturer to Assemble
2
Number of Windows
0
Product Weight (lb.)
1516
Returnable
180-Day
Roof Color Family
Unfinished Wood
Roof Material
Not Included
Roof Material
Wood
Roof Pitch
5:12
Roof Shape
Peak
Shed Type
Wood
Siding Color Family
Brown/tan
Storage Capacity (cu. ft.)
1152
Style
Traditional
Manufacturer Warranty
LP Smartside 50 year Rot Resistant Warranty
Sours: https://mans.io/item/tuff-shed/12x16-vgs-wpc
Home Depot Outdoor Storage Barn Rainbow End 12' x 16'
12x16 lean to shed plans sku all our shed plans feature: free - how to build a shed ebook included with every 12x16 lean to storage shed plans include the. Storage shed plans 12x16 - 16 x 20 14 1 oz polyester pillow storage shed plans 12x16 how to build 3 platform steps up onto a deck how to build wood ramps for a shed. Free building plans 12x16 storage shed 1. woodworking shop safety 10 safety tips to post in your shop 1) think before you cut – the most powerful tool.
Storage shed plans 12x16 (1) storage shed plans 12x16 free wood storage shed plans (3) storage shed plans 12x16 build plank on frame model ship (2). Diy shed 12x16 - shed plans free 10 x 20 diy shed 12x16 free outhouse garden shed plans how much to build a 8 x 8 shed plans diy shed 12x16 16x16 storage shed. 12x16_shed_plan keywords: shed plans shed plans,shed blueprints,woodworking plans,kits,free,woodworking patterns,plans,wood working,storage shed,garden,designs.
Sours: http://tuffshedcabinreviews.blogspot.com/2018/03/free-plans-for-12x16-storage-shed.html
Tuff shed 12x16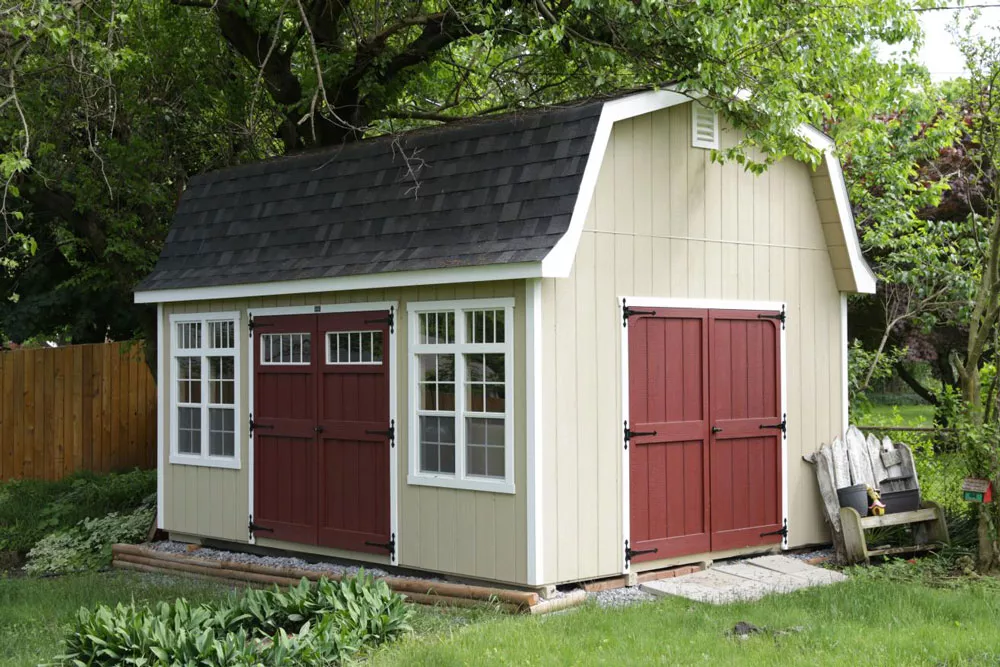 If you're looking for nice, mid-size storage space for your backyard, you might consider buying a 12×16 storage shed. The 12×16 storage shed is a popular size. It is small enough to be maneuvered into most backyards, and yet large enough to hold all your basic garden and lawn maintenance equipment. But is the 12×16 size right for you?
If you think you might like to buy a 12×16 shed, here are several things you should consider:
Is 12×16 the right size of Storage Shed for me?
When shopping for a backyard storage shed, the size options can seem overwhelming. Our storage sheds start from a tiny 6×6 option to a large 16×48 option! As you can see, the 12×16 shed is a mid-range option.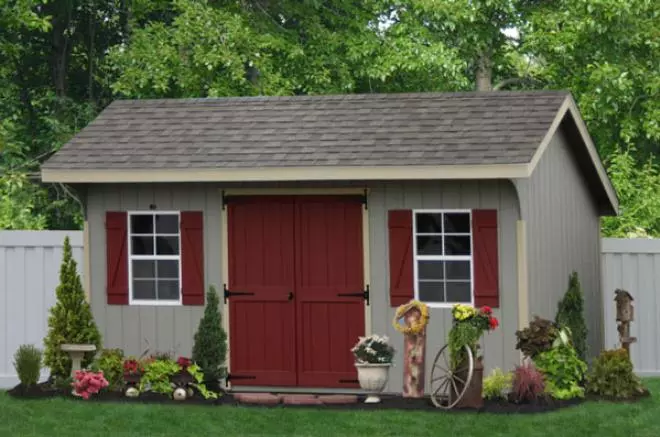 How much Space is in your Yard?
To help you figure out the right size, consider is how much space you have in your yard. Do you have room for a larger shed? The 12×16 version should be small enough to fit in most yards. You don't want a 12×16 shed in a very small backyard so that it looks out of sync with your space.
Do you have Access for getting a 12×16 Storage Shed into the Yard?
Even more than your actual yard space, you should also look at access space. Do you have room to maneuver a larger shed into your backyard? You can measure access points before you buy a 12×16 shed to figure this out. Keep in mind, that a 12×16 shed should have a 14′ wide access so there is room for the eves and a bit of extra.
A 12×16 Storage Shed gives you 192 square feet of Floor Space
The second thing you should think about is square footage. Think, for instance, about the difference between a 12×12 shed and a 12×16 shed. Glancing at the numbers, it's easy to think of them as about the same size, but remember to think in terms of square feet. Those four extra feet of length add 48 additional square feet!
Make the Most of Your Height in a 12×16 Shed
Finally, don't forget to consider cubic feet as well. You can add storage space to a 12×16 shed simply by choosing an option with a greater height! By adding a loft or extra shelving, you will be able to add storage without taking any more square footage from your backyard.

With so many sizes to choose from, how do you figure out what size of shed you need?
What is the price of a 12×16 shed?
The price of a 12×16 shed will vary a bit depending on what sort of siding you choose and what style you prefer. The cheapest 12×16 storage shed we sell is our $3,506 standard Mini barn shed with wood siding. The average 12×16 storage shed will cost about $5,765.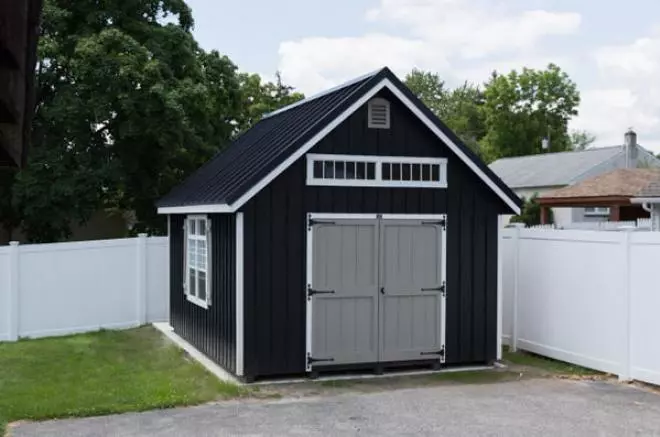 The biggest thing that affects price is the style of storage shed you choose. Later on in this article, I will go into more detail about different styles we sell, the pricing of each style, and the pros and cons of each style.
The other thing that affects price is the siding choice. A 12×16 storage shed with vinyl siding will run around $1000 more than the same shed with wood siding. A few storage shed styles allow for the option of wood clapboard siding, which runs about $2,300 more than the standard wood siding.
What can I fit inside a 12×16 Shed?
A 12×16 shed can comfortably fit two small pieces of outdoor equipment, such as a lawn mower or a 4-wheeler. Besides these two pieces of equipment, there will be room to maneuver them and walk around them. However, depending on your door placement, you may have to move one piece of equipment out of the shed before you can access the other piece of equipment.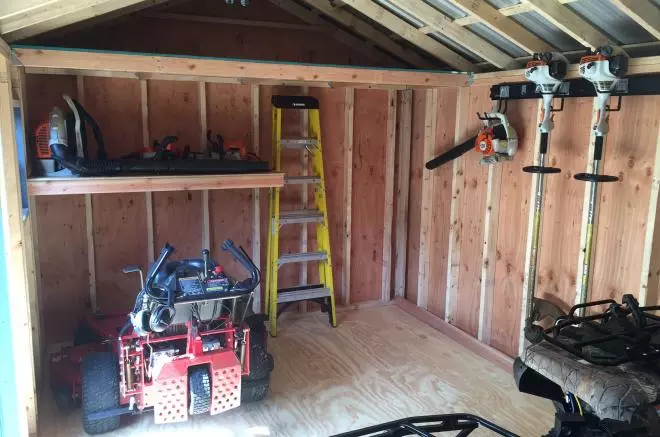 Depending on the size of your ATV or lawn mower, you will have room for storage shelves and some smaller hand equipment such as a rake, a wheelbarrow, a leaf blower. You may also have some loft space, depending on what style 12×16 Storage Shed you choose. If want roughly the same amount of space with a slightly different configuration, you may want to check out pricing for a 10×20 storage shed.
How can I get the most out of a 12×16 shed?
No matter what style of 12×16 shed you get, you will end up with 192 sq. feet of space. The easiest way to maximize this space is to add shelves. By taking all the things that would otherwise pile up on the floor, and instead put them on shelves, you will free up floor space, leaving room for you to maneuver your small engine equipment.
You can also consider hanging long ungainly tools, such as rakes or shovels, from the wall. Hanging things on the wall will make them easy to see, and will keep them from getting cluttered on a shelf or leaning against the wall where they could fall over, or where someone could trip over them.
Another thing you can do with a 12×16 shed that optimizes space is to add a loft. If you choose a style of shed that has a steeper roof pitch, there will be extra room for adding storage in a loft area.
Get more ideas on how to make the most of a small shed in our 10×12 storage sheds post.
What style of 12×16 shed should I buy?
The next important question is what style 12×16 storage shed to buy. We offer many styles of 12×16 storage sheds. Here are five options you might want to consider, and the pros and cons of each.
Standard 12×16 Minibarn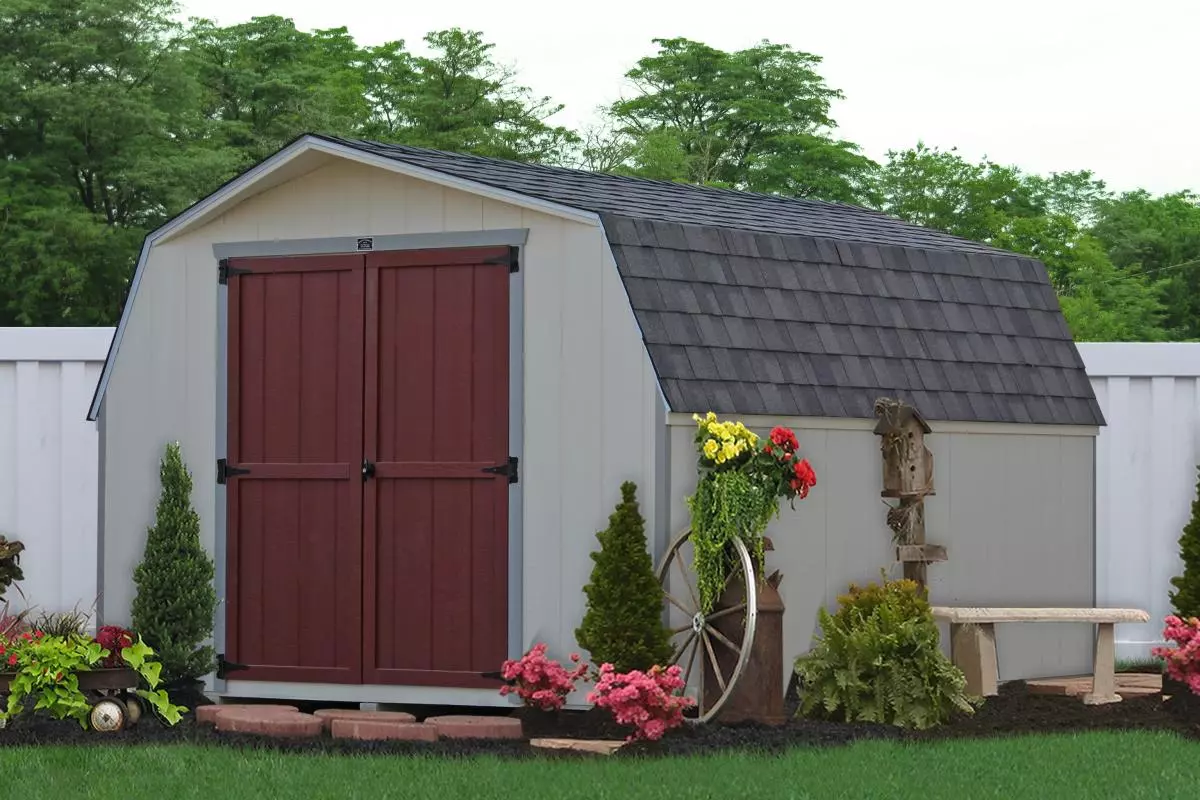 12×16 MiniBarn Sheds $3,506 (Wood)
Pros:
The Cheapest 12×16 storage shed option
Cute barn shape
It Will cover all your basic storage needs
Cons:
Only one window included
Limited door and window placement options
No room for a loft
Standard 12×16 Saltbox Shed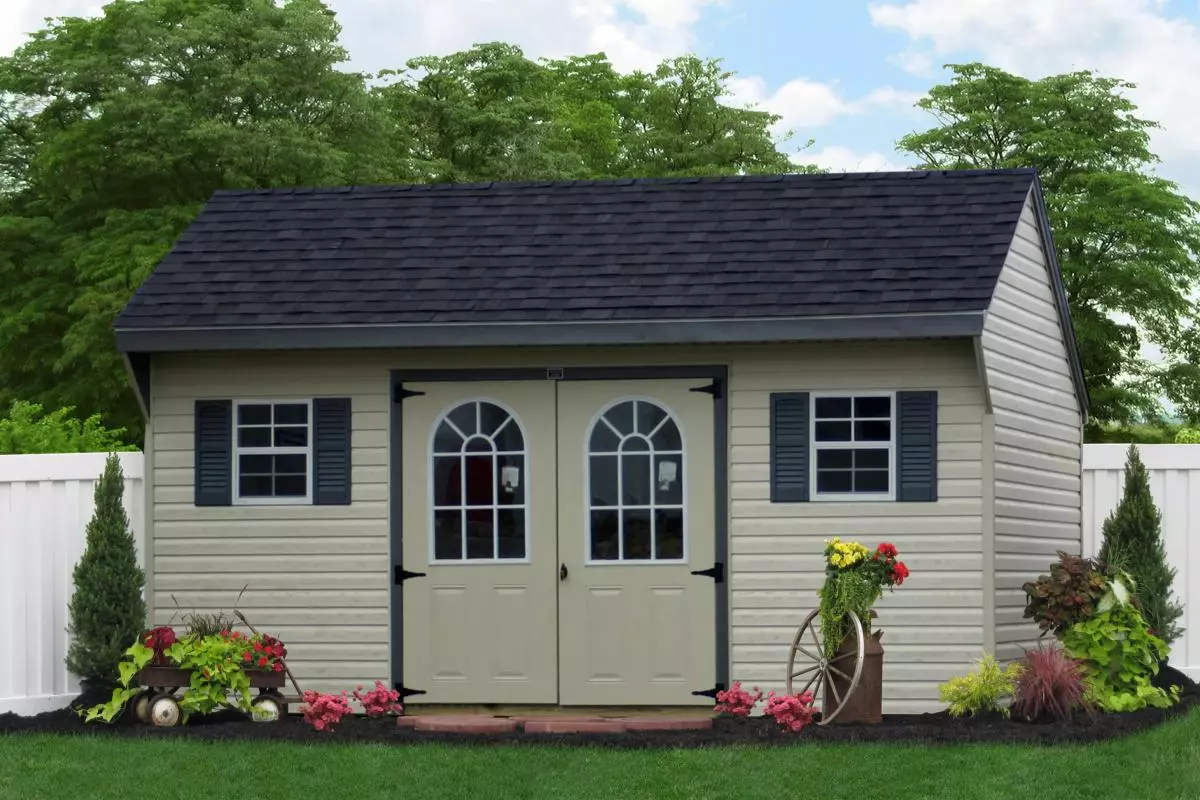 12×16 Standard Saltbox $6,670 (Vinyl)
Pros:
Unique and charming saltbox roof shape
Two windows are included, providing more light than the Standard Minibarn
One of the cheaper shed options
Cons:
Atypical roof design means not much space for a loft
Comes with 18×23 windows, which are fairly small
Note: If you love the look of the Standard Saltbox but want bigger windows, consider upgrading to the Classic Saltbox Shed. This shed is very similar, but it comes with wider overhangs and bigger windows and costs just $721 more.
Classic 12×16 Workshop Shed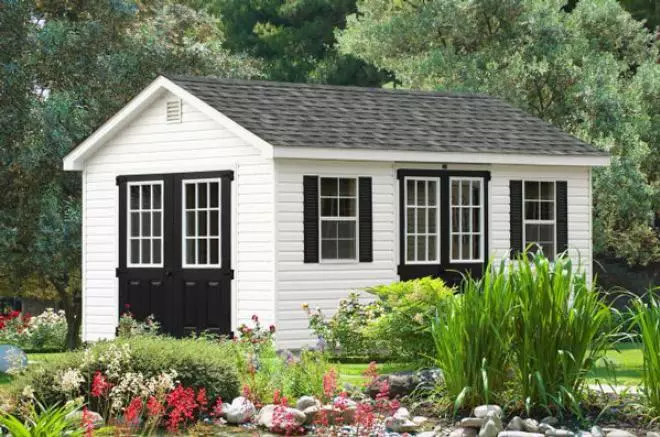 12×16 Classic Workshop $7,183 (Vinyl)
Pros:
Midrange option of your classic, A-shape roof
Still on the cheaper side, price-wise
Room for a small loft
Cons:
While the windows are a larger 18×36 size, you are limited to two
The classic A-shape roof style isn't as charming as some other roof options
Remember, if you like the look of the Classic A-shape Roof, you can always choose the cheaper Standard Workshop Shed, or upgrade to the pricier Premier Workshop shed, which offers more windows.
Classic 12×16 Gambrel Shed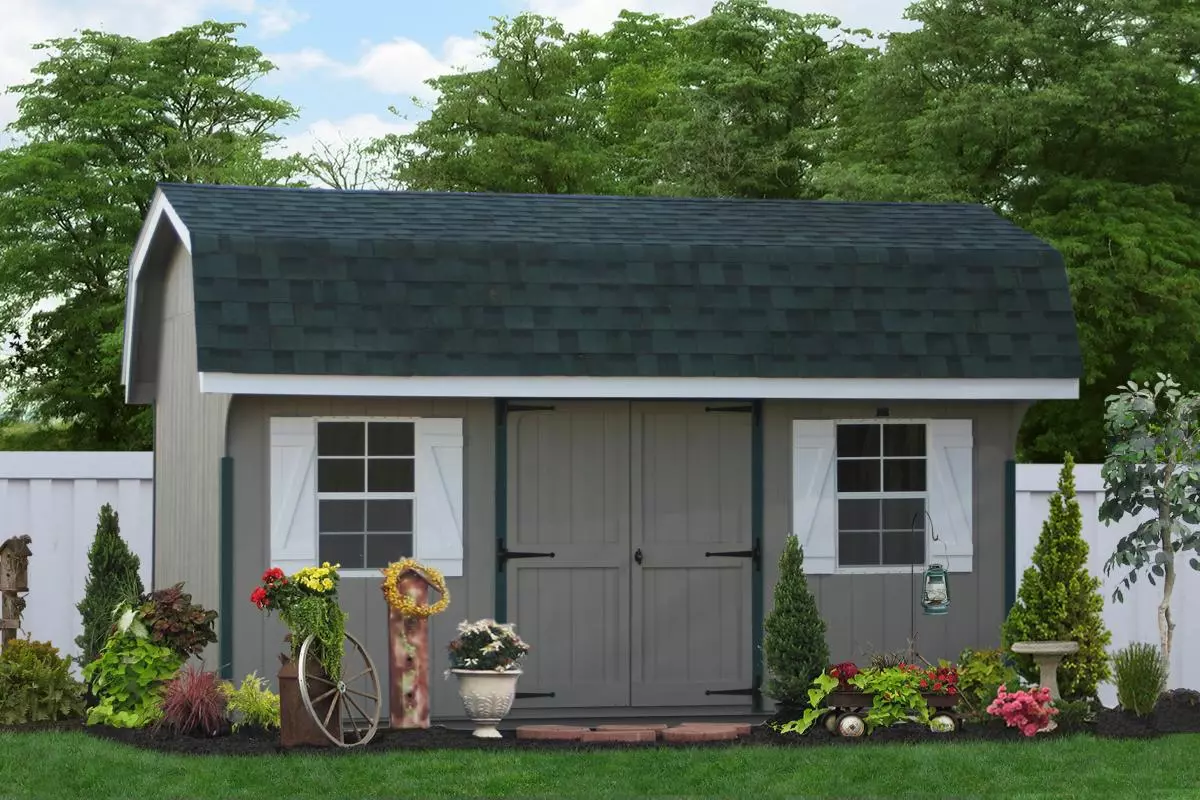 12×16 Gambrel With Wood Siding $5,544 (Wood)
Pros:
Charming barn shape
Room for a loft
Cons:
On the pricier side
Still features only two windows
Premier 12×16 Dutch Barn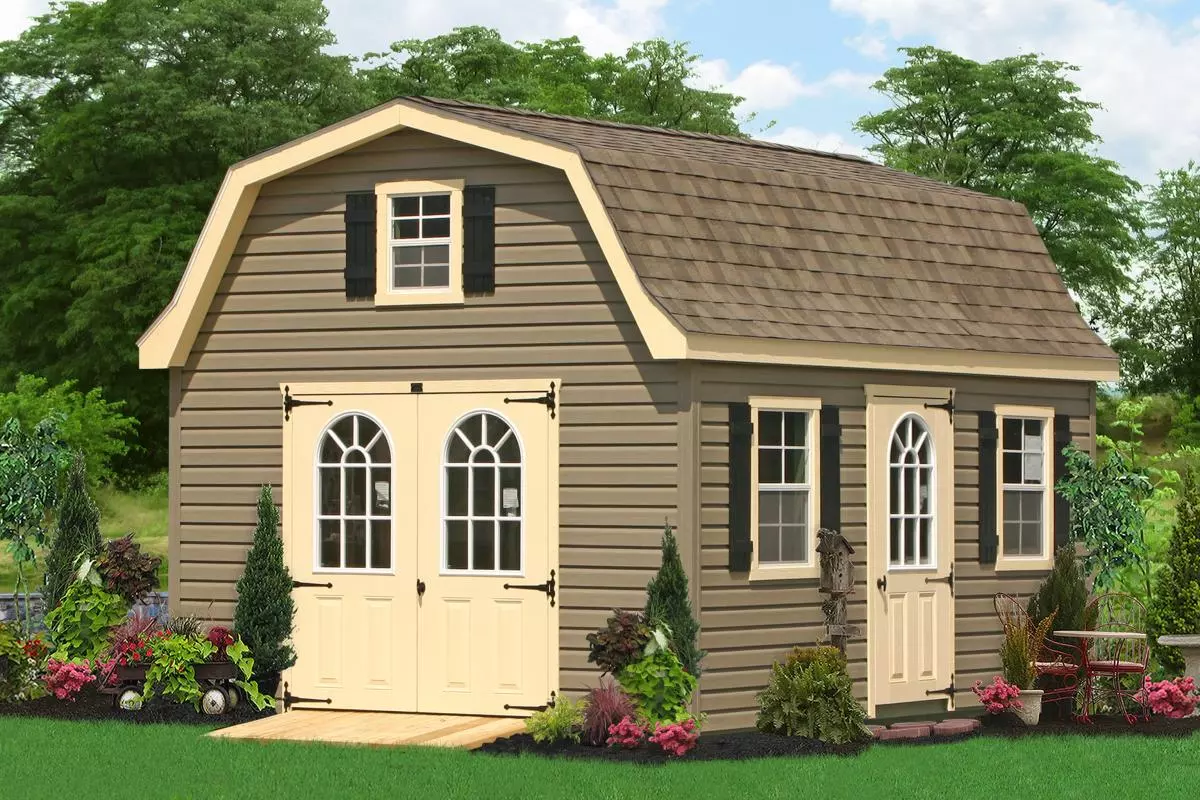 12×16 Premier Dutch Barn $7,992 (Wood)
Pros:
Our most spacious 12×16 shed, with plenty of loft space
Features four 24×36 windows, letting in plenty of light
Cons:
One of the priciest 12×16 sheds we offer
We hope you got what you are looking for if you don't just give us a call at 717-442-3281 or get a FREE Estimate! We will be glad to assist you with whatever you want.
Premier 12×16 Garden Sheds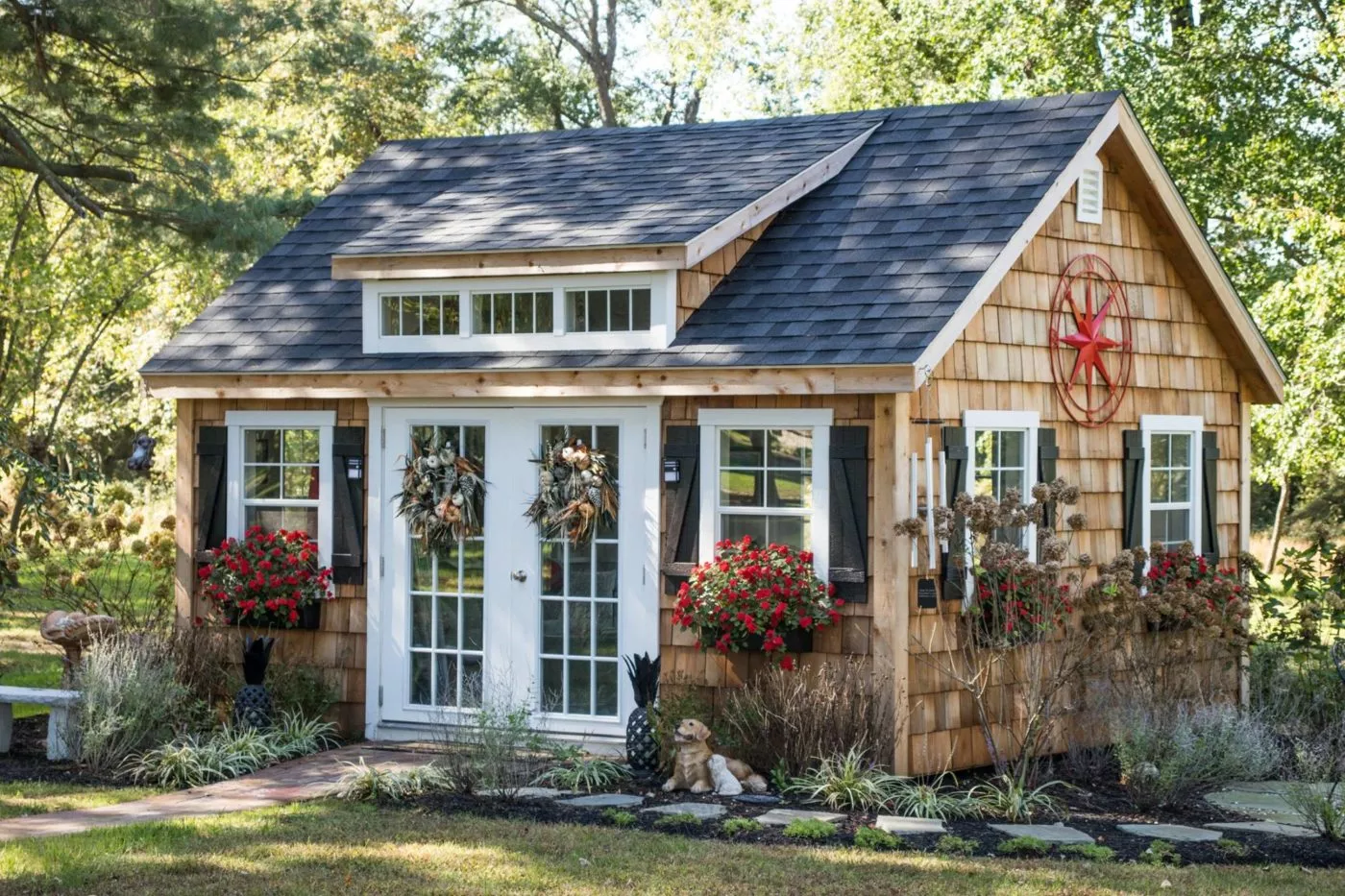 12×16 Premier Garden Sheds $10,975(Wood)
Pros:
Very beautiful design, steeper roof pitch, great for a shed dormer
Features four 24×36 windows, letting in plenty of light
Cons:
Looking for another sized shed?
We know that not everyone is looking for a 12×16 Storage Shed and as mentioned above, we offer storage sheds as small as 6×6 and even build prefab car garages up to 30×50! A great option for a large space is a 12×30 shed. Create a space for everything you need with this large shed!
Look around and then request a free quote on the size and style building you are looking for.
Sours: https://shedsunlimited.net/blog/choosing-a-12x16-storage-shed/
Stay @ Home Show: Home Depot Sheds
.
Now discussing:
.
380
381
382
383
384