SENA TECHNOLOGIES SP38 Motorcycle Bluetooth Communication System User Manual
15 TWO-WAY & MULTI-WAY INTERCOM ................................................................ 34
15.1 Two-way Intercom .................................................................................................................34
15.2 Multi-way Intercom ................................................................................................................35
15.3 Intercom Failure.....................................................................................................................38
15.4 Intercom Reconnection .........................................................................................................38
16 THREE-WAY CONFERENCE PHONE CALL WITH INTERCOM
PARTICIPANT ........................................................................................................39
17 GROUP INTERCOM ..............................................................................................39
18 UNIVERSAL INTERCOM .......................................................................................40
18.1 Universal Intercom Pairing ....................................................................................................40
18.2 Two-way Universal Intercom .................................................................................................40
18.3 Three-way Universal Intercom ..............................................................................................41
18.4 Four-way Universal Intercom ................................................................................................42
19 REMOTE CONTROL ............................................................................................. 43
20 FUNCTION PRIORITY ...........................................................................................44
21 20S CONFIGURATION SETTING .........................................................................44
21.1 Assigning Speed Dial ..........................................................................................................46
21.2 Enabling/Disabling Audio Multitasking ............................................................................46
21.3 Setting Intercom-audio Overlay Sensitivity ...........................................................................47
21.4 Enabling/Disabling Navigation App Support ................................................................... 47
21.5 Enabling/Disabling Audio Boost ......................................................................................47
21.6 Setting Smart Volume Control ..........................................................................................48
21.7 Setting Motion Sensor Sensitivity .....................................................................................48
21.8 Enabling/Disabling Voice Activated Phone Answering .................................................... 49
21.9 Enabling/Disabling HD Intercom ..........................................................................................49
21.10 Enabling/Disabling Eight-way Intercom ..............................................................................50
21.11 Enabling/Disabling Voice Prompts ...................................................................................... 50
21.12 Enabling/Disabling FM Station Guide .................................................................................51
21.13 Enabling/Disabling Sidetone ............................................................................................... 51
21.14 Enabling/Disabling Advanced Noise Control™..............................................................51
21.15 Delete All Bluetooth Pairing Information .............................................................................52
21.16 Remote Control Pairing .......................................................................................................52
21.17 Universal Intercom Pairing ..................................................................................................52
21.18 Exit Voice Conguration Menu ............................................................................................52
22 RESET TO FACTORY DEFAULT SETTINGS ......................................................53
23 FAULT RESET .......................................................................................................54
24 FIRMWARE UPGRADE .........................................................................................54
25 SENA BLUETOOTH CONNECTION CASE STUDIES .........................................55
26 OPERATION QUICK REFERENCE ......................................................................63
CERTIFICATION AND SAFETY APPROVALS ...........................................................64
• FCC Compliance Statement ...................................................................................................... 64
• FCC RF Exposure Statement .....................................................................................................65
• FCC Caution ..............................................................................................................................65
• CE Declaration of Conformity ...................................................................................................65
• Industry Canada Statement ...................................................................................................... 65
• Bluetooth License .....................................................................................................................65
• WEEE (Waste Electrical and Electronic Equipment) ................................................................. 66
SAFETY INFORMATION.............................................................................................. 66
• Product Storage and Management ...........................................................................................66
• Product Use ...............................................................................................................................67
• Battery ........................................................................................................................................ 67
PRODUCT WARRANTY AND DISCLAIMER ..............................................................68
• Limited Warranty ........................................................................................................................68
• Warranty Exclusions ..................................................................................................................70
• Warranty Service ........................................................................................................................71
Sours: https://usermanual.wiki/SENA-TECHNOLOGIES/SP38/html
SEN | Sena Bluetooth Products. General Pairing Notes.
Sena

Depending upon the device that you are pairing, you may need to enter a PIN code. This can be found in the instruction manual, however here are some common unlock PINs that most devices use:

0000, 1111, 2222, 3333, 4444, 0123, 1234

Sena SR10 Dongle
Turn ON by pressing the pairing button (small grey button at the top of the dongle) and PTT button (large central button) at the same time until LED lights up.
Press Pairing button for 5 seconds if Bluetooth headset pairing, or 8 seconds if Mobile phone/other device pairing.
Bluetooth headset pairing indicated by red/blue alternate flashing.
Mobile/Other device pairing mode indicated by red flashing.


Sena SPH10 Headset (behind head)
Turn headset ON by pressing the 'Jog dial' (large dial on the left side) and the 'Phone button' (small button located under and to the side of the Jog dial) at the same time. ON state indicated by a blue LED and ascending tones.
Mobile Phone/Other device Pairing:
Hold Phone button for 5 seconds until LED flashes red/blue alternately and you hear multiple beeps. Then use your phone/other device to pair to the headset.
Other SPH10 Headsets:
Make sure all headsets are ON. Press and hold Jog dial for 5 seconds until red LED starts to flash rapidly – work your way through headsets one at a time. Once in pairing mode, select one headset and tap the Jog dial once and wait until headsets have paired.

Sena SMH10 Headset/Intercom
Same as SPH10 headsets. Phone button is located on the side next to the jog dial.
For new firmware (v5.0) use jog dial to pair to everything other than another SMH10. Hold for longer for 'universal pairing mode'
Sours: https://www.wildtalk.com/knowledge-base/sena-bluetooth-products-general-pairing-notes/
You (A) can have a three-way conference intercom with two other SMH10 friends (B & C) by establishing two intercom connections at the same time. While a three-way conference intercom is in progress, mobile phone connection of all three participants would be temporarily disconnected, but as soon as the conference intercom terminates or one of the participants leaves the intercom, all mobile phones would be automatically reconnected. During the conference intercom, if you have an incoming mobile phone call, terminate the conference intercom to automatically reconnect the mobile phone and receive the call.
1. You (A) need to be paired with two other friends (B & C) for threeway conference intercom.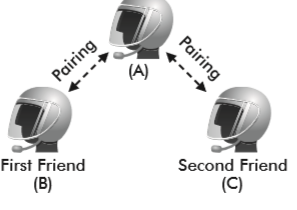 2. Start an intercom conversation with one of the two friends in your intercom group. For example, you (A) may start an intercom conversation with the intercom friend (B). Or intercom friend (B) may start an intercom call with you (A).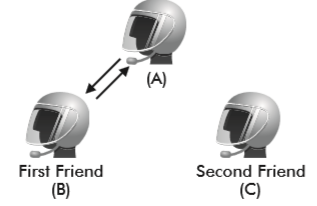 3. The second intercom friend (C) may join the intercom by making an intercom call to you (A).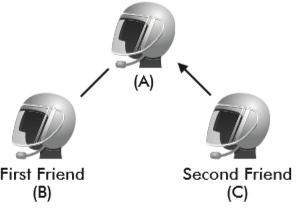 4. Now you (A) and two SMH10 intercom friends (B & C) are having a three-way conference intercom.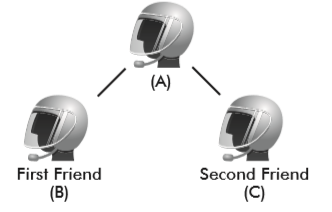 End Three-way Intercom
When you are a member of an active three-way conference intercom, you can completely terminate the conference intercom or just disconnect an intercom connection with one of your active intercom friends.
1. Press the Jog Dial for 1 second until you hear a beep to terminate three-way conference intercom completely. It terminates both intercom connections with (B) and (C).
2. Tap or double tap the Jog Dial to disconnect intercom connection with one of the two intercom friends accordingly. For example, by single tapping the Jog Dial, you can just terminate the intercom connection with the first intercom friend (B). However, you still have the intercom connection with your second intercom friend (C).
Sours: https://www.sena.com/product/smh10/faq
Sena SMH10 Pairing \u0026 Connecting Up To 4 Devices
.
Instructions sena bluetooth
.
SENA 20S - Pairing with the iPhone ((EN))
.
Similar news:
.
350
351
352
353
354