Subaru has a loyal following of owners who are enthusiastic about their "Subie." What makes Subaru unique is that all current models, with the exception of the RWD BRZ possess Subaru's symmetrical full-time All-Wheel Drive system, which certainly gives the driver "confidence in motion" in any driving conditions. Subaru is a unique automotive brand offering dependable and high quality vehicles in the Canadian market.
"We're proud of every model in the Subaru family as each one has propelled our momentum and helped us hone our product offering based on our core engineering – our SUBARU BOXER engine – and the drivetrain that makes the most sense for consumers," said Joe Felstein, Director of Marketing, Subaru Canada, Inc. in an exclusive interview with wheels.ca. "In most cases, that's the celebrated Subaru symmetrical full-time All-Wheel Drive system, but our rear-wheel-drive sports coupe, the BRZ, has also expanded the Subaru family by welcoming new customers to the brand."
The popularity of Subaru has grown in recent years from appealing to a niche market with the quirky, boxy, rugged look of their vehicles to evolving into more mainstream contemporary designs that appeal to a wider audience. Here are my choices for the top 10 Subaru's, taking into consideration enthusiast popularity, performance, styling and innovation. Let us know what's on your top 10 Subaru list in the comments section.
RELATED: The 2015 Subaru Outback lives up to its name

10. 1990 – Present Subaru Legacy
The Legacy sedan has been around since 1990 and has gotten better with each generation. The current sixth generation Legacy won the coveted Automotive Journalist Association of Canada (AJAC) 2015 Canadian Car of the Year Award for its overall outstanding quality and driving characteristics. Available with a 2.5L 4-cylinder Boxer engine or 3.6L 6-cylinder Boxer, continuously variable transmission (CVT) or 6-speed manual, all Legacy models are equipped with Subaru's symmetrical full-time All-Wheel Drive system.
1992 – 1996 Subaru SVX

The SVX luxury performance coupe was a very unique looking Subaru. The distinctive design element was the signature window-within-a-window. The SVX was the most expensive Subaru model at the time and the company lost money producing it, however it was still significant to showcase the Japanese automaker's performance and technology advancements. Its 3.3L Boxer horizontally opposed flat-six made 231 horsepower and 228 lb-ft torque – impressive numbers for the early 1990s.
2003 – 2006 Subaru Baja
The funky looking Baja was different from any other automobile being produced during its lifecycle and that's what Subaru wanted, something special. A car-truck hybrid, the four-door Baja was based on the Subaru Outback and its open-bed made it unique. Baja was all-wheel drive and very versatile and certainly has a place on this list.
1978 – 1994 Subaru BRAT
The BRAT was a quirky looking little pick-up truck sold in many markets under other nameplates except Japan. Its advantage over other small pick up trucks was its four-wheel drive capabilities. The BRAT was powered by Subaru's EA engine and was available with a Turbo and either automatic or manual transmissions.
1958 – 1971 Subaru 360
The 360 was Subaru's first automobile whose nameplate was derived from its small 356 cc engine displacement. Production reached 392,000 over its 12-year model run. Nicknamed the Ladybug, the 360 was one of Japan's most popular cars and was available as two-door, station wagon, convertible and sport model variants. The two-door, rear engine city car weighed only 1,000 pounds and complied with Japan's light car (Kei car) regulations during its time.
RELATED: Top 10 winter tires for 2016
2005 – 2009 Subaru Legacy GT Wagon
After driving a friend's Legacy GT Wagon I know why he loves it so much. The street was covered with dense snow and the Legacy ploughed through it with ease. When I drove the GT Wagon on dry days, I was amazed by the gusto from the 2.5L turbo Boxer engine putting down 265 horsepower. The GT Wagon was available with automatic Sportshift transmission and 6-speed manual. This magnificent family hauler can do it all around the neighbourhood and on the racetrack.
2012 – Present Subaru BRZ
Jointly developed with Toyota (Scion FR-S) the BRZ is the only rear-wheel drive vehicle in the current Subaru line-up. This 2+2 coupe has become extremely popular as an affordable performance sports car and can be easily modified and tuned. Known as the Toyota GT86 and FT86 in other markets, BRZ stands for Boxer engine, Rear-wheel drive, and Z for the zenith. There are subtle trim and suspension differences between the BRZ, FR-S and GT86, however they all share the same 2.0L Dual Overhead Cam, 16-valve, horizontally opposed, 4-cylinder Boxer engine making 200 horsepower. This adrenaline pumping sports car possesses a low centre of gravity and sport-tuned suspension system for razor-sharp handling. Starting at $27,395 (MSRP), it's an incredible value and a future classic.
2002 – present Subaru WRX and WRX STI
When the much-anticipated Impreza WRX arrived in North American showrooms in 2002, it was an instant success. This was the first turbocharged Subaru available in Canada. With its signature "bug eyed" front, pronounced hood scoop and chiselled good looks, the WRX got the attention of tuners and rally racers for its outstanding performance and handling characteristics. All WRX models feature Subaru's ubiquitous Boxer engine and symmetrical full-time All-Wheel Drive system making the WRX a winner on the rally track circuit and in the hearts of Subaru enthusiasts.
The 2004 WRX STI was the first STI (Subaru Tecnica International) model available in North America. The 2.5L Flat 4 Boxer engine put down a whopping 300 horsepower and 300 lb-ft of torque mated to a 6-speed manual transmission and all-wheel drive. The STI is no sleeper with a huge hood scoop, rear spoiler, massive brakes and gold wheels, this was a legend in the making and set the stage for all the other STI performance models that have followed. The current WRX STI boosts 305 horsepower.
1998 Subaru 22B STI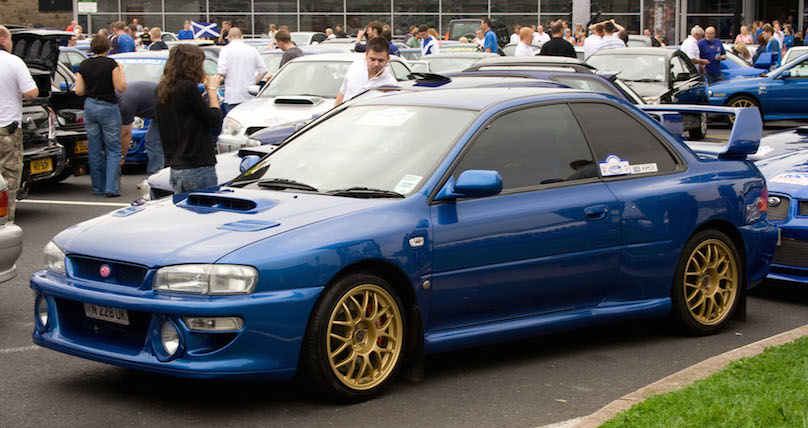 This limited edition wide body coupe was produced to commemorate Subaru's 40th anniversary and success in FIA World Rally Championship racing. 22B STI was sold in Japan, UK and Australia and is a coveted collectors item amongst Subaru enthusiasts. The turbocharged 2.2L engine made an incredible 276 horsepower. All 22B STI examples are dark blue with fender flared wide body trim, a unique hood and adjustable rear wing. Bilstein suspension, red STI brake callipers, and 17″ gold wheels complete the sporty appearance.
1998-2001 Subaru Impreza 2.5RS
The Impreza 2.5RS coupe was introduced in 1998 to the Canadian market as the first rally inspired Subaru available to the everyday consumer. The 2.5RS had the same body style and AWD system that was being used by the Prodrive tuned powerhouse Subaru's that were winning races in the World Rally Circuit. The 2.5RS was the most significant Subaru model to captured the imagination of performance enthusiasts and contribute towards the popularity of Subaru in the rally world. The 2.5RS looked aggressive with it's bulging hood scoop, large rear spoiler, gold coloured alloy wheels plus the 2.5L flat four engine put out a respectable 165 horsepower making it a fun car to drive.
Derek Serianni, administrator of the Toronto Subaru Club said, "the 2.5RS was the car that started it all for Subaru enthusiasts in Canada because it was the first rally inspired Subaru we could get our hands on. Our club was initially formed in 1998 as the 2.5RS Club of Toronto, which goes to show what an impact it was on the scene back then. In 2000 we re-branded the club as The Toronto Subaru Club as Subaru's became more popular and our membership base started reflecting this."
"With each new model iteration, we are listening to the needs of our customers and the current generations of our product portfolio is proof positive that we are resonating more and more with Canadians," commented Joe Felstein from Subaru Canada. "We are on track for our fourth consecutive annual sales record this year. A portion of this success can be attributed to Subaru's belief in safety, durability, quality and reliability, performance and appealing to adventure and active lifestyle owners."
The Toronto Subaru Club (TSC) is a perfect example of how enthusiastic Subaru owners are about the brand. With 11,000 online forum members spanning Canada, TSC welcomes all Subaru owners to join in the camaraderie and love affair with Subaru.
"The loyalty and passion of our members is obvious by the joy and pride they take in their Subie" commented TSC administrator Derek Serianni. "Subaru Canada is a tremendous support for our club by hosting our annual Hyper Meet car show and matching our charitable donation to Ronald McDonald House Charities Toronto for sick children receiving medical treatment. Kudos to Subaru Canada for listening to their customers and what we want to see in terms of product features and enhancements – which have come to fruition."
Sours: https://www.wheels.ca/top-ten/top-10-subarus-of-all-time/
The Subaru Forester is a compact crossover manufactured since 1997 by Fuji Heavy Industries and sold under the Subaru brand. Available in Japan from 1997, the Forester shares its platform with the Impreza. It was introduced in 1997 as a compact crossover wagon. It has been crowned Motor Trend's 2009 and 2014 SUV of the Year and The Car Connection's Best Car To Buy 2014.... more
Class: Compact sport utility vehicle, Mini sport utility vehicle, Sport utility vehicle, Station Wagon, Crossover SUV
The Subaru Outback is an automotive nameplate used by the Japanese automaker Subaru for two different vehicles: a Legacy-based station wagon (1994–present), the Outback; and an Impreza-derived hatchback, the Outback Sport (1994–2011). Many versions of the Outback wagon and Outback Sport have either had an all-wheel-drive option or standard equipment. The Outback station wagon originally derived from the station wagon variant of the Subaru Legacy. The first generation Legacy, which made its debut in 1989, did not receive the cosmetic and suspension modifications to create an Outback version, although Subaru offered an Outdoor option package for the 1994 model year Legacy L all-wheel-drive... more
Class: Mid-size car, Station Wagon, Crossover SUV
Photo: Wikimedia Commons / CC-BY
The Subaru Impreza is a compact automobile, manufactured since 1992 by Subaru—the automobile division of Japanese transportation conglomerate, Fuji Heavy Industries. Subaru introduced the Impreza as a replacement for the Leone, with the Leone's EA series engines replaced by the newer EJ series versions. Now in its fourth generation, Subaru has offered four-door sedan and five-door hatchback body variants since 1992; the firm also offered a coupe from 1995 for the first generation only. Mainstream versions have received naturally aspirated "boxer" flat-four engines ranging from 1.5- to 2.5-liters, with the performance-oriented Impreza WRX and WRX STI models uprated with the addition of... more
The Best All Wheel Drive Cars of All Time, Ranked#1 of 74 The Top Cars For Teenagers#13 of 55 The Longest Lasting Cars That Go the Distance
The Subaru Baja is an all-wheel-drive, four passenger, four-door, open-bed pickup truck manufactured from 2002 to 2006 by Subaru and marketed for model years 2003 to 2006. The Baja combines the handling and passenger carrying characteristics of a traditional passenger car with the open-bed versatility, and to a lesser degree, load capacity of a pickup truck. The Baja is named after Mexico's Baja California peninsula—home to the Baja 1000 off-road race. The unibody design borrowed heavily from the existing mechanicals, platform and sheet metal of the Subaru Legacy/Outback wagon. Production began on July 18, 2002 as a 2003 model at the Subaru of Indiana Automotive, Inc. factory in Lafayette,... more
Class: Mid-size car, Pickup truck
The Subaru Tribeca is a mid-size crossover SUV sold since 2005 by Subaru, the automobile manufacturing division of Japanese transportation conglomerate Fuji Heavy Industries. Released in some markets as the Subaru B9 Tribeca, the name "Tribeca" derives from the TriBeCa neighborhood of New York City. Built on the Subaru Legacy platform and sold in five- and seven-seat configurations, the Tribeca was intended to be sold alongside a slightly revised version known as the Saab 9-6. Saab, at the time a subsidiary of General Motors, abandoned the 9-6 program just prior to its release subsequent to GM's 2005 divestiture of its 20 percent stake in FHI. Inspired by the B9X concept car, the Tribeca's... more
Class: Mid-size car, Sport utility vehicle, Crossover SUV
The Subaru BRAT is a coupé utility version of the Subaru Leone, built from the late 1970s into the early 1990s. Developed in Japan during 1977 at the request of the President of Subaru of America, the BRAT was designed on the basis of the company's four-wheel drive "Leone" station wagon. It was first introduced in 1977 for the 1978 model year and followed the concept of the Chevrolet El Camino and the Ford Ranchero.... more
The Subaru Leone is a compact car produced by the Japanese car manufacturer Fuji Heavy Industries from 1971 to 1994. The word "leone" is Italian for lion. It was released as a replacement to the Subaru 1000 and was the predecessor to the Subaru Impreza. All Leones were powered by the Subaru EA boxer engine. Most cars were equipped with optional four-wheel drive. At the time of its introduction, the Leone was Subaru's top model until 1989, when the larger Legacy was introduced. Although released in Japan and some export markets as the Leone, for many years, this was the only vehicle sold internationally by Subaru where the smaller kei cars Rex, Vivio, R-2, 360 and Sambar were not sold or... more
Class: Compact car, Subcompact car
The Subaru Alcyone SVX, also known outside of its home market Japan as the Subaru SVX, is a two-door grand tourer coupé that was sold by Subaru, the automobile manufacturing division of Japanese transportation conglomerate Fuji Heavy Industries. Produced from 1991 to December 1996, it was FHI's first attempt to enter the luxury/performance car market. Its intention was to combine two seemingly contradictory elements—comfort and performance. The name "Alcyone" refers to the brightest star in the Pleiades star cluster, on which the Subaru logo is based.... more
The Subaru R-2 was a kei car manufactured by Subaru from 1969 to 1972. The R-2 was a full model change of the popular Subaru 360, but with an updated appearance and increased interior space. The R-2 appeared approximately one year before the Honda Life, Daihatsu Fellow Max and Suzuki Fronte kei cars, however, it continued to use the powertrain setup from the Subaru 360, which was the EK33 air-cooled 2-cylinder engine installed in the back, which is the inspiration for the name of the vehicle. It appeared around the same time as the second generation Mitsubishi Minica. When the car was introduced February 8, 1969, Subaru took 25,000 orders for the car in one month. Sales began in August of... more
Class: Microcar, City car, Kei car
Subaru launched the third generation Japanese and world-market Legacy in June 1998, while the North American model was introduced in 2000. In all markets except for the United States, production lasted through 2002, with a limited production Blitzen model sold mid-cycle under the 2003 model year in Japan. Production in the United States lasted through 2004. At its introduction in 1999, it won the Automotive Researchers' and Journalists' Conference Car of the Year award in Japan. All models were equipped with standard, symmetrical all wheel drive. World-market and Japanese models ranged from a normally aspirated 2.0 liter flat-4 to the EZ30 in the 3.0R model. Even though dimensions became... more
The Subaru FF-1 Star was a development of the original front wheel drive Subaru, the 1000. The FF-1 was marketed as the Star in the United States in 1970 and 1971 model years, and was replaced by the FF-1 G in 1972 but remained in production in some markets until 1973. There were coupe, sedan, and station wagon models available. This model only came with the EA-61 engine and four-speed manual transmission.... more
Class: Sedan, Subcompact car
The Subaru FF-1 G was a compact car from the 1970s, replacing the FF-1 Star. It was a front wheel drive vehicle with a typical Subaru EA61 or EA62 flat-4 engine. A fully independent torsion bar suspension and rack and pinion steering were impressive for the time. The inboard front drum brakes were an oddity. Also strange were the dual radiators - the car used only a small radiator on starting, hastening warmup. Even in 1972, Subaru boasted about the foul-weather handling of their cars, and they were quite successful. Priced at just over US$2,000 and achieving 29 miles per US gallon, the Subaru quickly became a strong selling import car in the United States.... more
Class: Sedan, Subcompact car, Coupé
The Subaru Vivio is a kei car that was introduced in March 1992, and manufactured by Subaru until October 1998. It has a 658 cc multi-point fuel-injected four-cylinder engine, which is small enough to place it in the light car class, giving its owners large tax breaks in Japan. There was also a carbureted version with 42 PS in Japan, which equipped the Vivio Van version. The Vivio feels roomy considering its small size, thanks to a relatively tall profile and large windows. It is one of the lightest kei cars, weighing in at between 650 kg and 700 kg depending on the trim line.... more
Class: Hatchback, Kei car
The fourth generation of the Subaru Legacy was introduced in 2003 and saw a complete redesign of the Legacy on an all-new platform.... more
The Subaru Legacy is a mid-size car built by Japanese automobile manufacturer Subaru since 1989. Part of the original design goals for the Legacy model was to provide Subaru a vehicle in which they could compete in the lucrative North American midsize market against competitors Honda Accord and Toyota Camry. Higher performance variants of the Legacy are offered as competitive alternatives to compact executive cars such as the Audi A4, Alfa Romeo 159 and BMW 3 Series. The Legacy also serves as Subaru's flagship car. In 1996, a variant of the Legacy with heightened suspension called the Legacy Outback was introduced to compete in the burgeoning sport-utility vehicle class and proved to be a... more
The Subaru Justy is a subcompact hatchback that has been sold by Japanese automobile manufacturer Subaru since 1984. Subaru manufactured the Justy from 1984 to 1994, then it has sold rebadged versions of other vehicles under the Justy nameplate. The company introduced the latest iteration, a rebadged Daihatsu Boon, at the 2007 Frankfurt Motor Show with a 1.0 or 1.2 litre straight-three engine, front/four wheel drive, electronically controlled continuously variable transaxle, or a 5-speed manual transaxle. For the 2010 model year, the Justy was replaced with the Subaru Trezia.... more
Class: Hatchback, Subcompact car
The Subaru 1000 was the first front wheel drive Subaru produced by Fuji Heavy Industries that was in the Japanese government "compact car" classification starting in 1966. Previous Subaru models such as the Subaru 360 and the Sambar had been rear-engined, rear wheel drive kei cars. It was the first production Subaru to use a boxer engine. In 1960, Subaru management decided to introduce a successor to the prototype Subaru 1500 with a new code name A-5 with a four-cycle air-cooled horizontally opposed four-cylinder engine displacing 1500 cc, driving the front wheels in a compact car platform. It was to have a double wishbone front suspension. Due to FHI's limited resources, the car was not... more
Class: Sedan, Subcompact car, Station Wagon
The Subaru 360 is a rear-engined, two-door city car manufactured and marketed from 1958 to 1971 by Subaru. As the company's first automobile, production reached 392,000 over its 12 year model run. Noted for its small overall size, 1,000 lb curb weight, monocoque construction, swing axle rear suspension, fiberglass roof panel, and rear-hinged doors, the inexpensive car was designed in response to the Japanese government's light car or Kei car regulations and its proposal for a larger "national car," both intended to help motorize the post WWII Japanese population. The 360's overall size and engine capacity complied with Japan's Kei car regulations. Nicknamed the "ladybug" in Japan, and... more
Class: Microcar, City car, Kei car
The Subaru Pleo is a kei car from Subaru. The Pleo is taller than conventional kei car hatchbacks, but shorter than the definitive microvan, the Suzuki Wagon R, and is available with a variety of 658 cc I4 engines: SOHC, DOHC, and supercharged in two different trim levels. It competes with the Honda Life, Daihatsu Cuore, and the Mitsubishi Toppo in the tall wagon segment of kei cars in Japan. The Pleo was launched in 1998, and has since undergone four upgrades, one in 2000, another in 2001, another in 2002, and another in 2010.... more
Class: Hatchback, Station Wagon, Kei car
The Subaru Rex, also known as Ace, Viki, Sherpa, 500/600/700, Mini Jumbo or M60/M70/M80 in various export markets, is a kei class automobile produced from 1972 to 1992 mainly for sale in Japan by Subaru, although it was also sold in Europe, South America, Australia and the Caribbean. The Rex superseded the R-2 as Subaru's kei car, and has been available in commercial use versions as well as in a passenger car version. It underwent major changes in 1976, in fall 1981, and again in late 1986. The second generation Rex also formed the basis for the larger Subaru Justy. The name "Rex" comes from the Latin word for "king". In some export markets, the Sambar microvan has been marketed as the "Rex... more
Class: Microcar, Hatchback, Kei car
The Subaru XT is a 2-door coupé that was produced from 1985 to 1991. The name Alcyone was used in Japan, the Vortex name was used in Australia and New Zealand, and the name XT or XT6, was sold in North America and Europe. All were available in front-wheel drive or four-wheel drive, depending on the year. The Subaru XT was launched in February 1985 in the American market, followed by a June debut in Japan. The Alcyone name comes from the brightest star in the Pleiades star cluster, on which the Subaru logo is based. The XT range was replaced by the Subaru SVX in 1992.... more
The Subaru Sumo, known as the Libero in European markets except the UK, Norway, and Sweden, and as the Domingo in the Japanese market, was a microvan produced from 1983 to 1998. In Sweden, it was known as the Columbuss, and in Taiwan the latter generation was marketed as the Estratto. It was also called the Subaru E10 and Subaru E12 respectively in some places, the names referring to the size of the engines. The Sumo shared many characteristics with the Sambar, except it had extended front and rear bumpers and a larger engine borrowed from the Subaru Justy. Because of these modifications, it didn't conform to kei car regulations, which stipulate the maximum dimensions of the vehicle and the... more
The Subaru Sambar is a very small vehicle built by automaker Subaru for the Japanese market. It is Japan's first Keitora, shorthand for "kei class truck" and is still in production. The Sambar is available in both microvan and Kei truck to fulfill the Kei car guidelines. Still popular in the domestic market, the Sambar continues to be produced in Japan, China, Korea, as well as in Finland with a joint venture with Elcat Automotive. Since its introduction, the Sambar has used a rear engine, rear wheel drive format, with the first two generations using the air-cooled engine from the Subaru 360, and later generations using the water-cooled engine from the Subaru Rex, Vivio and the Pleo. Until... more
The Subaru R1e is a battery-electric microcar undergoing development and testing. The car was jointly developed with Tokyo Electric Power, the giant Japanese utility company. Currently 10 prototypes have been built and are undergoing testing by Tokyo Electric Power, which plans to eventually operate 3,000 of the vehicles starting in 2008. The vehicle has a range of 50 miles and a top speed of 62 mph. The prototype is a two-door, two seat vehicle based upon the Subaru R1 gasoline vehicle. This vehicle has received intense interest from electric vehicle fans owing to its modern battery technology, appropriate size, and potential performance attributes. It also has the same grille as the 1st... more
The first vehicle built by the automotive division of Fuji Heavy Industries was called the Subaru 1500, with the development code-name of P1. The prototype used a monocoque body structure and adopting the "ponton" style appearance, with an independent front wishbone suspension and a rear leaf spring suspension with three plates and a live rear axle. The 1.5 litre four-cylinder OHV engine, code named "FG4A" was sourced from Peugeot from the Peugeot 202, and built by Fuji Precision Technology, later known as the Prince Motor Company. The FG4A engine was related to the Prince GA4 with some modification, and was shared with the Prince Sedan introduced in 1952. The 1500 has a similar appearance... more
Subaru B9 Scrambler is an automobile from Subaru. It's a classic, open sports car. It's a 4.2 metres long two seater powered by a 140 hp hybrid engine. The design is done by Andreas Zapatinas. The engine is a 2.0 litre flat-4 cylinder hybrid. The ride height can be adjusted through a self-leveling air suspension. This concept car was first shown in 2003 at the Tokyo Motor Show. It was designed with influence from Subaru's aircraft heritage, with the front end appearing to look like the cross section of an airliner, with a central jet intake and wings. The lower panels of the B9 are dent resistant.... more
The Subaru R1 was introduced by the Japanese carmaker Subaru on January 4, 2005. It was designed to fit within the Japanese kei car tax bracket. The R1 is a two-door version of the Subaru R2, but with a shorter body and wheelbase. The R1 is unusual in that it does not use up the maximum length allowed for by the kei car regulations—the only other kei cars to have done this since the 1989 Autozam Carol were the Suzuki Twin and the European Smart Fortwo. The R1 was only available in one spec level up to the end of 2005, using a 658cc Subaru EN engine. The engine is available in three versions: the I with the EN07U SOHC 34 kW engine, the R with the EN07D DOHC engine rated at 40 kW and the STi... more
The Subaru R2 was announced in Japan on December 8, 2003, and the R2 name was inspired by the Subaru R-2, the kei car model that was produced between 1969 and 1972. The R2's exterior reflects influence from Andreas Zapatinas, who worked at Alfa Romeo before moving to Subaru. The R2 is the first production Subaru to sport a new family look, including the aviation-inspired "spread wings grille" that is also used by Tribeca and Impreza. The R2's exterior dimensions are largely similar to its predecessor, the Subaru Pleo, but unlike the squarish Pleo, the R2 is deliberately rounded, less space efficient form. Three variations of the 4-cylinder, 658 cc engine are available: SOHC DOHC AVCS DOHC... more
The Subaru Stella is a Japanese automobile produced by Subaru starting June 2006. The Stella is based on the same architecture as the Subaru R2. Has a 4-door hatchback, It can be considered as a direct replacement of the Subaru Pleo despite the fact the Pleo is still currently in production, and is Subaru's re-entry into the market segment dominated by the Suzuki Wagon R and the Daihatsu Move, hoping to recapture market share after the R2's less-than-expected sales performance. The Stella's dimensions are more parking structure friendly where vehicle stacking is utilized over the Pleo. The name "Stella" is Italian for "star", a reference to the Subaru logo. Due to the investment of Toyota,... more
The first generation Subaru Legacy is a mid-size family car developed by Fuji Heavy Industries. The Legacy was an all new model, and was considered a notable departure from Subaru products in the past.... more
The Subaru Exiga is a crossover utility vehicle that debuted as a concept car during the 2007 Tokyo Motor Show. According to the Japanese Subaru press introduction materials, the name "Exiga" is a neologism combination of the words "exciting" and "active". The vehicle boasts a supersize panoramic glass roof and theater-style seating, with rear passengers sitting a little higher than those in front. Seats in the concept vehicle were upholstered in leather and trimmed in pearl white and blue. The rear seatbacks incorporate fold-down tray tables, similar to those on airplanes. The instrument panel in the concept vehicle offered displays from eight monitors, providing excellent visibility... more
Class: Compact MPV, Station Wagon, Minivan
Sours: https://www.ranker.com/list/full-list-of-subaru-models/reference
Subaru of America history. Subaru's story and timeline, with photographs, of the company in the USA
Research:

Current model overview, prices
Archives previous models
SubaruSpeak? terms
Maintenance schedule
Warranty, towing
Recalls
Links
Alaska, Hawaii shippers
Subaru Pictures new & old
Used Subarus for sale in Seattle
Classified Ads forum
sitemap for much more


2006 Impreza's new front grill
(WRX wgn shown)


96-02 Impreza wagon
(97 Outback Sport shown)


Loyale replaced 85-89 GL/DL



Justy (1992 shown)

SUBARU HISTORY scroll down
history, logo, 1968, 1970-present



the 1st US Subaru was a 360. The white 1969 360 5 door van (left) is only 117.9" long

Please read- this unofficial independent Subaru research site by Joe Spitz is designed to help you learn about Subarus. It is not sponsored, authorized, supported or approved by Subaru or any dealer and is not connected to or affiliated with, any dealer. Always contact your local dealer. Inspect any vehicle prior to purchasing. Information subject to change, correction, updating.

All text, content photos © j. spitz. Reproduction prohibited. thanks for visiting. you are here: www.cars101.com/subaru/subaru_history.html V 9.4.13
Subaru History: On February 15, 1967 Malcolm Bricklin and Harvey Lamm form Subaru of America (SoA) in Pennsylvania and contract with Fuji Heavy Industries (FHI) to import the Subaru and in 1968, the first year, import 332 cars. In 2000 SoA sold 172,216 cars which is 14,351 per month or about 20 cars per hour around the clock every day of the year.
From 1968-1999, Nissan is a reportedly stockholder with 20% ownership.
Subaru's logo: In 1953, five Japanese companies merge to form Fuji Heavy Industries Ltd, with a "Subaru" cluster of stars as its official logo for its cars. Better known by the Greek name Pleiades, part of the Taurus constellation, Subaru is also Japanese for 'unite'.
The Company
Subaru of America (SoA) in Cherry Hill, N.J is the United States marketer of Subaru products manufactured by Fuji. SoA has 5 regional offices - Great Lakes Region (GLR), Mid America Region (MAR), South West Region (SWR), South Central Region (SCR), North West Region (NWR).
Subaru Distributors Corp in Orangeburg, NY is repsonsible for NY and Northern NJ.
Subaru of New England in Norwood, Ma has CT, ME, MA, NH, RI and VT.
Servco Pacific has Hawaii
The first U.S. Subaru is the 360. This very small rear wheel drive minicar had a 2-stroke, 25 horsepower 356 cc engine (thus the 360 name), weighed under 1000 pounds, got 66.3 mpg, went 0-50 in over 37 seconds. and cost $1,297. It came in a few models: 2 door sedan, then the "Young S" 2 dr sedan, minivan (that's me in the white 5 door van below), a truck version, and even a mini race car too. There may have been as many as 6000 of these imported through 1969, though they weren't exactly a best seller.
Check out my classifieds page to buy or sell one.
1968 Subaru's first year in the USA.... for those who remember it and those who don't..
It's a year of love and hate... Riots in Chicago at the Democractic convention.
President Johnson doesn't run for re-election, Richard Nixon beats Hubert Humphrey but is shamed out of office in 1973.
A Hershey bar is 5 cents. Apollo 7 and 8 are launched. In Vietnam it's the Tet Offensive. Redwood National Park established in California. Designer Ralph Lauren is 29 and just starting out. Dr. Christian Barnard performs the first successful heart transplant. Martin Luther King is assassinated in April and Robert Kennedy in June.
Rock and roll thrives- new groups include Led Zeppelin, Blind Faith, The Band, James Taylor, Joni Mitchell, Carpenters etc. The Monkees film their final TV episode. The Beatles release The White Album. Jimi Hendrix does Electric Ladyland
Books: Dean Koontz's Star Quest, Airport by Arthur Hailey, Do Androids Dream of Electric Sheep? by Philip K. Dick (filmed as Blade Runner)
Movies: 2001 Space Odyssey, The Graduate, Bonnie and Clyde, Valley of the Dolls, The Odd Couple, Planet of the Apes, Rosemary's Baby
Sports: Detroit Tigers over the St. Louis Cardinals, Green Bay Packers over the Oakland Raiders, Boston Celtics over the LA Lakers
Born: Lisa Marie Presley, Cuba Gooding Jr, Ashley Judd, Pauly Shore, LL Cool J...
Died: Woody Guthrie, Alice Toklas, Langston Hughes, Helen Keller, John Steinbeck.. and of couse RFK and MLK
CARS: Volkswagen has 57 percent of the U.S. import market, selling 569,292 vehicles in the United States.Toyota Corolla introduced in the USA, Honda arrives in 1970.
VW Beetles are under $1,800 and outsell Mustang, Pontiac, Chevelle, Fairlane, Fury, Buick, Oldsmobile, and Chrysler. (courtesy MS Bookshelf 1997).
1968-1969: Subaru 360. It's small (very small, see above)
1970 Subaru Star. It was 1000cc, FF-1 1300 Star with a 1100 cc engine and front inboard brakes.
1971 SoA introduces the very first Japanese mass production front-wheel-drive car to the US, the Subaru 1000 (first made in Japan 1966). The 1000 costs $1,699 and uses the Boxer engine design still used by Subaru.
1972-1973 GL, DL models introduced. While the models changed over the years, the names were used until 1989.
1974 4x4 introduced as a 1975 model, just pull the lever for 4x4. The 4x4 is a success and the first mass produced Japanese 4x4 car.
1976 Subaru 4x4 is the car of choice for the US Ski team! They runs TV ads showing how well a Subaru does in in the snow, and advertise 'Inexpensive and built to stay that way'. Subaru is the 6th largest import car in the US.
1977 Subaru is now the 5th largest import in the US. The Brat is introduced (discontinued in 1987) and re-born in 2003 as the Baja. Brat is 'Bi-drive Recreational All-terrain Transporter'.
1980-84 Subaru advertises as the Ski Car. These models made 1980-1984 as Subaru starts a 5 year product cycle. The 'hill holder' introduced (previously on Studebaker etc) so cars with a manual transmission won't roll backwards. All Subarus now available with 4x4, turbo introduced, 4x4 Hi/Lo available starting in 1981?
1983 Subaru sells it's 1,000,000th car in the US.
1985-1989 New GL/DL, RS, and XT models introduced, Hi/Lo dual range 4x4 is optional. These models are discontinued in 1989. The XT defines aerodynamic styling and available for a short time in a 6cylinder.
1986 full time All Wheel Drive offered on certain models, the part time system available through 1989.
1987 Subaru offers All-Wheel-Drive (awd) automatically varying the power delivered to wheels (Audi's Quattro system introduced in 1980). Subaru makes both AWD and On-Demand 4WD until 1994 when the last model with on-demand, the Loyale, was discontinued. Justy introduced, 3 cylinder, available in 1988 with the 1st ECVT (electronic continuously variable transmission) in the US.
1990 5 year re-design. Subaru renames the GL/DL as the Loyale (with on-demand 4wd, made until 1994) and introduces the new all-wheel-drive and front wheel drive Legacy and the 2.2L engine. There are a number of Legacy models. Many Legacys are made in Lafayette, Indiana, all are made there by 1994.
1991 The quirky SVX luxury sport coupe 3.3L 6cylinder available as a 1992 model. Discontinued in 1997, the SVX retains cult popularity years later. Right-hand-drive Legacy postal wagon available for rural mail carriers (discontinued in 1999 though aftermarket conversions are available).
1993 25 years selling in the US. Subaru introduces the smaller Impreza. Impreza continues with minor changes until it's re-designed in 2002. Special 25th Anniversary models SVX and Legacy available.
1994 Last year for the 1st generation Legacy and there are a number of Legacy versions available that year.
1995 5 year re-design, major changes for the Legacy including an all new body, interior, new standard dual front airbags (no more passive 'automatic' seatbelts). Outback is introduced as a trim package on the Legacy L. Subaru makes a few front wheel drive Legacy L models: Traction Control using the ABS system, a Convenience pkg with factory sunroof etc. All Legacys are now made in Lafayette, Indiana.
1996 New 2.5L DOHC engine introduced in the Legacy Outback and Legacy LSi models, automatic transmission only. The first real Legacy Outback is introduced, not just a trim package on the 1995 L. The Outback is a rugged road version of the Legacy wagon with more ground clearance, 2 tone with grey lower body molding, the new 2.5L engine etc. It's a huge hit. The Impreza Outback Sport version of the Impreza wagon is also introduced. The SVX is being phased out. Subaru makes 5000th right-hand-drive postal Legacy wagon. Subaru.com introduced.
1997 Outback Limited with leather introduced. All Subarus are now all wheel drive, which most were anyway. Legacy LS, LSi, and SVX models discontinued with only app 700 SVXs sold that year.
1998 Forester small SUV introduced, based on the Impreza platform. It's smaller than the Outback but bigger than the Impreza. Impreza 2.5L RS coupe with gold wheels introduced. The Outback Limited is available with optional dual sunroofs.
1999 Special '30th Anniversary' Legacy and Outbacks available (1969-1999 = 30 years). Nissan sells its 20% on parent company Fuji to GM
2000 5 year re-design. Subaru completely re-does Legacy and Outback, finally offering power driver's seat, better cupholders, driver focused dashboard, a quieter ride among other improvements. ST-X concept truck, made as 2003 Baja (remember the Brat).
2001 First 6 cylinder 4door sedan and wagon offered in all new models: LL Bean wagon, VDC wagon, VDC sedan. (The 6cyl SVX and XT were 2door coupes).
2002 Impreza re-designed for the 1st time since it's 1993 introduction, and new World Rally winning turbo Impreza WRX sedan and wagon introduced after being available overseas for years. The WRX is a very popular and firmly Subaru in the perfomance car world. Outback now standard with All Weather pkg (heated seats etc), center console re-designed with 2 cupholders.
Isuzu sells its 49% share in Subaru-Isuzu Automotive (SIA) to Subaru effective 1/1/2003. SIA becomes Subaru Indiana Automotive.
2003 Forester re-designed (front side airbags now standard) and Baja 4door truck introduced in an attempt to find a younger, warm climate, non-wagon buyer. Legacy available in a SE (special edition) package, Outback Audio Edition available mid-year with upgraded stereo system but no All Weather pkg.
2004 first year for 2.5L turbocharged Forester XT, Baja and the super high performance, limited production Impreza WRX-STi sedan with 300hp. Legacy L and Outback H6 available in a 35th Anniversary package.
Jul 23, 2004 Fifteen years after the production of Isuzu vehicles started at the Subaru of Indiana Automotive Inc. plant, the final Rodeo and Axiom units will roll off the assembly line today "They were an important part of SIA's history, and in that respect you hate to see the end of production," said Tom Easterday, senior vice president at the plant where the first Isuzu vehicle - a pickup truck - was built on Sept. 8, 1989
2005 Major 5 year re-design for the Legacy and Outback, with all new performance turbo and higher-horsepower 6 cylinder models and other improvements as they strive for a high-end and performance market. New 2.5L turbo models include Legacy GT and Outback XT, joining the Forester XT, Impreza WRX, WRX STi, and Baja turbos. The Impreza line gets minor upgrades including improved front cupholders, gray headlight lens, new alloy wheels, STi gets a stereo, wider rear wheels etc, limited production Outback Sport SE and RS sedan Sport packages offered. Baja turbo with leather (late availability) includes new standard 2piece hard tonneau cover.
GM sells 8.5% of its 20% share on Fuji to Toyota and the rest on the open market.
2005 completely new Legacy and Outback.
The Legacy is Subarus biggest selling line and the 2005 model is a major make-over!
Available in late May 04, all models get new full front and rear head and side curtain airbags and gets a 5 Star rating
Larger and smoother riding, all new look, new dashboard, new colors, new seats, new engines and new models.
New performance GT and XT models get the new turbo 2.5L 4 cylinder with 250HP, and the 3.0L 6 cylinder LL Bean, VDC wagon, VDC sedan now also have 250hp.
For the first time Subaru offers an optional power passenger seat, dual zone climate controls and much more.
Update: August 2004price increase on all vehicle shipped to dealers starting September 04 and later.
Impreza, available late April. All models get new center console with 2 cupholders, smoked headlight lens, new colors. New optional Outback Sport 'SE' model available 9/04, TS wagon replaced by RS wagon. RS sedan drops in price and gets a new optional Sport model. STi new front differential, wider real wheels, stereo is standard, immobilizer key and more. WRX gets new stereo, new wheels etc.
05 Forester gets an LL Bean model with load leveling suspension, hard cargo floor, XS, XS LL Bean, and XT models get power seat, climate control. XT gets immobilzer key. New colors.
05 Baja will stay much the same, with limited and late (10/04) availability for the leather model which comes with a new hard tonneau cover.. this is the final year.

2006 New model: B9 Tribeca SUV with optional 7 passenger arrived May 2005. Subaru's first 7 passenger (optional), 250hp 3.0L 6 cylinder. Legacy and Outback model lines refined with slow selling manual transmission models dropped, a new 6 cylinder cloth Outback and new Legacy 2.5i SE models added. Limited production Legacy GT SpecB available late in the year, only 500 to be produced, each with a numbered plate, all are GT Limited sedans, 5spd manual transmission, Titanium silver with brick red leather interior, 18" alloys, Bilstein suspension, Navigation system (only way to get Navigation with a manual) etc.
All Imprezas get a new front grill similar to the Tribeca, Advanced Front Airbag system, new tail-lights, aluminum hood and other upgrades.
WRX gets new 2.5L turbo replacing 2.0L, also gets standard 17" alloys, slightly decontented TR (tuner ready) sedan, and new Limited models with leather, sunroof, all weather pkg etc available for the first time (new for wagon, replaces WRX Premium sedan). STi gets new rear roof spoiler and other minor performance upgrades. Impreza RS renamed 2.5i. Impreza 2.5i sedan and wagon and Outback Sport now have new side airbags (they've been on the WRX and STi already).
Baja comintues with few changes, only 3 colors available for 2006.
Forester gets new names, loses the cloth XT and base XS models, all models get new front end and tailights, slight horsepower increase with active valves, (Xs now 172, XTs 230hp), Advanced Airbags and other minor refinements.
The big news is the all new Tribeca SUV available in May 2005.
Legacy and Outback: 4cylinder horsepower increased to 175 (from 168). The models get refined. Gone are basic cloth interior turbo Legacy GT and Outback XT models. Manual transmission models have been restricted to Outback XT Limited, Legacy GT Limited sedan (no manual GT wagon), and the new for 2006 Legacy 2.5i SE (special edition) model. New colors and navigation available on certain models.
New Models announcd late: October: basic cloth Outback XT model returns. Available early December. November: Legacy GT specB limited production sedan, Outback 2.5i SE wagon offered, plus 4cylinder Outback Limited sedan returns. The Outback 2.5i SE is a 2.5i plus navigation, CD chnager, climate control SE and Limited sedan available mid December.
Forester: Models renamed X, X Premium, X LL Bean and XT Limited. Models dropped are the XS and the cloth XT. All models get new front and rear end, new head and tail lights, XT has slightly more power.
Impreza: all models now have dual-stage front and front side airbags (STi: front only). RS models renamed 2.5i. Outback Sport and Outback Sport SE models continue. 2.5i and Outback Sport engine horsepower increased to 173horsepower with i-active valve lift system. WRX engine is now the 2.5i (replacing the 2.0L).
Baja: few changes, Available in only 3 colors. Final year, no 2007 model will be available.
2007 Many models get stereo auxilliary input (iPod) plug except on base versions. Satellite radio available for the first time. Tribeca gets a new grill, optional SE package with chromed wheels, satellite radio, mesh grill; Navigation includes back-up camera, optional back-up beeper, fewer color combinations and models. Impreza remains much the same with few changes. New STI Limited available, only 800 made, 400 gray and 400 white, all with leather, small rear spoiler, sunroof and sells out quickly. New mid-year Impreza 2.5i SE sedan model has sunroof and auxilliary stereo plug. Forester remains much the same. All models except X gets aux plug. 2 mid year models available December: X Sports with new grill and aux stereo plug and XT Sports with new grill, cloth interior and VDC AWD, a first for the Forester. Legacy remains much the same with VDC AWD standard on the GT sedan with navigation model. Limited production Legacy GT spec.B to 3000, with a new 6 speed transmission and VDC. The Outback VDC model dropped, and VDC AWD is now standard on LL Bean and XT models. This is the first time VDC has been available in a non 'VDC' model. $1000 price drop on Outback 2.5i. New Outback 2.5i 'Basic' is less expensive than the 2.5i model and deletes All Weather package, 17" alloy wheels, power seat, tire pressure monitoring, roofrack cross bars, cargo cover and tray etc. 2 new mid-year LL Bean 4cylinder models with Navigation, a cloth 2.5i LL Bean and leather 2.5i Limited LL Bean. This is the first time the LL Bean name has been used on a 4 cylinder Outback, previously it was only for 6 cylinder Outbacks (and 4 cylinder Foresters of course).
2007
Tribeca: Models available for 07 include 5 or 7 passenger base cloth model, Limited, Limited with Navigation and DVD (DVD on 7 passenger only).
New standard features include blacked-out grill, auxiliary (ipod) plug, prewired for XM radio, Navigation system now includes back-up camera, 2 position Memory driver's seat on Limiteds. 5 passenger cloth model no longer gets a sunroof. New optional SE package has stainless mesh grill (fits 06 models), chromed wheels, XM satellite radio. Other new options include back-up beeper, pre-wired for XM radio, remote starter.
Legacy and Outback: The models get refined and prices actually drop on many models!
New low priced Outback Basic has steel wheels, deletes heated seats, Limited slip rear axle, rear cargo outlet, power drivers seat, cargo cover, cross bars etc.
Deleted models: Legacy 2.5i SE wagon manual transmission, Outback 2.5i Limited manual transmission, Outback SE, Outback VDC, Outback 3.0R basic, and XT turbo base cloth model.
2.5i model now has tire pressure monitoring, VDC all wheel drive system now standard on LL Bean and XT. All 07 XTs are now Limited.
All models pre-wired for satellite radio, have auxiliary stereo plug (except Basic), MP3 stereo. Due to a new testing method horsepower rating may drop slightly, but this is only a test change, not an actual horsepower change.
December 21, 2007: 2 new 4 cylinder Outback models announced with Navigation system: 2.5i LL Bean and 2.5i Limited LL Bean. Available late Jan/Feb 2007
Forester: X, X Premium, X LL Bean, XT Limited. Price actually drops on most models! X model gets electronic brake distribution, XT gets 17" wheels, all models except X model get auxiliary (ipod) plug. New colors. Late availability: new X Sport and XT Sport models. X Sports includes upgraded stereo with Ipod plug and climate control, XT Sports has VDC electronic stability control with cloth interior, manual seat height adjustments, sunroof etc
Impreza: New STI Limited model, only 800 made, with leather, sunroof, small rear spoiler, heated seats etc. Does not have forged BS alloys. All models pre-wired for Sirius Satellite radio (standard in the Outback Sport SE). Few other changes. Price drop on 2.5i models and remains the same on WRX, STI.
December 21, 2007 New SE sedan model announced. Includes CD changer with upgraded speakers and auxiliary input plug, moonroof
Baja: discontinued for 2007. 2006 is the final year.
2008
Toyota ups the 8.4% stake it has help since 2005 in Fuji Heavy Industries to 16.7%.
Outbacks are wagons, the Outback sedan has been dropped starting with 08 models. All Legacys are now sedans. So if you want a wagon it's the Outback, and if you want a sedan it's a Legacy. Most noticable change is an all new grill so the car has a very different look, also new headlights and tailights, new alloy wheels, new colors, new cloth interior. New telescoping steering wheel with tilt, includes cruise control. Top of the line 3.0R LL Bean 6 cylinder and XT 4 cylinder turbo model steering wheels have audio and SI Drive controls. VDC, electronic stability control, is optional on 2.5i LL Bean and 2.5i Limited LL Bean, both also include Navigation, and VDC continues to be standard on the 3.0R LL Bean and XT turbo. 2007's Outback Basic has been renamed the Outback and has full wheel covers. Tire pressure monitoring is standard on all models. Key and remote is now one piece instead of separate key and remote as in previous years. All models are now pre-wired for either XM or Sirius satellite radio (was only XM for 2007). EPA fuel economy ratings lower due a change in testing standards.
Legacy wagons are discontinued and all Legacys are now sedans, and Outbacks are wagons. 2007 was the last year for the Legacy wagon. No price increase. The top of the line is the new 3.0R sedan 6 cylinder. This model comes with Bilstein Suspension and SI Drive like the GT specB, 5spd automatic SportShift transmission and new steering column Paddle Shifters etc. The GT specB continues, with new cloth, so there are now 2 performance models. All Legacys are lightly re-designed with new rear end, a new steering wheel that now telescopes as well as tilts and has cruise control, with upper end models also getting steering wheel audio and SI Drive controls One piece key and remote replaces the separate key and remote, Tire Pressure Monitoring is standard on all models. Satellite radio is now either XM or Sirius (was XM only). Re-designed outside mirrors with turn signals on the GT and 3.0R. EPA fuel economy ratings lower due a change in testing standards
Impreza The 2008 Impreza is all new and now based on the Legacy platform, so it really is totally different. All models include front, side, and front and side rear curtain airbags, Immobilizer chipped key, anti-lock brakes, power windows-locks-mirrors, a/c etc etc. The ride is significantly smoother than previous models, there is finally more back seat room, the rear seats fold flat in sedans (long overdue).
There is a 4 door sedan and 5 door wagon. List prices start at $17640 for the 2.5i sedan, $18140 for the 5 door 2.5i wagon. The optional automatic transmission is now the SportShift with manual mode. VDC (vehicle dynamics control) is available on all models except the base 2.5i. Navigation-DVD audio system is available on the 2.5i Premium and has very good resolution, tilting screen and more.
The Outback Sport 5 door wagon has standard All Weather Pkg with heated seats, heated front wiper de-icer and heated defrosting outside mirrors.
Roof Rack is now available on all models including sedan, and is quick on-off.
The WRX is available as a 4 door sedan and 5 door wagon. The ride is no longer as 'firm', it is definitely smoother and more refined. Navigation is available on top of the line model. List price for the sedan starts at $24995, wagon starts at $25495. VDC is standard on all models. The STI sedan is gone, replaced by the 5 door wagon, and is available in 3 models. List prices start at list price $35,640 with 5 spoke alloys, upgrades include a forged BBS wheel and fog light package, and Navigation is available.
Tribeca Redesigned for 2008, 3rd year. New 3.6L engine replaces 3.0L and runs on regular fuel with better power band. Larger rear side cargo windows for better visibilty, smoother riding suspension, raised roof rack rails for cross bars replaces fixed position cross bars, new front grill, new rear end and cargo door, new head and tail lights. Interior remains much the same.
2009 models
>ForesterThe all new redesigned Forester available mid-March 2008.
Note: the LL Bean name was dropped and replaced by the Limited starting April 2008 production, so both names can be used depending on production date. There are -no- differences other than name, and the Limited doesn't have the LL Bean logos.
The 2009 is a little longer and taller with all new suspension and other upgrades make this a smoother riding car. Minimum 8.7" ground clearance (8.9" turbo). It feels larger than it is, a very comfortable ulitity rig with 6 airbags, standard VDC stabilty control, 4 disc brakes. Available with 4 cylinder and turbo 4 cylinder engine, optional Sportshift 4 speed automatic transmission, optional Navigation. Models include X, X Premium, X Limited/ LL Bean, XT, XT Limited. . LL Bean name is dropped for 2009 models. Price dropped on 2.5i model. PZEV Ca (California) spec emissions required for CA, WA, CT, MA, ME, NJ, NY, OR, PA, RI, VT on 4 cylinder (non-turbo) models. Price dropped on 2.5i. PZEV (California) spec emissions required for CA, WA, CT, MA, ME, NJ, NY, OR, PA, RI, VT on 4 cylinder (non-turbo) models.
>Outback. New names: the 2.5i replaces the Basic; 2.5i SE replaces the 2.5i. New Harman Kardan audio speaker package plus steering wheel controls on SE and above, dark tinted privacy glass on Limited models and above. The LL Bean name and logos have been dropped. New seacrest (light) green color. Dark carpeting now with taupe interior as well as gray interior (replaces taupe carpeting).
PZEV Ca (California) spec emissions required for CA, WA, CT, MA, ME, NJ, NY, OR, PA, RI, VT on 4 cylinder (non-turbo) models. Price dropped on 2.5i. PZEV (California) spec emissions required for CA, WA, CT, MA, ME, NJ, NY, OR, PA, RI, VT on 4 cylinder (non-turbo) models.
>Legacy. Few changes for the 2009 models. New lower price 3.0R cloth model. New Harman Kardan audio speaker package on SE and above, dark tinted privacy glass on Limited models and above. New green color. Dark carpeting now with taupe interior as well as gray interior (replaces taupe carpeting).
PZEV Ca (California) spec emissions required for CA, WA, CT, MA, ME, NJ, NY, OR, PA, RI, VT on 4 cylinder (non-turbo) models. Price dropped on 2.5i. PZEV (California) spec emissions required for CA, WA, CT, MA, ME, NJ, NY, OR, PA, RI, VT on 4 cylinder (non-turbo) models.
>Tribeca. New SE model available September 08 with leather, CD changer 160w with rear subwoofer speaker, heated front seats, memory driver's seat, rear a/c (always on 7 pass, now on 5pass). Few other changes for 2009 models. new Ruby Red color
>Impreza
STI no changes
WRX now has 265horsepower, larger turbocharger, upgraded suspension, standard spoiler, power sunroof (Premium).
New WRX 2.5GT Premium with automatic still has 226hp like 08 WRXs.
2.5i gets VDC and rear disc brakes, Premium adds power sunroof
Outback Sport gets chromed door handles.
2010 models
Outback and Legacy- both are all new.
Outback: The 100% designed Outback is no longer a station wagon- it is now a CUV, a crossover. Models are the 2.5L 4 cylinder and 3.6R 6cylinders. The XT turbo is dropped, and the 6 cylinder is now the 3.6L so the 3.0L is gone. The 3.6 takes regular gas. The car is a bit larger overall and has a much more open and spacious feel inside. But the overall car size is actually .8" shorter. Interior space and rear seat room has gone up dramatically. There's a lot more back seat room (finally). This was accomplished by increasing the wheelbase slightly and carefully maximizing the available space. The front seats are a bit wider and softer
Framed doors- all models have framed doors. If you're familiar with the Legacy/Outback line from 1990-2009, you know the windows were always 'frameless', now all models will have door frames. This adds rigidity and hopefully will reduce that ever-present wind noise from the outside mirror area that Subarus have been prone to. For some reason the outside mirrors don't fold-away. Huh? Perhaps that will change for 2011 model. Option Packages. A new way of doing things. It's almost impossible to have the exact right car for every buyer. There are just too many possible combinations, some features sell here, others sell there- popularity can be based on region and driving conditions, like warm vs cold climate, wet vs dry, city vs country, lots of snow vs no snow.
So starting with the 10 models, Subaru is offering models with 'Option Package' upgrades. The 'Option Packages' are all described below. What this means for the buyer are more choices. For example, on the previous mid-range 2.5i SE model (now the 2.5i Premium), the All Weather Package was standard. Like it or not you got heated seats etc. Starting with 2010s, it's an option on the Premium. While I personally would want it, not everyone does - some to save money, others live in warm climates where All Weather Pkg's heated seats are silly. And tall people don't like sunroofs (less headroom), other people really like them. The Sunroof is also now an option on the mid-range Premium where it was not previously available at all before, and is an option on the Limited model where is previously was standard. Gas tank size is now 18.5 US gallons (up from 16.9). That's a nice big tank. Normal size power sunroof with tilt up/slide back, with sunshade.
Hill Holder and Electronic Parking Brake: standard features on all models include a Hill Holder to help hold the car when starting on a hill, and an electronic parking brake system which eliminates a manual emergency brake (no foot or hand brake) with 'Auto Release'- wear seatbelt, car in Drive, press gas for Auto Release.
New transmissions - All 2.5L 4 cylinder models come with either a new 6 speed manual which replaces the 5 speed manual, or a new automatic Lineartronic CVT
(continuously variable transmission) with paddle shifters and 6 'gears'. The CVT gets much better fuel economy (EPA city/highway 22/29 combined 24mpg) than the old 4speed automatic used for years.
Legacy
The cars are a bit larger and have a nice more open and spacious feel inside. Interior space has increased but the overall length and size has not gone up dramatically. There's a lot more back seat room (that's a good thing), the front seats are a bit wider and perhaps even softer (thank you) etc. All carefully done to maximize the available space. Frames doors- all models have framed doors. If you're familiar with the Legacy/Outback line from 1990-2009, you know the windows were always 'frameless', now all models will have frames. This adds rigidity and hopefully will reduce that ever-present wind noise from the outside mirror area that Subarus have been prone to. Huh? For some reason the outside mirrors don't fold-away but perhaps that will change.
Models are 2.5i 4 cylinder, 2.5L GT turbo, 3.6R 6 cylinder.
Tribeca 7 passenger only, there is no 5 passenger model (see Outback instead if you want a 5 passenger). There are 3 models for 20120- 3.6R Premium, 3.6R Limited, and new top of the line 3.6R Touring model. Like all 2010 models, there are new Option Packages. These are factory installed only. 2010 models were slow sellers
Forester Very few changes from the 09. Premium gets a power seat wioth power lumbar support. All models get a overhead Map Light get 'Door Open' switch (light fades off). New for all 2010 models (not just Forester), Subaru is using major 'Option Packages' to equip cars. These are factory-only upgrade packages available on appropriate models. Base Premium without the All Weather Package a 'Premium Lite'
Impreza
2.5i 4 cylinder: the line up remains the same for 2010 with a 2.5i, Premium, and Outback Sport models. The Premium SE gets fog lights, al weather pkg, sunroof, cd changer so is very similar to the Outback Sport. New front grill on all models and new logo on left rear adds 'symmetrical AWD' below Subaru. Outback Sports gets silver painted door handles instead of bright chrome, and silver painted front grill upper bar instead of bright chrome and dark headlight surrounds like other Imprezas. New 'Option Packages' upgrades on all 2010 models. Navigation now includes hand-free cell phone Bluetooth. New optional USB port replaces optional iPod Interface previously available. 'Media Hub' option includes a USB which allows any device to play through the stereo and
optional 'Media Hub with Streaming Audio' allows wirelessly sending music to the stereo. A
WRX-STI turbo No major model, equipment or power changes for the WRX, 2.5GT or STI announced. Retail list prices are the same though dealer cost crept up very slightly. New for 10- Navigation now includes Bluetooth. Optional Media Hub with USB port plays your USB connected device. Logo on rear or gate or trunk adds 'symmetrical AWD' below Subaru. Model codes have changed to accomodate SoA's new 'Option Package' ordering system.
Late models additions include the STI SE for $2000 less than the full STI, with upgraded handling/suspension, special alloys, and no HIDs, cd changer or climate control, available March 2010. Only 125 white were made and other SE colors were WR Blue, dark gray, and black (also 125 each?) and all sold out very quickly, by mid April. Also available at the end of the model year was a WRX Limited withg leather and HIDs.
2011 models
Subaru has a great year- sales are upo month after month. Used prices are very strong.
March 11 2010 earthquake- factories are closed for almost 4 weeks, there are parts issues from suppliers. SIA in Lafayette slows the assembly lines due to availability of parts, no overtime shifts, closes a few days in April. No factory orders accepted on any 2011 models effective April 11th which is a little early.
Forester gets an all new engine.. the FB25 DOHC 2.5 with a chain (no timing belt). This is the first use of this motor. Other Forester upgrades include in all models except X: easy to use handsfree Bluetooth, new stereos, new back up camera, new optional TomTom GPS (optional on Premium only). New top of the line X and XT Touring models have HID headlights, silver roof rails, 4.3" LCD stereo with HD, rear view camera.
Outback: new fold away mirrors, no other changes of note
Legacy: new fold away mirrors, no other changes of note
Impreza: Impreza Premium and Outback Sport models move closer together and there's not much difference between features. Some Outback Sports are available with one tone paint. New optional Tom-Tom navigation is just ok (bit hard to use, small buttons etc). Outback Sport has new optional Moonroof and TomTom GPS package. Late introduction (March 2010) 10" Kicker brand subwoofer/amp is available on all Imprezas.
WRX: the best WRX yet with wider front track and suspension, new front fenders like the STI. The optional catback exhust is a great option on WRX and STI.
STI: the best STI yet with new suspension (like the 2010 SE models), plus the 2 all new sedan.
2012 models

2011 was the year of the terrible March earthquake and following tsunami in Japan that caused the Fukashima nuclear plant meltdown. As a result of these disasters, car and part production was seriously impacted- factories world-wide were shut down for weeks. 2012 models were pushed back 3 months and inventory was dramatically low through the summer.
The big change for the year was the new 2012 Impreza due late August- it started to arrive early December though a few were around in mid November (the very first 2012 Impreza was delivered to Cascade Subaru in Wenatchee).
Given all the trouble, including a major brake master cylinder recall in late November, its a testament to Subaru customer loyalty that the company had their best year ever.

The 2012 Impreza is all new, the first complete redesign since the 2003. It got an all new 148hp 2.0L engine with a CVT transmission rated at 27 city/36 highway MPG. The models are 4 door sedan (base, premium, Limited) and 5 door wagon (base, Premium, Limited), with a new 5 door Sport 5 door model that has roof rack rails. Its the only Impreza with roof rails, so the Sport replaces the Outback Sport.
The 2012 Forester continues on with few changes, including a height adjustable front passenger seat.
Outback, Legacy, Tribeca and WRX, STI have few changes and nothing major.

2013 models
Subaru is #12 brand in the US for calendar year 2012
2012 was the year Subaru came out with two new models- the all new BRZ and the Crosstrek.
The BRZ is a 2+2 sports couple co-designed and marketed with Scion. The Scion is the FR-S and is generally more available. This is a rear wheel drive, 2 door (yes, the first rear wheel drive Subaru since the early 1970s). Availability of the BRZ is expected to be tight, with only 7000 for the 2013 model run
The all new XV Crosstrek with a variant of the popular Impreza line. Subaru added ground clearance and body cladding and the car was an immediate hit. What Subaru did to the Impreza 5 door to create the Crosstrek is almost exactly what they did to the 1996 Legacy to create the 1996 Outback- add clearance, body cladding and a viola- create a new model.
The 2013 Outback and Legacy got a mechanical updating with a new 2.5i engine (first used the 2011 Forester) with a timing belt, an upgraded 2nd generation CVT, brake override system, and improved handling and suspension.
This is the last year for the current Forester- the 2014 model will be all new, due March 2013.
The WRX and STI got Special Edition sedans, all tangerine orange with black graphics, black wheels, black interior with silver stitching. No mechanical or power upgrades. Only 200 WRX Special Edition sedans and 100 STI Special Edition sedans were made.

Sales total for calendar year 2012 - 336,441.
Thats up 26% over 266,989 for all of 2011. Even with some models in tight supply, like the Impreza and its new Crosstrek cousin, and the low production BRZ, Subaru exceeded their own sales predictions that just 12 months ago seemed just a more dream than reality
The Outback is the star, selling 117,553 for year. Forester is #2 with 76,347, and Impreza is #3 with 68,175, and they're almost tied if the Impreza and its sibling Crosstrek are combined, with 75,571 total.

2014 models

Tips, comments, corrections welcomed! contact
There are app 630 dealers across the USA and over 90% of Subaru all-wheel-drive cars sold the past 10 years are still on the road (in 2000).
I have tried to provide the initial information so you can determine your interest in Subarus from the comfort of your home or work. If you're interested in a new or used Subaru or other used vehicle please contact me.
Thank you
the end

Sours: http://www.cars101.com/subaru/subaru_history.html
Old Top Gear - 1990 Subaru Legacy
.
Sedan old subaru
.
THE BEST SUBARU WRX GENERATION IS...
.
You will also be interested:
.
291
292
293
294
295