When you start working with Capture One, you are presented with the choice to either use (or create) a session or a catalog. Making a choice between either one is mandatory. This tutorial blog will explain what a catalog is and when you might prefer it over a session. Please note I have a similar blog on sessions. Get ready for Catalogs Explained and get your images organized!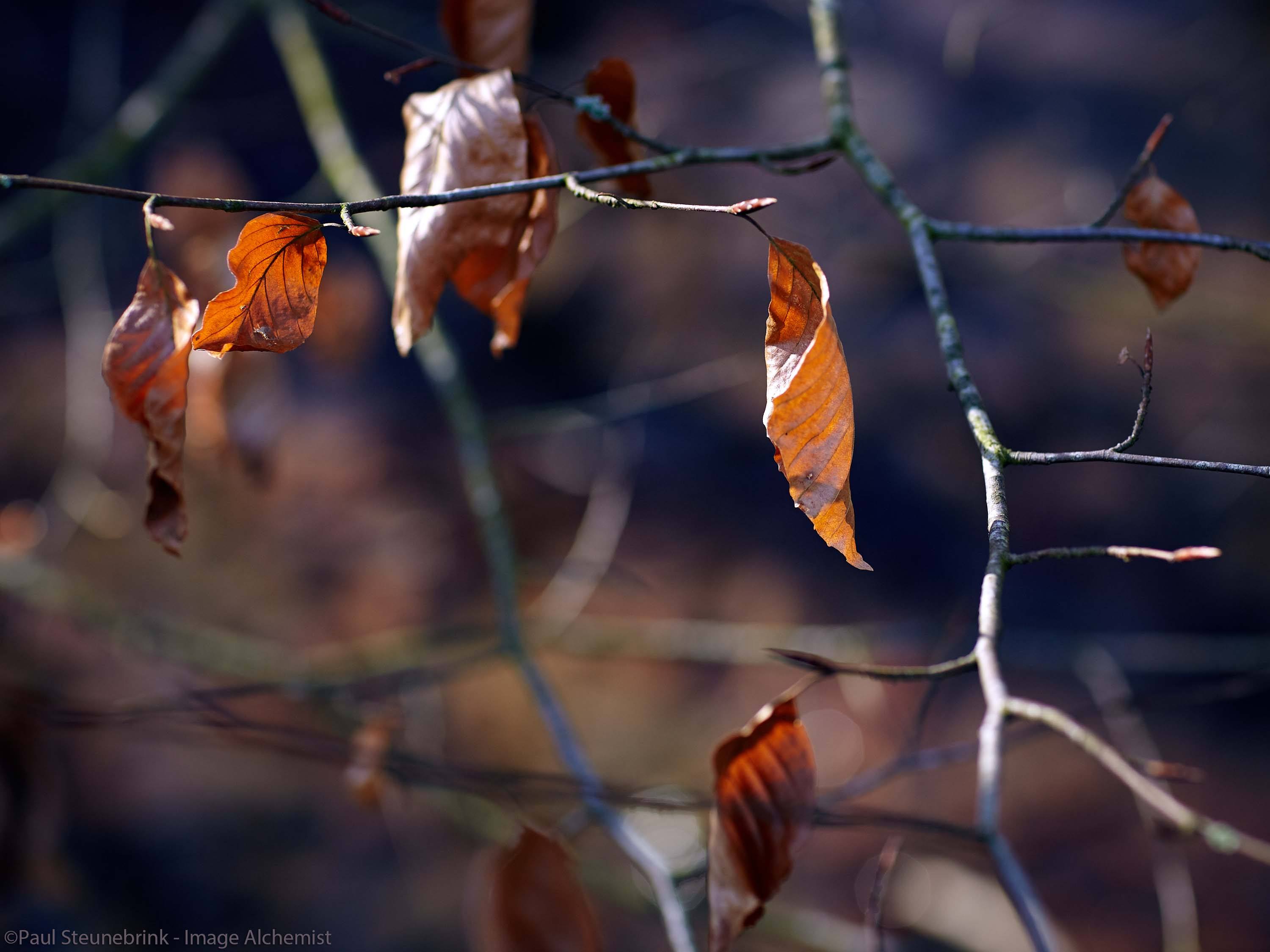 Catalogs Explained
The Catalog in Capture One was built with a single idea in mind: to manage your images. The way it does this task is both simple and brilliant. Once you understand the trick, it becomes much easier to understand all the nuts and bolts you come across, while effortlessly withstanding all the nitty-gritty that comes with the package.
Your Folders
Where do you have your image stored right now and how? Different disks, internal or external, directly connected or through the network? The Catalog does not care. Folders, subfolders, you name it? Again, the Catalog does not care.
It looks for only one property: accessibility. It needs access during import (more on that later) and export (ok, and then some, but I take the shortcut here). Just remember one word: Folders. I will come back to that later when we explore the Folders section in the Library tool.
Import
Whether you have only a few images to import from a memory card or your local hard drive or a pile of external and network drives containing terabytes of data, you have to import your images into the catalog.
Browsing folders without importing is not an option, like you could with sessions. Import is mandatory. Can you store that? That is why you see this big import button in any new catalog: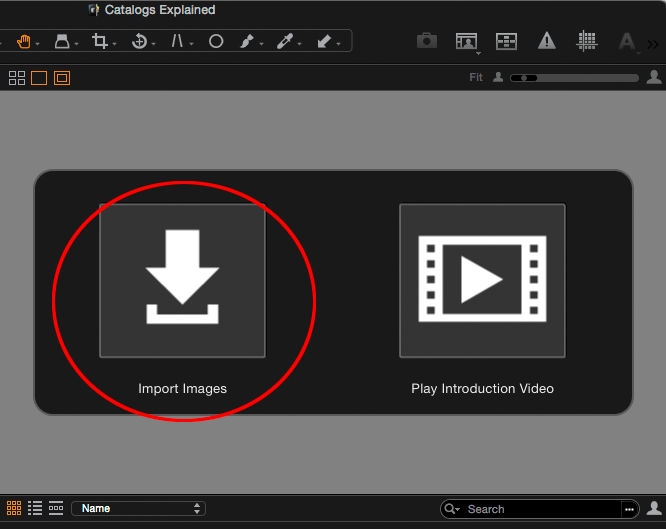 When you import an image, a folder of images or an entire disk, the Catalog stores a link to each image's location, so it knows where to find it. It builds a preview and a thumbnail of the original image and stores these in the Catalog too.
The original image stays untouched in its present location when you select Current Location in the Import To > Store Files drop-down list. This is the preferred choice for images already on your hard drive.
In case you import from a memory card or other temporarily kind of storage, let Capture One import the images into the Catalog while it copies the images from card to disk.
For this occasion, select Choose Folder in the Import To > Store Files drop-down list and select/create your folder. This is the third item to remember: Location.
You can see your import here: Catalog Collections in the Library. It lists the ten last imports under Recent Imports. It also lists the All Images collection, which always shows all images in that Catalog.
For now, remember another word: Collection. The Catalog makes collections (hence: Catalog Collections) and you – the user – can create some or many of you own (yes, the User Collections, you saw that coming, didn't you?).
All Images? No Thanks!
The All Images collection shows you all images in the Catalog. This is fun in the beginning, maybe, but not when you have hundreds, thousands or more images in your Catalog. You feel the need to organize your images. Let us introduce the User Collections.
User Collections
Now the magic starts. After the import, you are actually done with the Catalog Collections department. Let's shift gear and move to the User Collections. In this section of the Library tool, you can create your albums, either the regular Albums or the more sophisticated Smart Albums. With either type of album, you can organize your images your way.
The magic is that this organization is fully independent of the physical location of the image. Even when you move images to another disk after the import, your albums are not affected. Let the Catalog take care of the outside world (we'll discuss details in a succeeding blog).
You can group images by topic, customer, region or date, or a combination. You are fully flexible in setting this up and change it any time you like and it does not affect the original or its location.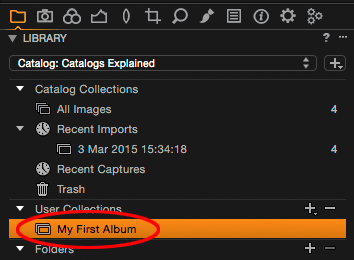 Albums have several advantages. First, an image in an album is the same image as in the Recent Imports collection or the All Images collection. There are no copies. Each collection just shows you a link to the original, or the preview and thumbnail of that original actually.
As a result, when you adjust an image that sits in a certain collection, you adjust all other representations of that image too. Second, you can put one image in as many albums as you like. No physical limits, no copying.
Smart Albums
Smart Albums are like Albums, however not you but Capture One is populating these collections with images.
You define one or more criteria for the images that a Smart Album should contain and Capture One does that for you instantly and dynamically.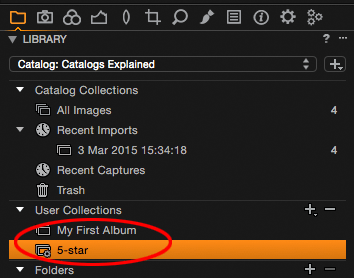 For example, five stars rated images automatically fill the Smart Album for five-star images. Does the rating change to four, the image is removed from that five-star smart album, and might show up in the four-star smart album if you have made one.
Folders Revisited
As promised, we would have a look at the Folders section in the Library to finish up our trip through the Library. In contrast to the User Collections section where you create your own image organization inside the Catalog, the Folders section shows you the disk and folder organization outside the Catalog.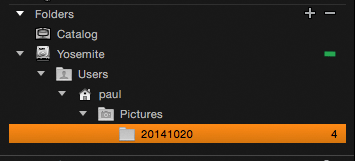 Here you can find the disks you imported from with a green or red indicator. Green means connected or 'online'. Red means disconnected or 'offline'. No harm is done when you disconnect a disk, and after reconnecting the online status is reinstated.
To Summarize
I challenged you to keep a few words in mind. Folders: these are on your disk and presented in a separate Folder section of the Library. Import: this is what you must do to connect the original image to the Catalog. Location: that is where the original image is stored.
Normally the location is on disk and the Catalog refers to that location. New images, from a card, for example, can be copied to disk and linked to that location in one step during import.
Collection: is the general catalog speak to organize images in a Catalog. The Catalog makes collections and you can make them too. The Library displays them in separate sections.
Are Catalogs Right For Me?
Working with Catalogs is the right way to go if you need a level of organization for your collection of images beyond the physical folder level. Making cross-references in a larger collection over time is one benefit.
Freedom of storage location another: storing the catalog on your local disk is preferred, but the originals location is not critical. That is benefit number two compared to Sessions.
In succeeding blogs you might discover more benefits, as there is a lot more to discover.
Catalogs Explained or Want More?
Maybe this blog got you covered. Great. Maybe you noticed that we skipped some interesting topics. These topics and more will be explained in a succeeding blog named Catalogs Continued (level-2) and Catalogs In-Depth (level-3). This post continues!
Thank You
For reading. Please feel free to leave a comment. Like us on Facebook or subscribe to our newsletter to stay informed about new blogs.
Want to try Capture One? Or would you like to buy it?
Best Regards,
Image Alchemist
Sours: https://imagealchemist.net/catalogs-explained/
Capture One Pro once was just a tool for developing RAWs and didn't include photo management tools, and I know from my workshops that some users lack the straightforward ability to edit photos without catalogs, imports, and organizational features. Fortunately for them, this function has not quite disappeared, you just need to know this simple trick.
This tip depends on sessions, which are available only in Capture One Pro, so it won't work for users of free Capture One Express.
As you may know, Capture One Pro offers two basic options for managing photos: catalogs and sessions. In short, the catalog is a large database for managing many (or even all) your photos, allowing fast and advanced search and sophisticated organization, while sessions can be considered certain micro-catalogs and are usually used to process single job, therefore they are faster and easy to move — for example from a computer hard drive to an external disk or network storage. And one of the sessions features can be used to directly edit photos located anywhere on the disk. The procedure is simple.
The first step is to create a new session using the File → New Session menu. Name it as you like (field Name) and place it in the desired folder (field Location) — the location does not matter much, the session will not even require too much disk space. A new session will open automatically after you create it.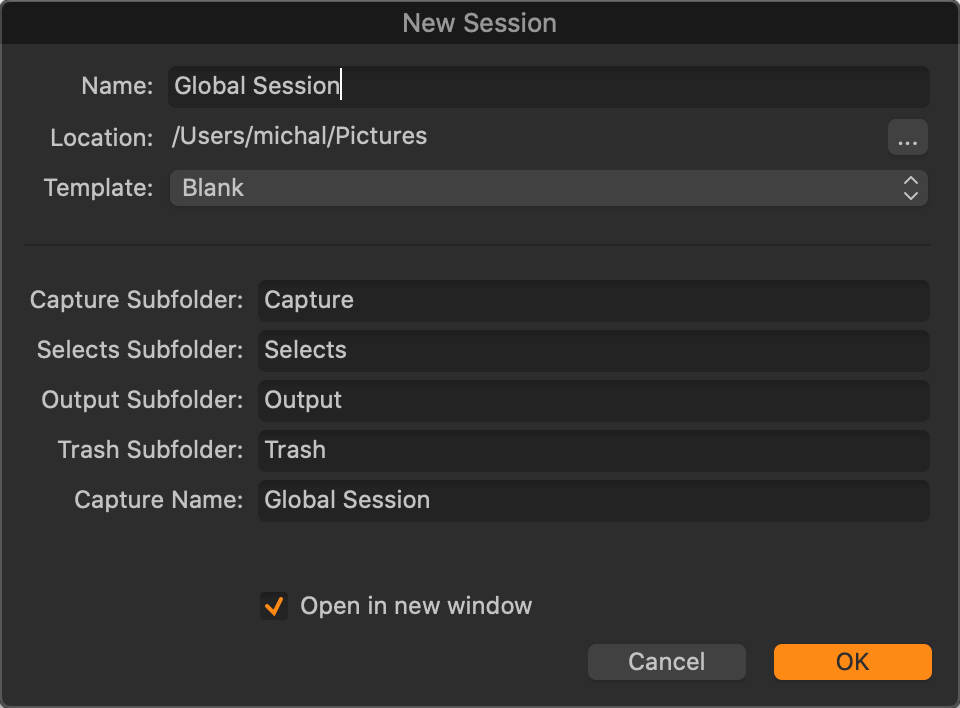 The session always contains few subfolders where photos are typically stored (Capture, Selects, Output, and Trash), but moreover you can browse any folders on any drive in the System Folders section of the palette Library: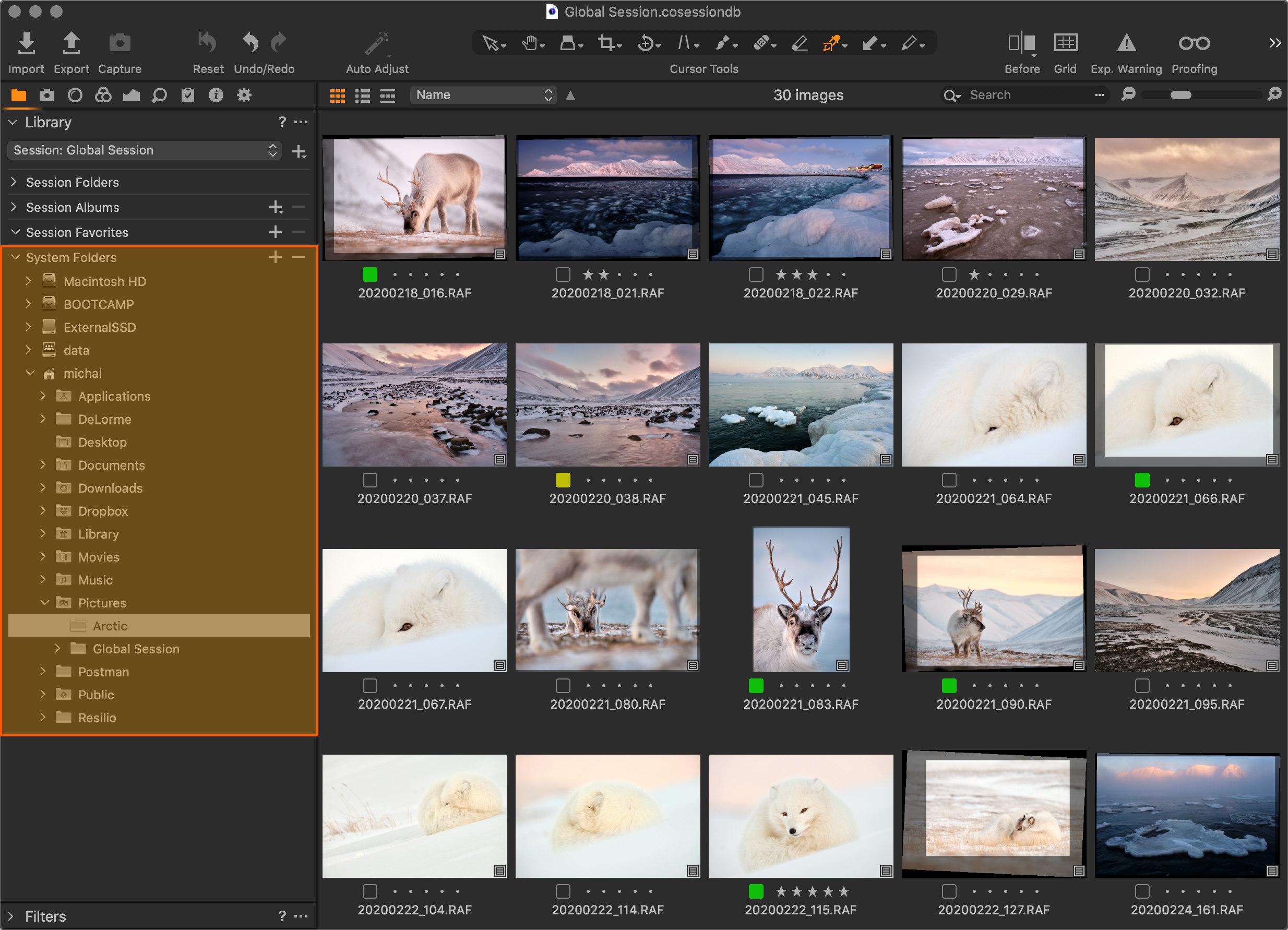 Here you can open any photo and start editing the same way you know from using a catalog or sessions. You can also change metadata and use color labels or star ratings, as you can see on the screenshot above.
Specifics and Limitations
This approach has some specifics and limitations that should probably not bother those interested in such a way of working, but it is still good to know about them.
Metadata, such as photo ratings, can be used to search and filter photos exclusively within a single folder. You cannot perform a global search and these photos are not searched by smart albums created within the session (section Session Albums in the palette Library) — for example, a default smart album Five Stars collecting photos with a five-star rating will only find images located in the main session folders (e.g. Capture) and not anywhere else on the disk.
You can partly get around this limitation by adding some folders to the Session Favorites section of the Library palette — you can drag them here by mouse, or you can right-click the folder and select Add To Favorites from the context menu. Of course, it is not very convenient to add all your folders to Session Favorites, so this method has its limits. More often, Session Favorites will probably serve as bookmarks for quickly finding the folder you need to work with.
You can add the selected photos to the standard album created in the session by dragging and dropping them into it, and then you can search photos in these albums in the usual way, however, they still won't appear in smart albums. This way, you can group related photos from different folders.
Photos you delete are moved to the Trash folder within the session. This should be the only reason why a session could take up unnecessarily much disk space. It is, therefore, necessary to empty the trash from time to time or use the Image → Delete form Disk… function ( on Mac, on Windows) for immediate deleting, but be careful — you cannot undo this operation.
And perhaps the most important thing in the end: in each folder in which you will edit photos in this way, Capture One will create a subfolder called CaptureOne with previews and adjustments. Therefore, you must never delete this folder, otherwise, you may lose the edits — in the current version, you will definitely lose all masks of local adjustments and retouching layers.
So, do I really need a session at all? What happens if I delete it? Can I move files around the disk?
You can't do without a session because Capture One simply needs you to open a catalog or session before you start to work. But if you lose it for some reason, nothing terrible will happen — the adjustments will be preserved, you will lose the albums. The procedure for solving this situation is easy, you just create a new session, simply browse the folder with your photos again, and the previously made edits and metadata will be loaded from the above-mentioned CaptureOne subfolder.
Also, moving the entire folder with images is not a problem — again, just browse it in a new location, and Capture One will use the edits from the CaptureOne subfolder.
If you need to move only a few photos, the easiest and most secure way is to do it in Capture One — simply drag the selected photos to another folder and the application will make sure that the edits are moved correctly with them. You can also move entire folders in Capture One, and I recommend doing it this way when you are using albums — otherwise, moving folders outside of Capture One will break the binding of photos to albums, and it cannot be fixed later.
Conclusion
If you appreciate the quality of output and Capture One, but don't want to use photo management tools, this method is a rather convenient alternative. Following simple procedures and rules mentioned in this article, everything should work smoothly and to your satisfaction.
You may support my work by buying Capture One license, subscription, or styles using this partner link. As a great bonus, you can save 25% on Capture One Pro annual subscription – just enter code during checkout. The offer is valid till November 2nd, 2020.
As a non-native speaker, I use Grammarly to proofread my English texts. Try it for free.
Categories PostproductionTags Capture OneSours: https://www.michalkrause.com/en/capture-one-quick-tip-editing-photos-without-imports-and-catalogs/
Save 10% on Capture One Pro 11
We've rebranded from CaptureOneBlog.com to AlexOnRAW.com.
It's only the name that is going to change; our content will always stay the same: the most interesting news about Capture One, reviews of all the latest updates and the best deals from Capture One community.
One of the main innovations of Capture One 7 is the ability to store all photos in a single catalog.
Catalog Capture One allows you to quickly and easily work with all the pictures from your archive, be it to allocate ratings, assign keywords or merge pictures into projects, folders or albums so that you easily locate the photos in your catalog at a later date.
This article is the first part of a series of posts on CaptureOneBlog.com that will explore the possibilities that are open to you when you work with the catalog in Capture One 7.
Today we will talk about the main features of importing and cataloging images.
Main features of Catalog in Capture One
Before we start working with the catalog, let's understand the basic capabilities of cataloging in Capture One 7.
1) RAW files or processing settings
In Capture One, the catalog can be imported as the photos themselves and only processing files, while physical RAW files can be stored anywhere.
This is useful if you have multi-terabyte photo archive and "duplicate" it is simply nowhere. In this case, the best solution is to import the processing files only into the catalog.
However, if you have recently started to collect your photo archive, it makes sense to upload the RAW files to the Capture One catalog. This will provide you with more opportunities to work with them in the future.
By the way, if you store RAW files out of the catalog without access to the physical files, you will still be able to view and even edit them (change exposure, white balance, shadow / highlights, edit metadata and much more).
For example, once you have imported new photos into the catalog, you can leave the RAW files on an external hard drive and store the additional files to take with you on a laptop. Once on the road, you can still select photos, assign ratings to them, prescribe keywords and perform any edits (with some restrictions) even though you don't have access to the RAW files.
2) Work with multiple catalogs
In Capture One you can create and work with multiple catalogs.
When you create a new catalog, the file automatically appears on your computer.
You can transfer this file anywhere, or even open it on another computer. You can also run several different catalogs simultaneously in different windows.
3) Sharing the catalog
One of the best features of the Capture One catalog is that it allows several users to work jointly on a single catalog.
Sharing access to the catalog is easy. As mentioned above, the catalog is just a single file on your computer. To share this file, simply drag it to your own server or any external file storage service such as Dropbox. Any individuals who are granted access to this file will then be able to work with it.
Capture One incorporates two modes of catalog sharing:
1) Standard access
This mode is enabled by default and allows each user to edit photos in the catalog. The disadvantage of this mode is that multiple users cannot work with one catalog at the same time (it will cause problems with data sync).
If you need to open access to the catalog to multiple colleagues, then it has a second mode – Locked.
2) Locked
In Locked mode the pictures in the catalog cannot be edited, but several users can view the catalog simultaneously. Your catalog becomes "read only," meaning that no one can make changes; however, you can browse together and discuss photos.
To enable the Locked mode, go to the menu File –> Lock Catalog.
Now let's look at the import features that are available in the Capture One catalog.
Import images
Create a new catalog. If you would like to open the catalog in a new window, check "Open in new window".
Click Import Images and you will see the standard images import window.
Main settings of image import
Import To
Here we choose where to store the RAW files:
– Current Location. RAW files will remain where they are and only the processing settings will be stored in the catalog.
– Inside Catalog. RAW files (and processing settings) will be stored within the catalog.
– Choose Folder. Processing settings will be stored in the catalog and RAW files will be stored in a location of your choice.
Backup To
After creating the catalog it is worth thinking about backing it up.
Using the Capture One settings, you can specify the frequency of automatic backup and a place where the backup file will be stored. You can start the backup manually at any time by selecting File –> Backup Catalog.
Please note: the backup tool saves only the image processing settings, metadata and the catalog structure. However, the RAW files are not backed up – you will need to do this yourself.
Naming
Here you can change the file names. Capture One has its own "smart" system of naming.
You can set the parameters by which the filenames will be generated. For example, you can include the time and place where the pictures were taken or the exposure settings in the name.
In the Metadata you can change the description and the copyright for all images.
Through using the Adjustments Clipboard tool you can also change metadata for all pictures.
The most important option on offer in the adjustments section is Include Existing Adjustments.
If this is enabled, the image processing settings (as developed in Capture One) will be applied after the image is imported into the catalog.
You can also use the Adjustments Tool to immediately apply photo styles and presets.
The second article in this series will take a look at the catalog structure on offer in Capture One: "Catalog in Capture One: Groups, Projects and Albums." (coming soon).
If you're planning to purchase Capture One 11 license – you can save 10% with this code AMBC1BLOG.
The code is valid for:
Full Capture One Pro 11 license (you save $29.90)
Capture One Pro 11 + Styles bundle (you save $35.42)
Capture One Pro Sony 11 (you save $7.90)
All the upgrades (save up to $12.00 )
Phase One Styles (save up to $46.30)
Capture One Pro 11 – 5 users license (you save $73.90)
Capture One Pro 11 – 10 users license (you save $144.90)
1) At Phase One on-line store click "BUY NOW" to purchase the Full License of Capture One: Pro, Pro Sony or Pro + Styles bundle.
2) In the payment window click "Enter Promotional Code" and enter this special code AMBC1BLOG, select "Apply" and you will immediately gain 10% discount.
If you're new to Capture One, here are five things which I recommend you to do:
1) Download the Free Guide to Capture One
"Mastering Capture One" is a free guide to learn Capture One and a collection of more than 110 links to the best articles and videos to study each topic.
The first part – "Essential Training" will give you everything you need to begin working in Capture One without a mass of overwhelming information.
You can read it online or download it as PDF right here:
Download
2) Subscribe to my Newsletter
Each issue of the newsletter contains:
Latest news from Capture One community
Reading of the week
Capture One tip of the week
A free RAW file for practice
It's absolutely free, and I promise not to send emails more often than once a week!
3) Download 12 film styles for Capture One for free
In my work, I use 1Styles.pro Film Styles. There are more than 200 styles which you can quickly scroll through and immediately see which would fit your image best.
You can download five film styles for free right here:
Buy now
You'll find seven additional free styles at this link.
Simply try them with your images – it's a completely new experience for RAW editing.
4) Subscribe to my YouTube channel
Each week I'm running Capture One Live Show where we're discussing the latest Capture One news, and I'm showing my favorite tips for RAW editing.
And the best thing is that you can watch it live and ask questions!
Plus: you can upload your RAW files to see how I would edit them in one of the next episodes of the show.
5) Join our Facebook group or follow me on Twitter
Follow @AlexOnRAW

Here I'm sharing the most interesting articles and videos about Capture One which I found recently.
Catalog
Sours: https://alexonraw.com/catalog-in-capture-one-import-images/
Capture One Pro - Using Catalogs to Manage Your Photo Archive
Switching to Capture One: Choosing an organization strategy
When I first switched to Capture One as my primary photo management and editing tool, I knew I wanted to come up with a workflow that suited how I photograph. But I also knew that I needed a quick and easy way to find the photos I needed, whether it be in a week, month or year from now.
I did a lot of research on Capture One's organization tools when you use a catalog system. If you use a session, you'll obviously treat your photos differently, and we'll have more on that in a future article. But what's the best method to organizational madness in Capture One?
Understanding Capture One's organizational tools
A lot of people say that Capture One's weakness lies in its organizational tools. I couldn't disagree more — I find that Capture One has put together a toolset that can make it easier to keep track of your photos, as well as offer some automation that isn't present in Lightroom.
In the User Collections area, you'll be reminded of Lightroom Classic in that you can make projects (like collection sets) and albums (like collections). But you can take it much further, too.
There are four different options in Capture One's User Collections that can help sort your images:
Group: This can't hold images, but it can hold projects and albums, and display the photos that are present inside of the albums. Groups can be nested within each other.
Project: If you're used to Lightroom, think of a Project like a Collection Set. These again can't hold any individual photos. You can nest groups, albums and smart albums inside of projects.
Album: This is exactly what you'd think it is — this holds your photos.
Smart album: Smart albums can display photos based on a specific criteria, and can be nested inside of groups and projects. If they're inside a group, they search from your entire catalog. But if they're inside of a project, they only work with images that are a part of that particular project.
Common organization strategies
As a corporate event photographer, I've found that it's often most convenient to organize my catalog based on client name. When I open the Library tool in Capture One, I see three groups, one smart album and one album.
The smart album holds any images I've given a 5-star rating to, which gives me easy access to photographs that I might want to post on social media for promotional purposes. The BTS album holds any of my behind-the-scenes photographs I've taken.
Client-driven strategy
If I drill down into my Clients group, you'll see that it has sub-groups for each individual client. This makes it easy to quickly and easily find a client, which I sort alphabetically.
If I expand one of those sub-groups for a client, you'll see an individual project. In this example, I photographed several people for a local magazine for an upcoming July issue. So the project is the July 2020 issue, and underneath that are nested albums.
Group and album strategy
What happens if you don't have a specific project you're working on? Well, simply put, that's when you would take projects out of the mix. In this example, I have a main Photofocus group and a sub-group called Gear Reviews. Inside of that I have individual albums for each product I have reviewed.
In this case, projects aren't necessary because it's not an ongoing thing I'm working on. And it's not a specific use case to a client.
Utilizing smart albums
I've learned to really love smart albums in Capture One. As I said earlier, these can be nested, so I can have them only pick up the photographs in the parent group and project.
In this instance, I have a project under a sub-group called Coronavirus. This is where I put all of my Coronavirus-related photographs that I've taken for various clients. Inside of that are two albums. "All" holds all the photographs, while "Selects" is a smart album that only pulls images from the project's photos that have color labels of yellow, green and blue. You can obviously edit this to show photos based on ratings or other data, too.
What's the right organization for you?
Only you can answer that question. But Capture One gives a lot of organizational options to help you keep track of and manage your photos. With the latest update to Capture One, there's never a better time to switch. Do you have a method to your organizational madness? Let me know in the comments below!
Ready to try out Capture One? Click here to get a 30-day trial.
Sours: https://photofocus.com/software/switching-to-capture-one-choosing-an-organization-strategy/
One catalog capture
No matter which RAW photo editor you use, organizing your photos is probably one of the least enjoyable tasks in your photography workflow. However, setting up your catalogs correctly, or making changes to its structure, can ultimately save you a lot of valuable time. In this article, I'll give you some tips to get you started on organizing photos in Capture One.
Setting up your Catalog for success
Capture One offers you the ability to work in Catalogs or Sessions. It's recommended that you work with both.
A Catalog in Capture One functions like a Catalog in Lightroom in that it helps you organize large libraries of images; however, it offers more functionality. On the other hand, Sessions are great for on-set shooting and tethered shooting in studio and are an efficient way to organize the images from a specific shoot.
There are different importing strategies you can use when organizing photos in Capture One. However, before you get started, you should, decide where you'll put your catalogs.
They don't have to live in the same location as your photos, but your catalog should be kept in the fastest, most high-performing place you can put it – which is usually your computer's internal hard drive.
In short, consider the performance limitations of any storage medium that you use when organizing your photos in Capture One.
Starting a new Catalog
If you're new to Capture One, you'll want to start a new Catalog. Creating a Catalog creates a new database; it tracks photos and adjustments, and stores metadata and keywords, and a small preview of your photos
You can have a single catalog for all of your images, which is further broken down into Sessions and Albums etc. depending on how you want to set up your workflow. You may choose to have more than one catalog; for example, a catalog for personal photos and another for client work.
I shoot food and still life photography for several stock agencies. I like to keep these images separate from my client work, as it helps me feel more organized. However, this is simply my preference. You may decide to organize your photos in Capture One differently.
How to start a new Catalog:
Navigate to File in the menu bar at the top of the Capture One workspace.
Choose New Catalog. The dialog box will appear.
Type in the name of your new catalog. Notice the location of where your catalog will be stored. You can change this by clicking the three dots to the right.
Hit OK. Now you're ready for the import process.
Importing from an external hard drive
The chances are that you shoot a lot. If you shoot RAW files, it doesn't take long for your computer's hard drive to fill up with thousands of image files. Therefore, it's a good idea to keep your image files on an external hard drive to keep your computer's performance at an optimal level.
I keep my Capture One catalog on my iMac but have my files stored on two 4TB external hard drives – my main storage drive and a backup with duplicate files.
I also shoot tethered to a laptop when I shoot for clients. In this case, I save a backup of my files on a 1TB external hard drive and upload the photos to my main external drive after my shoot.
Before you get started with importing images, make sure that your image preview size is at least as large as your monitor, to ensure that they render properly. You can set this in your Preferences.
How to import from an external hard drive:
Go to File and choose Import Images. A Dialog box will pop up. Choose your external drive from the dropdown under Source.
Make sure to check off Include Subfolder to see your photos in the Capture One workspace, otherwise it will appear blank.
Choose where you want to import them to under Destination. I have a file named after every calendar year on my main drive. I create folders named after the contents of the shoot. ie: Blood Oranges, Moody Whiskey, Carrot Cake, etc.
You can also create another backup and save the images to that location.
After you have chose your importing parameters, hit Import All.
Leave your photos in the current location to honor the file structure that already exists on the hard drive you are copying from.
Importing from a memory card
To import your photos from a memory card, you need a Destination folder to get them off the card. You may already have a folder in mind or you can create a new folder ie: My Photos
The dialog box will pop up once the card reader and memory card are connected to your computer. The process is the same as for importing photos from an external hard drive.
You can create Subfolders and further organize the images by date or other criteria. Capture One calls this Tokens. Tokens pull this data from the photo.
If you click on the three dots next to the Subfolder option, all of the various Tokens will come up. You can then click and drag them individually to the Format section, as well as drag them around to place them in a certain order.
Be sure to scroll down to see all the Tokens.
I usually choose to organize further by date, or date and time. Often I also include "Rights Usage Terms" to help me track licensing stats of various photos.
Once you have chosen your tokens, hit OK and then Import All.
Moving files and folders to another location
If you want to move files between folders, you can just drag and drop them. The database understands that you're doing this within Capture One. When you attempt to do this outside of Capture One, this is where you get into trouble.
Moving outside of Capture One is slower, and you'll have to relocate the files.
You'll get an Offline notice and will have to locate it by right-clicking on the image and choosing Locate and navigate to where your image is. Capture One will re-establish the connection.
If you move a whole folder, it's the same process.
You can move folders the same way you move files, and move them from your internal drive or an external drive.
Organizing with User Collections
User Collections is the best way of organizing your photos within Capture One. If you use Lightroom, you'll be familiar with the concept of Collections.
There are too many limitations when trying to organize by folders because you can't bring certain images together for a specific purpose, such as printing your work, unless you move them. Therefore, User Collections is the perfect solution.
There are four powerful organizational tools in User Collections:
Album
Smart Album
Project
Group
Project is like a master container to put your Albums in. You can't just drag images here; there has to be an album inside.
Much like a physical photo album, Album is a way to organize groups of photos that have a similar theme, such as vacation photos, or photos from a wedding shoot.
How to start a User Collection
To start a User Collection, click on the + arrow to the right of the User Collections dropdown.
Then give your Collection a name and hit OK.
Smart Albums
Smart Albums are a way to take this a step further, by giving you the ability to organize with star ratings and color tags. If you're a Lightroom user, you'll also be familiar with this concept.
Smart Albums populate themselves based on the criteria you pick. If you click off a star or rating, it will disappear from the collection, because this feature is dynamic.
Click + to add your search criteria, or use preset color and star ratings.
Conclusion
Organizing your photos in Capture One takes some effort and experimentation using the various tools the software has to offer. It's a powerful program that has a lot of intuitive tools to help you create the most efficient workflow for your photography.
If you have any other tips for organizing your photos in Capture One, let us know in the comments!
Sours: https://digital-photography-school.com/tips-for-organizing-photos-in-capture-one-pro/
Capture One Pro in 5 Minutes // Sessions vs Catalogs And WHAT It Mean for YOU
Why You Should Be Using Both Sessions and Catalogs In Capture One Pro
Capture One Pro is a behemoth of a raw converter. Its ability not only to bring out amazing detail in raw files but also to efficiently organize photos before, during, and after a shoot is truly impressive. If you haven't used Capture One before, or if you're just getting started, here are some suggestions for how to get the most out of the software's approach to organization.
The Two Paths
Capture One uses two primary methods for organizing files: Sessions and Catalogs. Both have their merits and drawbacks. While you could easily choose to use only one of these methods, I highly recommend at least trying your hand at using both in conjunction with one another. This gives you enhanced flexibility with your file structure and allows you to have more freedom out in the field. But before we talk about using Sessions and Catalogs together, we have to discuss what each of them does differently.
When you open Capture One for the first time you'll be asked if you already are familiar with Capture One. If you say no, you'll be automatically brought into Capture One's Catalog based workflow. Catalogs work just fine, but you can get a lot more out of the program if you use Sessions as well.
The Way of The Session
In years passed, Sessions were Capture One's de-facto method of organization.
When you create a new Session, Capture One creates five folders on your hard drive: a parent folder with the same name of the session you've created that contains the Capture Folder, Selects Folder, Output Folder, and Trash Folder.
As stated above, Capture One creates folders with these names with each new session you make. However, true to Capture One's philosophy of circus-performer-esque flexibility, you can enable any folder on your hard drive with the above qualities, thereby making any folder of your choosing the "Capture" folder, and so on. This is especially useful when tethering and organizing photos on-set.
The uses of these folders are pretty straightforward:
Capture Folder: where all of your RAW files go while tethering or after importing from a card
Selects Folder: images you've marked as a select will now physically live in this folder
Output Folder: contains all of your converted JPEGS, TIFFS, etc.
Trash Folder: images you've determined to be trash live in this folder but are not deleted from disk until instructed to do so
Sessions are typically made on a per-shoot basis, although I'll expand on other options shortly.
You have a headshot shoot next Tuesday? Make a new session. Going on a road trip over the weekend? Make a new session. Have a boudoir shoot on Thursday? Make a new session. Sessions are designed to handle a few thousand images, but after you get into the 3k+ area you may experience performance issues. This is why Sessions are best per-shoot and not for an entire body of work.
Easy Backups
Sessions have the benefit of containing everything from a particular shoot all in one place- inside the parent folder. This is a good thing because it's so easy to create backups. At the end of the day after you've made selects, created crops, processed files, etc. all you have to do to make an exact duplicate of everything from your shoot is copy the parent folder and paste somewhere else. No large database to keep track of, no virtual path to maintain. Simple.
I love sessions and encourage as many people to use them as I can when I teach because it encourages you to understand where your files are on your operating system outside of a piece of software. Because the folder structure is so simple and easy to understand, (Capture, Selects, Etc.) you can navigate to a raw file or processed TIFF years after the fact with ease without ever opening the program.
If a client asks to re-license an image from a shoot years ago but you can't find it because you jumped the gun and updated your OS without checking Capture One's compatibility, you'll likely still be able to navigate to the session folder, peek inside the output folder, and voila.
Use Sessions Like a Browser
You can also think of a Session in Capture One Pro like a 1:1 representation of what's on your hard drive. Using the system folders function, you can use any session in Capture One like a file browser. Navigate to any folder on your local or connected external drive and use Capture One to view and even edit and retouch images without having to import them. The best part? Any other Session you use to navigate to those raw files will reflect the edits you've made thanks to Capture One's handy sidecar folder system.
Because of this ability to browse and edit without having to import or even use the Session that was originally associated with the images I'm viewing, I sometimes use a Session without any images in the Capture Folder named "Utility Session" which is dedicated to nothing except browsing other images on the fly.
The Way of The Catalog
For years Capture One only used a Session based workflow. Phase One recognized the popularity of  larger database-centric organizational structures used by the likes of Lightroom and the now abandoned Aperture and provided the option of using Catalogs as well as Sessions beginning with Capture One Pro 7.
The fundamental way in which images are edited are identical in both Sessions and Catalogs, but the way files are organized and navigated through are very different. Unlike Sessions which are meant to house a typical number of images in a photo shoot, Catalogs are designed to house a large body of work and can handle many thousands of images.
Referenced Vs. Managed Catalogs
Catalogs will be familiar to those coming from Lightroom. They rely on a single database file that is best left on a local drive for optimum performance, however images can be saved wherever you like. In a "referenced" Catalog, the Catalog keeps track of your photos  by remembering a folder structure path. It is also possible to save RAW files within the Catalog database file (a "managed" Catalog), however I strongly recommend against this.
If a database isn't backed up properly and becomes lost or corrupted, there's no guarantee you'll get your RAW files back. This is not an issue if you keep your original RAW files outside of the database file. The database file is simply the user interface of Capture One which contains your virtual organization, image previews, edits, and other backend files.
Unlike a session which is based on a per-shoot mentality, Catalogs can be created to satisfy a variety of organizational preferences. For example, you could create a Catalog per year, per client, per genre, or use a single Catalog for all your past and future images.
In-Depth Virtual Organization
After you've created your Catalog you have the option of creating virtual organization within the Catalog. This is accomplished by using Albums, Smart Albums, Projects, and Groups. Unlike Sessions, these terms have no analog in your physical hard drive. They exist only within the database file. This type of organization is nice because it allows you to be as creative and flexible as you want, and because it's completely virtual, you have the option of being able to access the same image in a variety of ways without duplicating the image file.
Groups: Virtual Organization. Can't contain images, but can contain other Groups, Projects, Albums and Smart Albums
Projects: Like Groups, they can exist on their own or in Groups. Projects cannot contain images, but can contain albums and smart albums. When placed in Projects, Smart Albums will only search the images contained in Albums within the Project.
Albums: Only organization that can actually "contain" images in a Catalog. Can be nested in Projects, Groups, or can exist on their own.
Smart Albums: Albums which are constantly applying search criteria. For example, all 5 star images that are also color tagged red. When placed by themselves or within Groups they will search every image in the Catalog. When placed in a Project, they will only search images within the Project.
Catalogs lack the flexibility of Sessions in that you have to import images in order to edit them and can't browse your hard drive through the lens of arguably the best raw converter available, but they have the strength of being able to handle very large numbers of images, and in doing so, can be used to keyword and organize to the Nth degree.
Another benefit to Catalogs is that, should you choose to house your images on an external hard drive but leave your Catalog database file on your local drive, the Catalog will create smart previews so that you can continue to edit, organize, and keyword your images even if your external drive is disconnected.
The Best of Both Worlds
Now that we've discussed what Sessions and Catalogs are and how they differ from one another, let's talk about how we can use them in conjunction with one another.
Personally, I use Catalogs based on genre. I have a Food Catalog, Landscape Catalog, and Magazine Catalog. These Catalogs house thousands of images and "contain" all the images I've ever shot in those genres. Because of that I can search within those Catalogs easily and find the images I'm looking for. My Catalog database files live on my local drive, but my raw files are housed physically on a large external hard drive.
If I'm about to go out on an editorial shoot, I'll create a Session for that shoot. I'll tether into the Capture Folder, talk with the client about selects and aesthetics, and maybe even start editing. I'll also make a couple backups of the parent folder for redundancy and feel content knowing that the all-important shoot I just completed is self contained and easily accessible.
Once I'm done with the shoot, I'll head back to home base where I place the session in my large external hard drive next to my other editorial Sessions. I then import the Session (along with its keywords, edits, albums, etc.) into my Magazine Catalog to be housed for future reference.
This way I have the flexibility and redundancy of a simple Session based workflow out in the field as well as the complex organization of a Catalog based system after the shoot is over.
Importing a Session into a Catalog
To import a Session into a Catalog, open a Catalog, then click File > Import Session. You'll then navigate to the Session you would like to import into your Catalog and highlight the file with the extension ".cosessiondb" which is the Session's database file.
Capture One will then import all of the image-containing folders from the Session (Capture, Selects, Output) as well as any Albums, Smart Albums, favorites folders, keywords, edits, etc. as a Project into your Catalog which you can then organize using the Catalog's virtual organization.
The Session you imported still exists on your hard drive, still contains all of your raw files, and will remain unaffected after the import. It's important to note that changes you make in the Catalog to the now-imported Session will not be synchronized to the Session on your hard drive, therefore its recommended that you place the Session in its final resting place without the intention of returning back to it before importing into a Catalog.
This organizational technique has been wonderful for my workflow, but everyone has their own methods. Do you use Sessions? Catalogs? Both? Do you intend to experiment with Sessions after reading this article? Let us know!
Sours: https://fstoppers.com/capture-one/why-you-should-be-using-both-sessions-and-catalogs-capture-one-pro-310162
Now discussing:
One optical step you can complete now is to rebuild the previews. When you restore a catalogue it won't have the preview with it, and it will have to rebuild them. By default, capture one will only try and rebuild the previews for the folder you are currently in, but if you have time (you can leave it overnight) you can rebuild all previews by going to the library tab, and in the "Catalogue Collections" section, choose All images. For a freshly restored catalogue this should start the rebuild process, but if not, you can force it by selecting all the images and choosing Image > Regenerate Previews.
Last Resort option if your Catalogue is corrupt, and you don't have a backup, or your backup is also corrupt.
If you don't have a backup, or if there are problems restoring from a backup, there is a last resort option you can try. This is basically creating a new catalogue and importing the old one. Here's what to do…
Launch Capture One holding down the option/alt key and when the window pops up asking you to select a catalogue, choose the option to create a new one. Give it a name and save it in the location of your choice.
With the new empty catalogue open, from the file menu choose Import Catalogue > Capture One catalogue. Locate the catalogue and choose import.
This will try and import the contents of your old catalogue into your new one. This can sometimes recover data if the corruption isn't too bad. I managed to recover an old catalogue this way once before. There are some downsides to this, though. You may lose some data, and your recent import collections will be lost. The process also takes a long time, so be prepared to leave it overnight.
Conclusion
That's all there is to it really. Restoring a catalogue is fairly easy, but it may take some time depending on the number of images and if you choose to regenerate previews. If you have a corrupt catalogue, and you really need its contents then consider the option described above to import it into a new catalogue.
Sours: https://blog.thomasfitzgeraldphotography.com/blog/2021/2/how-to-restore-a-capture-one-catalogue-from-a-backup-and-recovering-a-corrupt-catalogue
283
284
285
286
287