Homes with an upper level or a lower level would utilize staircases. A staircase connects different levels of a house through a series of a flight of steps. These are made in different materials but have the same functions. But some opt to add storage areas in the staircases either over or under the stairs.
When we say staircase storage, they vary in design and style. There are drawers on treads or closets under the stairs. But today, we will show you some shelves that are added under the stairs which is a good way to save space and utilize the area in a good way. Take a look at the list we have for you today so you can get ideas on what you can do to that area under your staircase.
Neo-Prairie Style Parade Home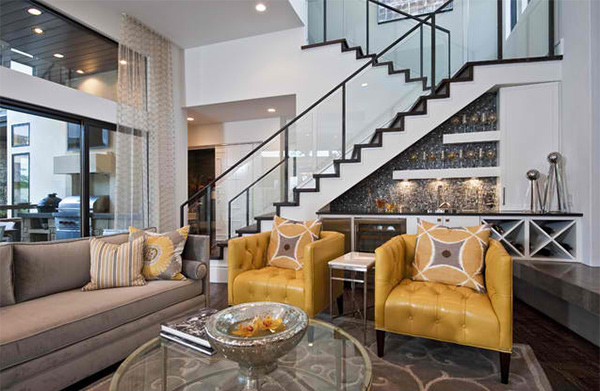 Hobbs' Ink
We know that the yellow chairs are lovely but take a look at the shelving under the stairs, isn't it pretty too?
700 Palms Residence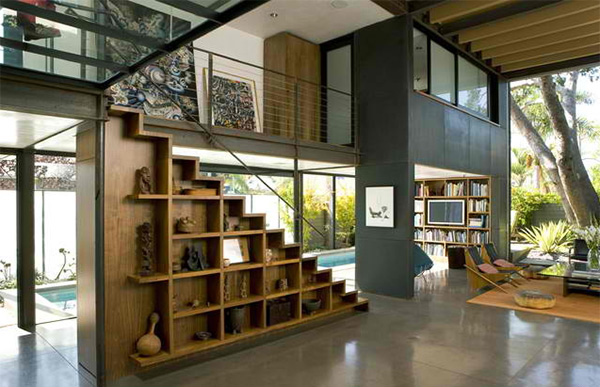 Ehrlich Architects
Look at what they did to the staircase of this house. The treads were extended to facilitate a shelving.
Condo Renovation 1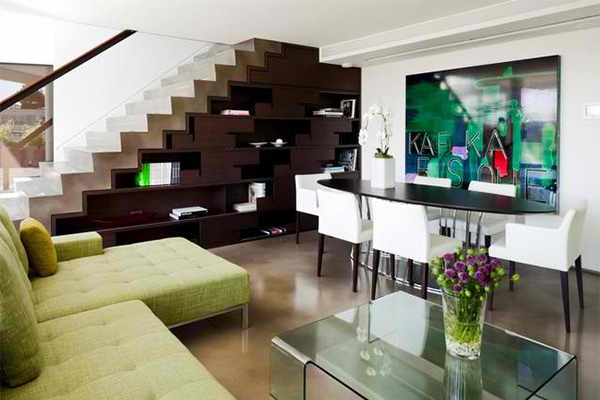 Capsuledesigns
We love the design of the shelf on the stairs. It is very gorgeous using geometric design to cover some areas.
Custom Stair with Storage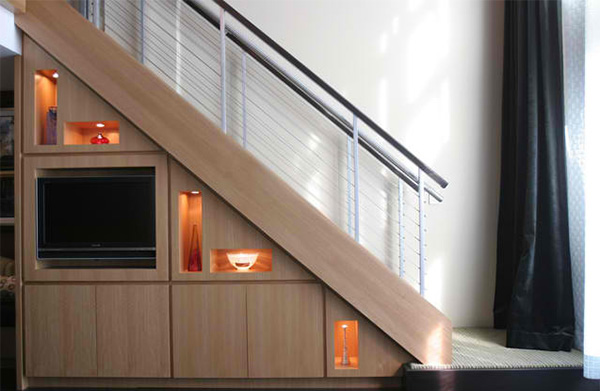 Fiorella Design
Tucked away under the stairs, this streamlined media center hides unsightly cords, preserves precious floor space, and boasts back-lit alcoves for display.
New Staircase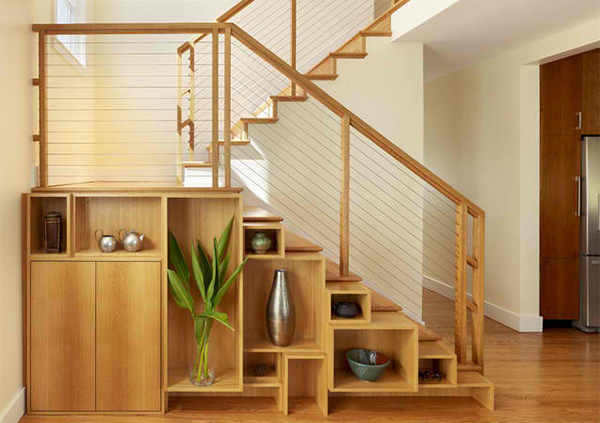 Ogawa Fisher Architects
Rich wood details are used for this staircase which was treated as a piece of furniture adding a custom design of box-like shelves and closed storage doors animating the elevation.
Boutique Mews House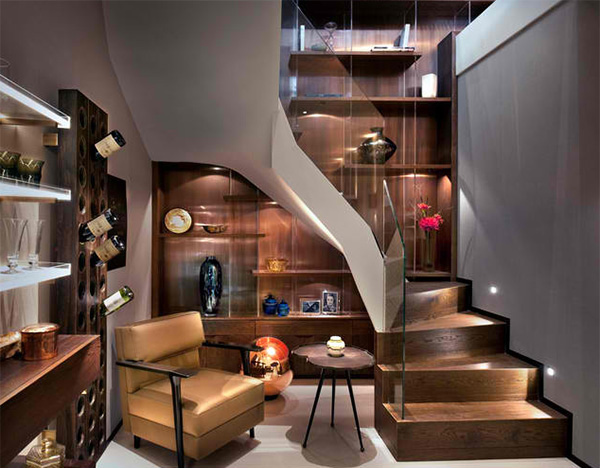 Zephyr Interiors
This is one stylish shelf design. You can see that the shelves are also seen above the stairs.
Open Plan Living Space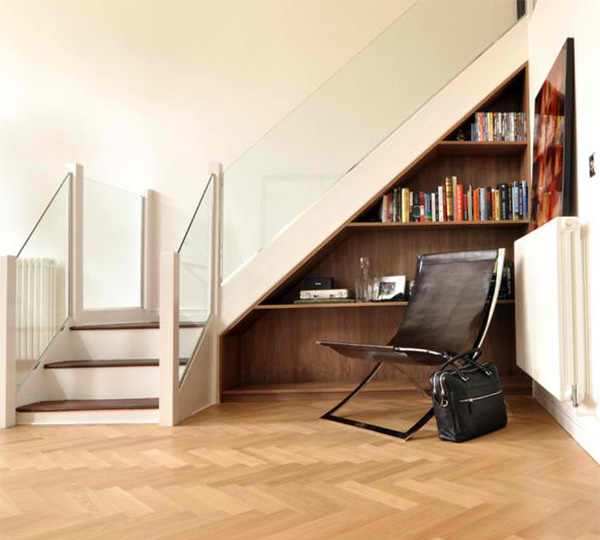 Kia Designs
A triangular shelf was inserted under the stairs and contained books as well as a desk for reading.
Stair Bookshelves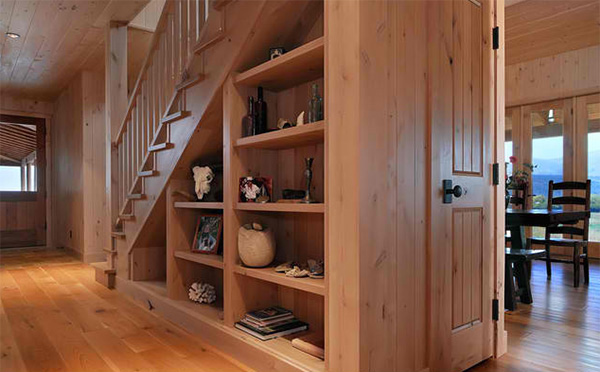 Koch Architects, Inc. Joanne Koch
The shelves under the stairs are a good way to display items that have value to you.
Cottekill Church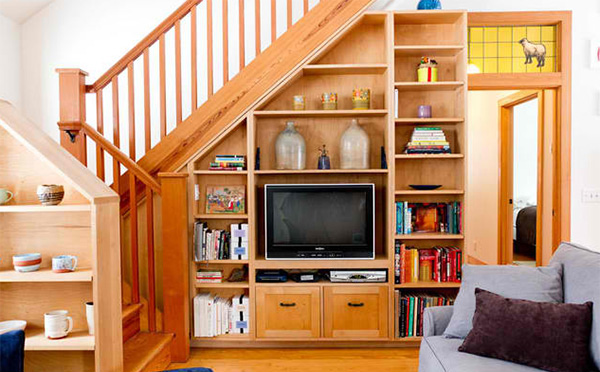 Rikki Snyder
Aside from a display area and bookshelf, this is also a perfect spot for the media center.
Modern Hawaii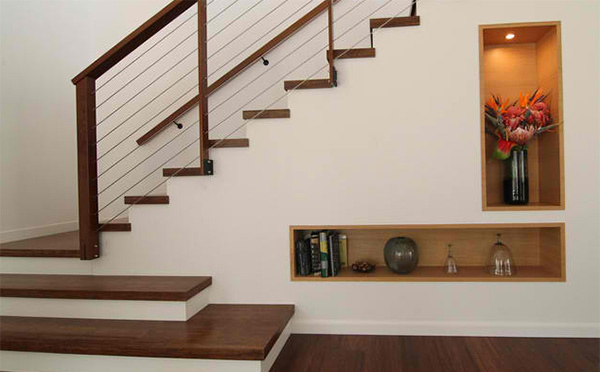 Wildco Construction Inc
You don't always need to follow the design of the inclination of the stairs to cut a shelf. You can also add some boxes like this one.
The Sassafras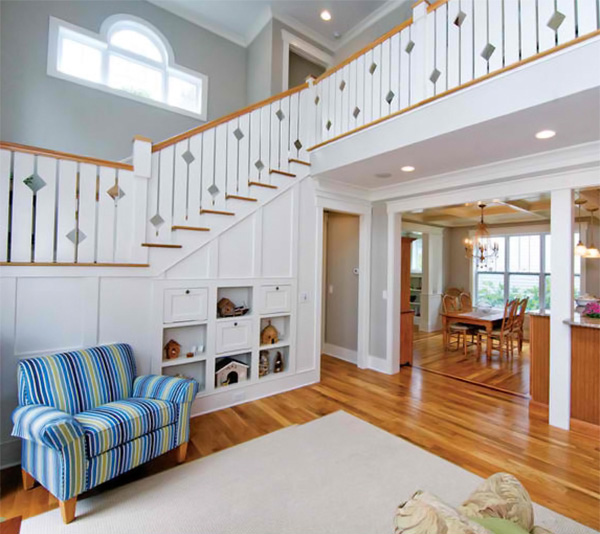 Donald A. Gardner Architects
Open shelves and closed ones were added under this beautiful white stairs.
Full-Tilt Reinvention for a 1950s Ranch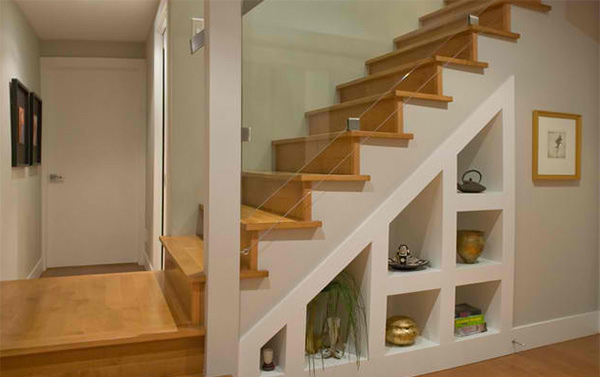 Heather Merenda
Aside from this shelf which, the other half is for storage accessed from the downstairs suite for a snowboard or other such things.
Upstate New York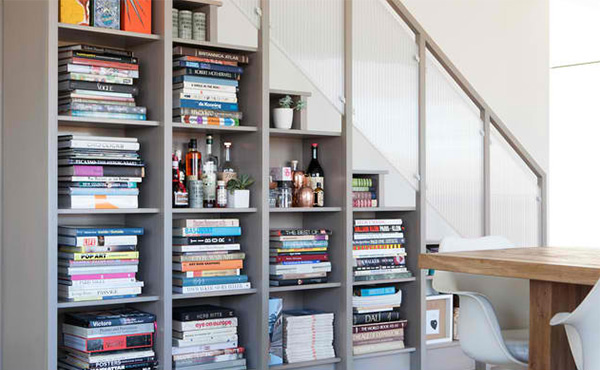 Acre Goods + Services
A book collection was arranged in strong horizontal lines for a more modern look. Two cubes in the shelf were used to keep the wine for the homeowners since they wanted to have their own bar.
Sunnyside Project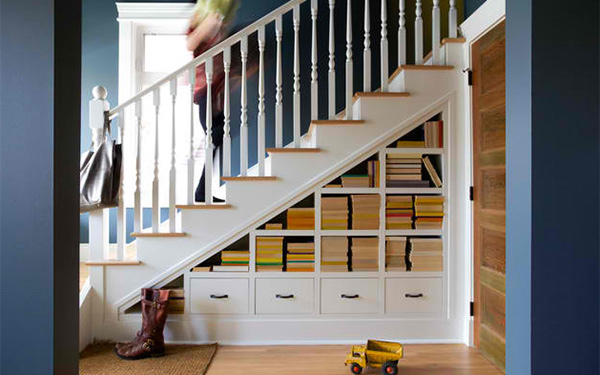 Lynn Donaldson & Associates
Another under staircase bookshelves where in the bottom ones have drawers in them.
Customized Staircase with Built-in Shelves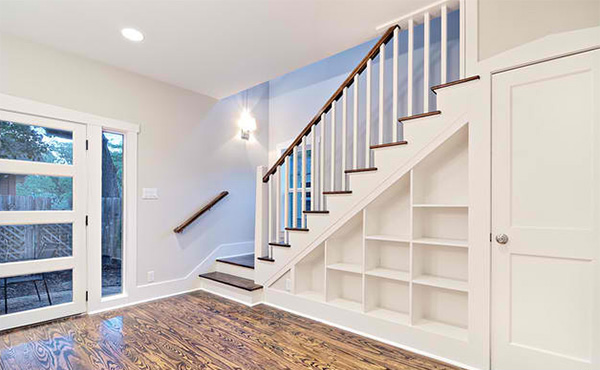 Avenue B Development
Innovative and open built-in shelves under traditional craftsman staircase. It is empty in this picture and we can tell that it would look even more lovely once the display items and books come.
There are different styles of shelves that you can add under the stairs and whatever is the look of your shelf, what matters is that you were able to use the area instead of just leaving it plain. We are sure you were able to get ideas from this list. Want to see other shelving designs? Take a look at some floating wall shelves for more inspiration.
Bonus Video: Modern Staircase Installation
Sours: https://homedesignlover.com/interior-design/under-staircase-shelves/
Ideas
Explore the world's #1 largest database of ideas and innovations, with over 500,000 inspiring examples.
Trend Reports
Discover why 900 brands rely on our AI-powered Trend Reports to get better, faster insights.
Newsletter
Join 306,099 subscribers who rely on our weekly newsletter to keep up with need-to-know trends and insights.
Consumer Insights
Uncover major shifts and emerging opportunities with our exclusive PRO research.
Trend Reports
Discover why 900 brands rely on our AI-powered Trend Reports to get better, faster insights.
Newsletter
Join over 250,000 subscribers who rely on our weekly newsletter to keep up with need-to-know trends and insights.
Dashboard
Get special access to premium content, topic tracking and customizable tools through our AI-powered Dashboard.
Assessment
Enhance your innovation potential with a deeper understanding of your unique innovation archetype and how your organization benchmarks.
eLearning (NEW)
Prepare for the year's ahead with 100+ lessons, tactics, tools and frameworks with our full learning database.
Advisory & Services
Accelerate innovation and ignite disruptive thinking with our award-winning programs and research.
Trend Reports
Get fast, customized trend reports, presentations and deep dives 20x faster than traditional research.
Plans
Get started today with a free consultation, our self-serve tools, or a dedicated program.
Jeremy Gutsche
Ignite your event or virtual event with our CEO, a NY Times Bestselling Author and one of the top innovation keynote speakers.
Contact
Get in touch to learn more, ask a question or submit a tip.
About Us
Learn more about Trend Hunter and how we accelerate innovation.
FAQ
Get answers to common questions about Trend Hunter.
Community
Stay on the cutting-edge with the help of the Trend Hunter community.
Team
Meet the team trusted by hundreds of leading businesses worldwide.
Jobs
Find opportunities to accelerate your career with the #1 Trend Firm.
News
Catch up on noteworthy Trend Hunter news and media mentions.
Join
Build a portfolio and put your trend-spotting abilities to the test.
Advertising
Supercharge your marketing by partnering with Trend Hunter.
Portfolio
Visit your public portfolio and browse your past articles.
Add a Trend
Write up an article and showcase your trend-spotting skills.
My Trends
Edit your articles and see how they stack up on the leaderboards.
Settings
Edit your profile, connect your social media accounts, and more.
Login
Add a trend, customize your dashboard, or track topics.
Free Webinars
During COVID-19, learn to innovate through chaos, navigate the new normal and maintain work culture from home.
Search our database of 396,976 cutting edge ideas.
Join 306,099 entrepreneurs, innovators and CEOs who rely on our weekly trend report to stay ahead of the crowd.
You'll get special access to premium content and trend research that cannot be found anywhere else.
View last week's newsletter
Sours: https://www.trendhunter.com/trends/staircase-shelf
Space-Saving Staircase Shelves for Floor-to-Ceiling Storage
Continue reading below
Our Featured Videos
It is technically a bit untrue (most of the time) that one can 'run out' of space. Consider the overhead area between yourself and the ceiling, for example. Sure, you want to keep it so you feel comfortable and to allow natural and artificial light to percolate through spaces … but a lot of it is not even necessary for those secondary needs.
This simple modern design by Danny Kuo blends aspects of classic studies and libraries with present-day sensibilities about craft, materiality and saving space. ?Lower wooden boxes slide out to become steps from which one can reach upper shelves and cabinets.
Since the staircase functionality is built-in, there is no need for the traditional rolling ladder or staircase-on-wheels one associates with floor-to-ceiling bookcases. This, in turn, helps save even more space.
Beyond the big idea, the details are treated with exquisite precision, too, with woodwork that is appealing to the eye and solid to the touch for each of the many pieces involved.?Finally, the fact that each wood box is an independent module makes it possible to swap out one type for another as needed, placing more emphasis on cabinet-style, swing-open spaces or sliding drawers depending on what kind of storage is desired. This product would lend itself exceedingly well to mass-customization.
Sours: https://dornob.com/space-saving-staircase-shelves-for-floor-to-ceiling-storage/
12 Inspiring Examples Of Staircases With Bookshelves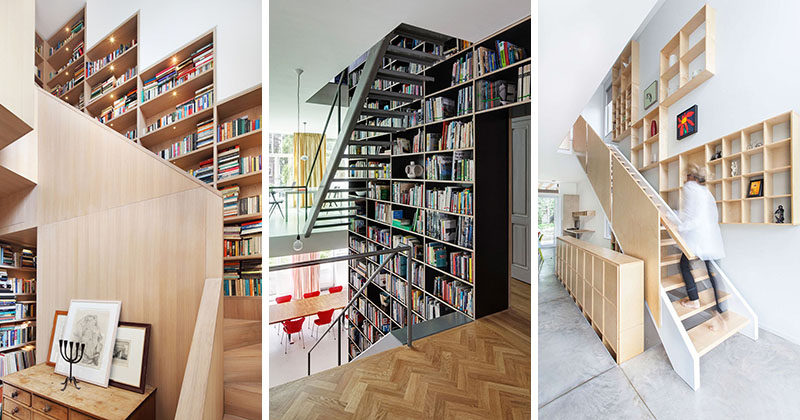 1. The stairs in this loft are sandwiched between a bookshelf on one side and a safety net on the other.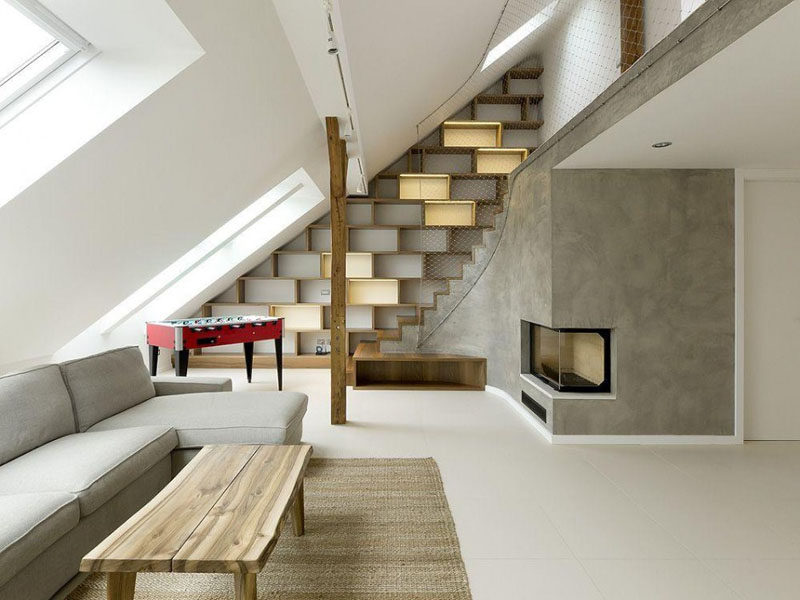 Designed by A1 Architects
---
2. The shelves that run along side these stairs continue into the kitchen.
---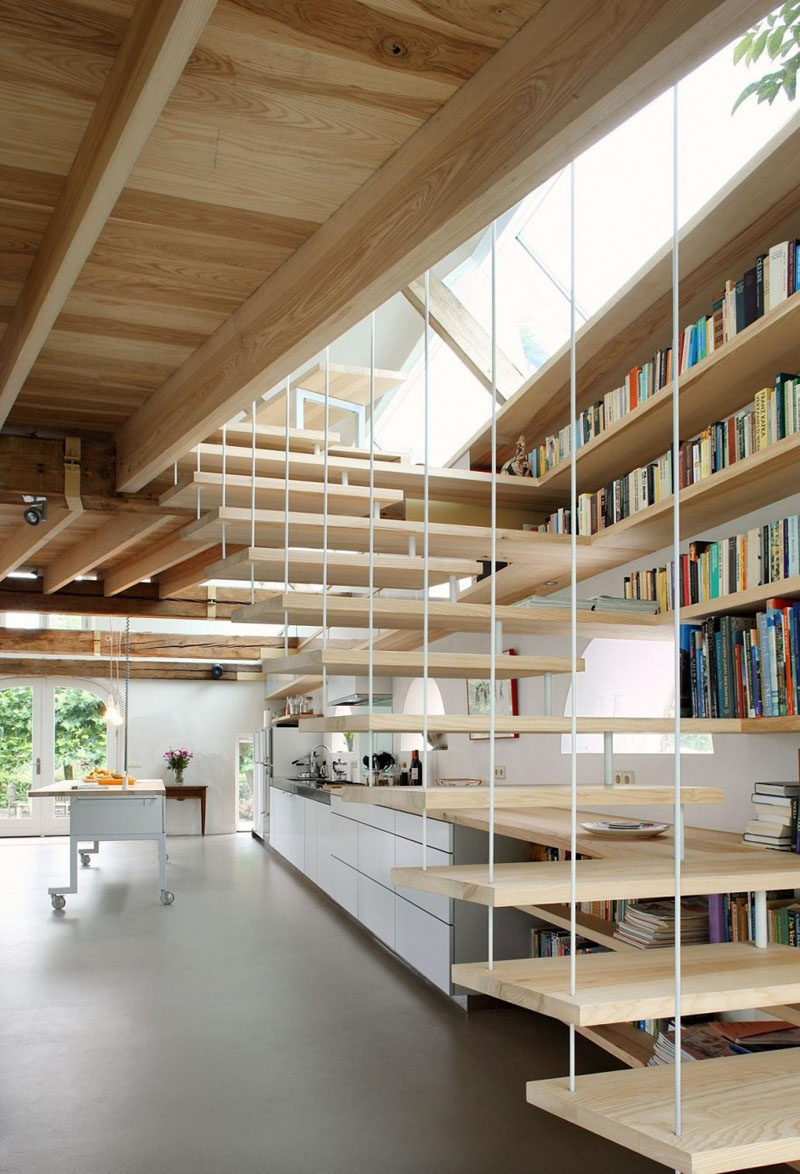 Designed by Maxwan Architects. Photos by Filip Dujardin.
---
3. These stairs and bookcase use a variety of materials including glass, steel and wood.
---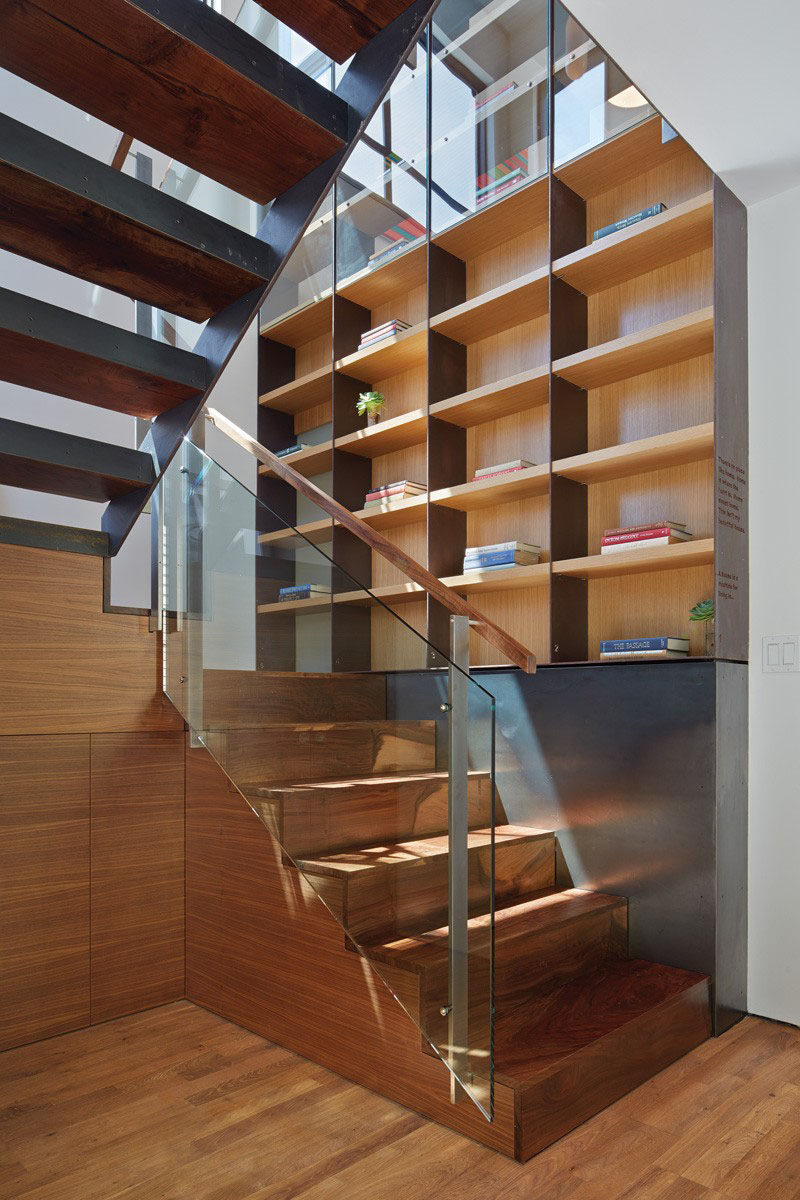 Designed by Zack | de Vito Architecture. Photos by Bruce Damonte Photography and Paul Dyer Photography.
---
4. These plywood shelves that follow the stairs up are a great place to store books and display art or other decorative items.
---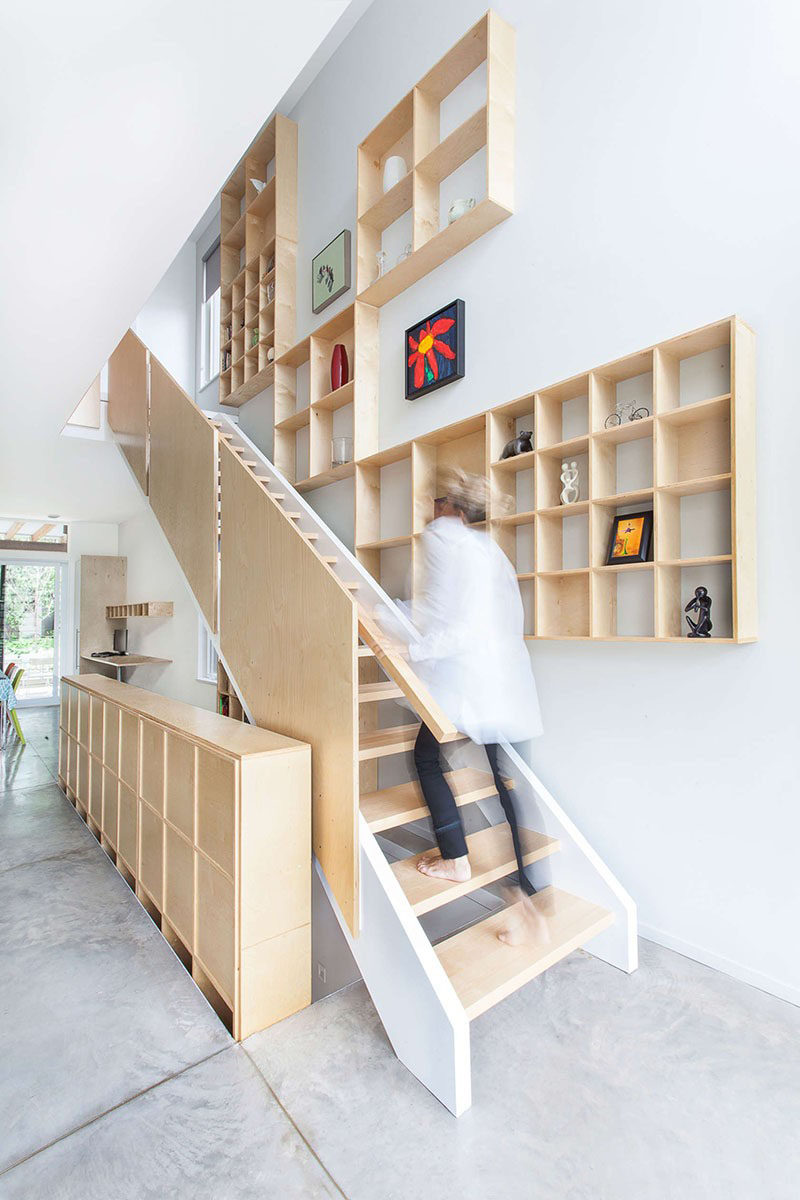 Designed by John Donkin Architect. Photos by Urszula Muntean.
---
5. The floor-to-ceiling bookshelf allows for lots of storage in this open concept home.
---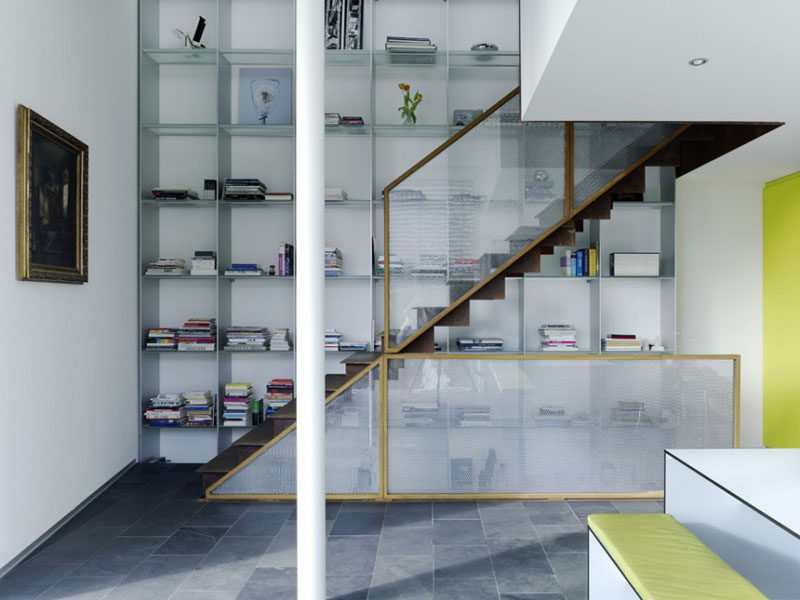 Designed by zo2. Photos by Simone Rosenberg.
---
6. A wooden wall transforms into an open bookshelf as you climb these stairs.
---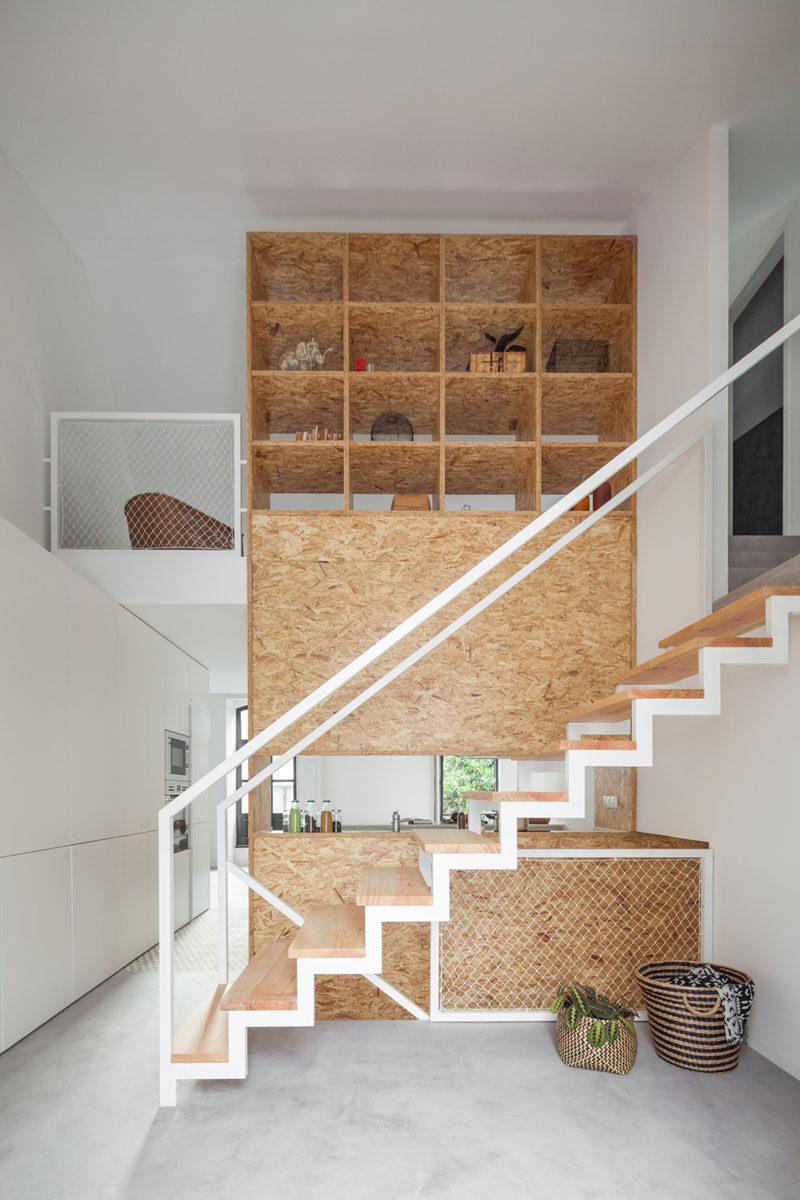 Designed by URBAstudios
---
7. This staircase/library combo is in the center of this London home, and small lights ensure that everything is on display.
---
Designed by Platform 5 Aarchitects
---
8. This steel bookshelf travels upwards along side the stairs in this home.
---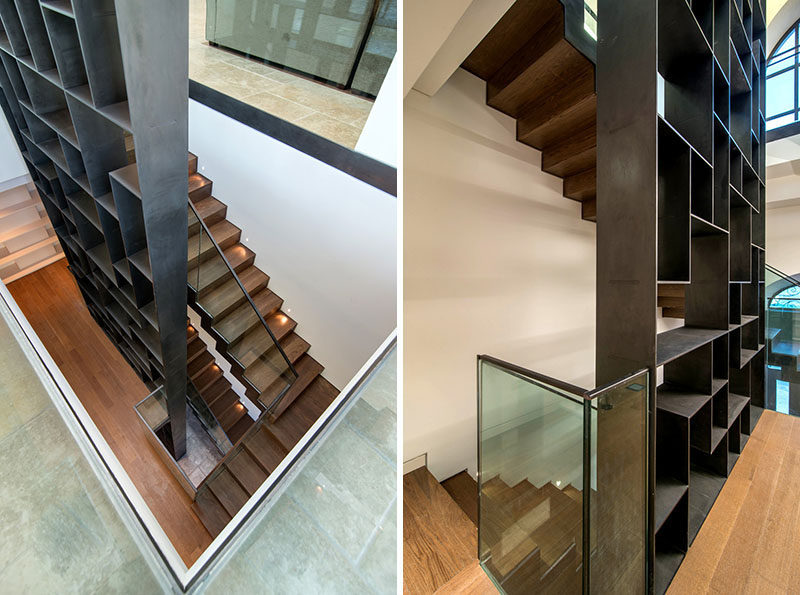 Designed by Matti Rosenshine Architects. Photos by Ilan Nahum.
---
9. This winding staircase has floating bookshelves along one side of it.
---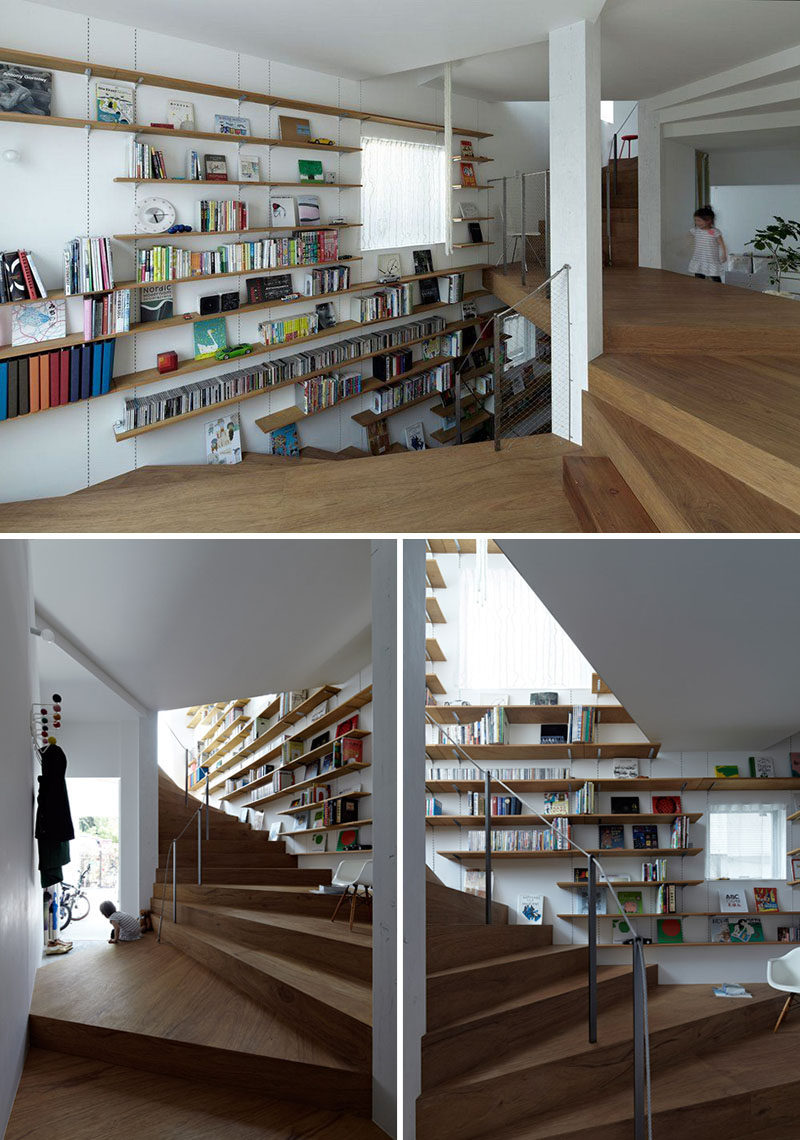 Designed by Akihisa Hirata Architecture.
---
10. This bookshelf starts when the materials change and carries on all the way to the top of the stairs.
---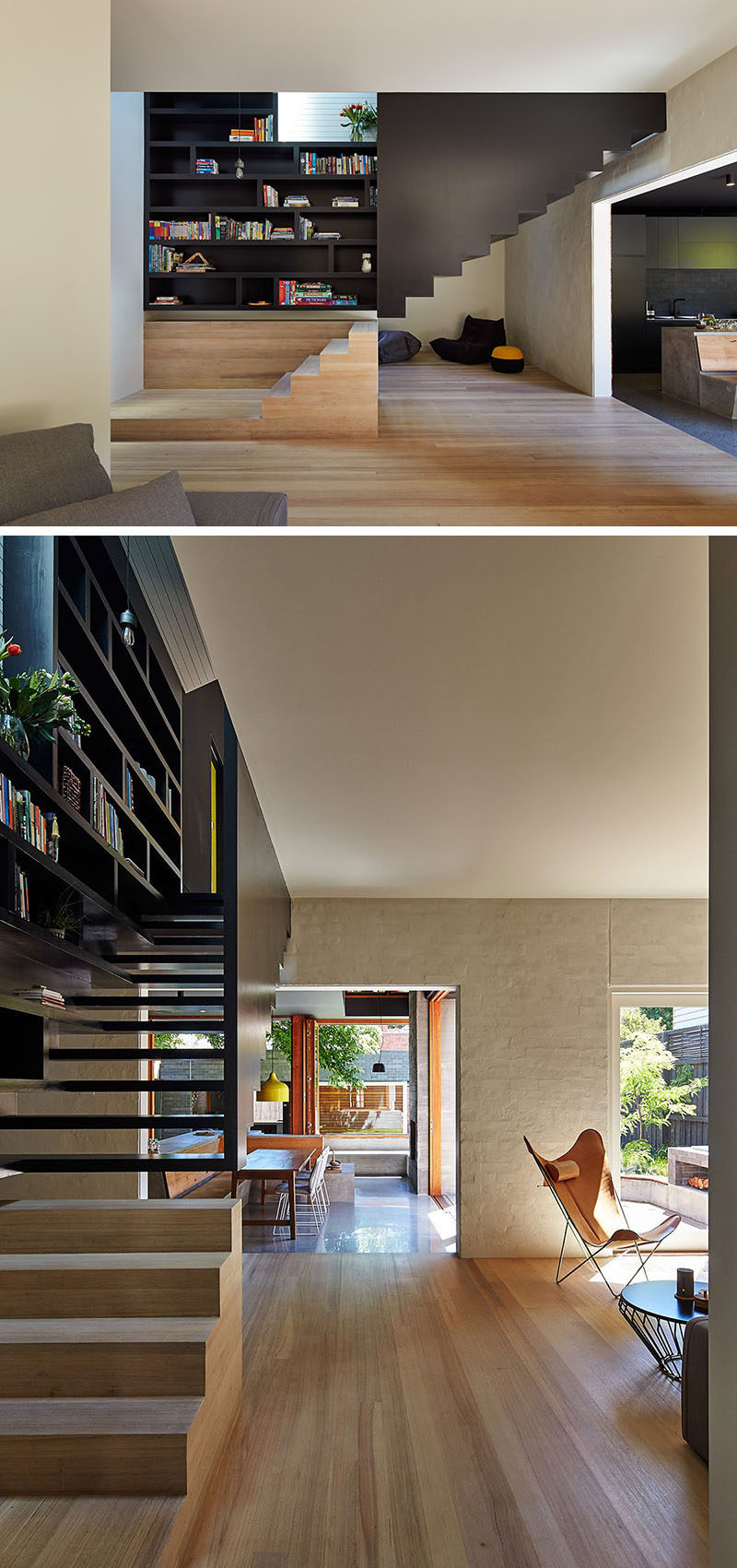 Designed by MAKE Architecture.
---
11. This staircase/bookshelf combo leads up to a spot perfect for reading.
---

Designed by Sono. Photography by Matevz Paternoster.
---
12. This bookshelf along side the staircase is as tall as the entire apartment it's in.
---

Designed by Shift. Photography by Rene de Wit and Jeronen Musch.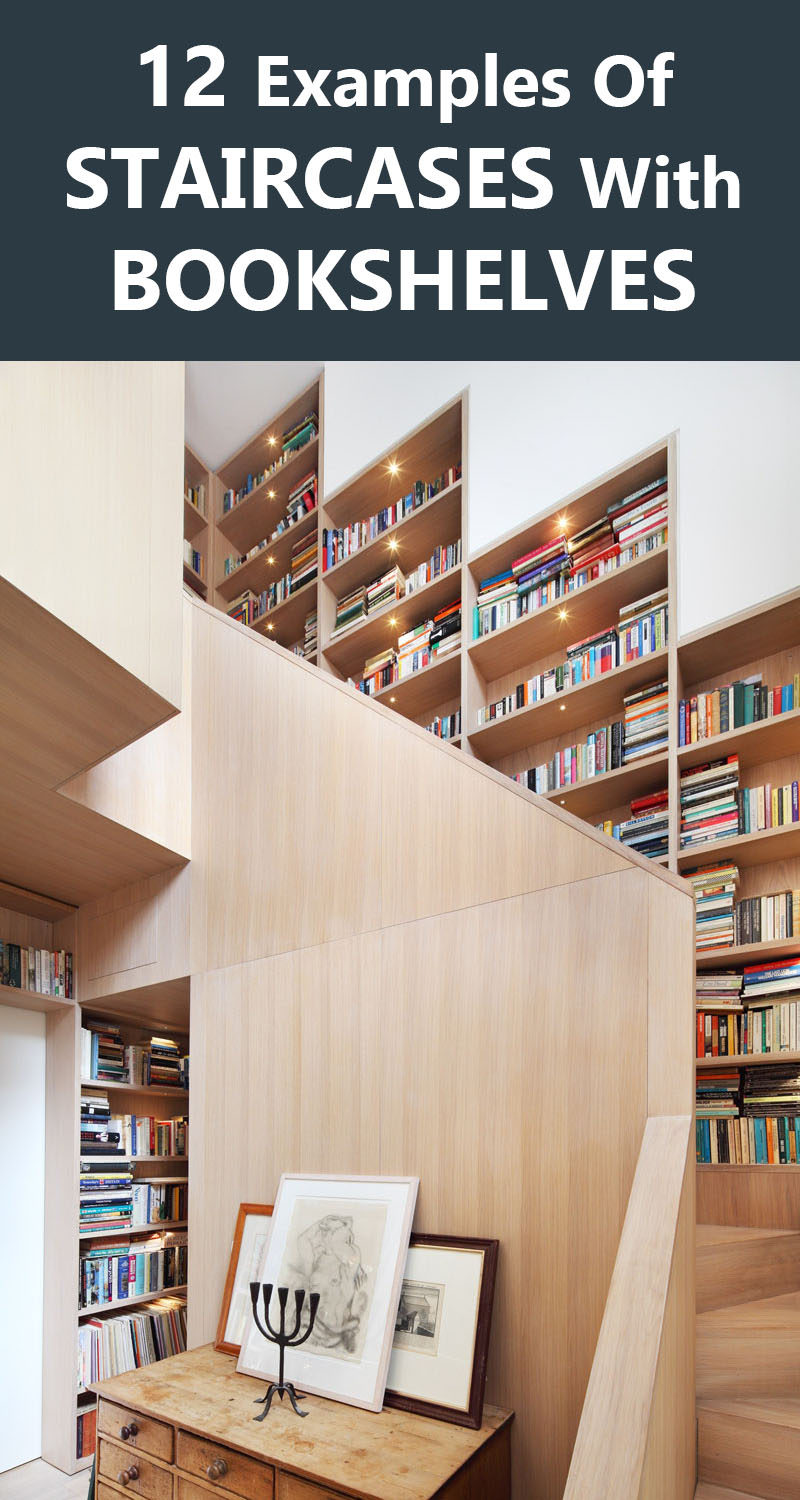 Sours: https://www.contemporist.com/12-inspiring-examples-of-staircases-with-bookshelves/
Shelves staircase
When renovating your home, there are some spaces you might skip over, not realizing their hidden potential. At the top of that list are these genius under stair storage ideas that will give you the gift of space. You might not realize how important great staircase ideas can be until you see some clever uses and realize their potential. For instance, if you're lacking on space in your kitchen to store your cans and non-perishable food items, you can easily turn the room under the stairs into an area fit for all your pantry organization ideas. Or, you can install a playroom for your kids as a couple ideas in this list demonstrate.
You'll be surprised you never thought of all the possibilities this your staircase has to offer instead of just taking up room. There are also a few creative DIY bookshelf ideas that look beautiful in addition to being functional. You could also use these shelves to store kids' toys or just proudly display some of your collectibles. There are even some ideas for the furriest member of your household with a DIY doghouse and a roomy kennel. These small space decorating ideas are exactly what you need to achieve the maximum under the stair storage space.
1Vintage Cabinet
Tuck a beautiful cabinet under your stairs for a storage option that is as purposeful as it is gorgeous. An area rug and cozy armchair create a space you can lounge in as well.
SHOP THROW BLANKETS
2Kitchen Pantry
Transform your staircase space into a quaint pantry, ideal for storing all your dry goods, baking ingredients, and more behind a sliding barn door.
SHOP WOOD SHELVES
3Home Office
No designated home office in your house? No problem. Turn the unused space under the stairs into a cozy home office.
SHOP DESK STORAGE
4Hidden Playroom
Create a hidden alcove in a playroom by turning the space under the stairs into a secret room for your kids.
SHOP POLKA DOT WALLPAPER
5Closet Door Painting
Turn a closet under the stairs into an artistic opportunity by decking it out with a custom mural, or even chalkboard paint for some versatile art.
SHOP CHALKBOARD PAINT
7Playhouse
Transform a basement corner into an imaginative place for kids to play.
See more at Thrifty & Chic.
8Reading Nook
Fill it with plush pillows and a blanket, and you'll never want to leave.
9Pet Kennel
Keep your pets out of trouble when they're at home alone with this neat space designed just for them.
See more at Ethan Abramson.
11Bookshelves
Showcase your collection of books, knick knacks, or antiques with this smart storage solution.
See more at Level Building Projects.
12Pantry
If your kitchen cabinets don't offer enough room for your cookware and food storage needs, then consider this inventive idea.
13Wine Cellar
While many homeowners shell out a ton of money to install an expensive basement wine cellar, you can skip the hassle (and high cost) with this clever hack instead.
See more at Houzz.
14Library
Perfect for bookworms, you'll feel delighted every time you walk by and see the shelves filled with your favorite reads.
15Coat Closet
Make your entryway feel larger by eliminating the need for a bulky, protruding armoire and install a sleek coat closet under your stairs instead.
16Drawers
Use these extra compartments for whatever your family needs, like a place to store craft supplies, sports equipment, or kitchenware.
See more at Tom Stringer Design Partners.
17Seating Area
Take a cue from Joanna Gaines and use this spot to create a relaxing mini-library, just for you! Or if your home doesn't have a formal living room, you can also use it as an area to host guests and relax with friends.
See more from Chip and Joanna Gaines' Magnolia House B&B.
18Powder Room
With just enough space for a sink and toilet, this nook easily transforms into a small bathroom.
See more at My Bespoke Room Ltd.
19Mudroom Storage
Installing cubbies, hooks, and shelves is the easiest way to upgrade this area into a storage unit, which is perfect for housing kids' jackets, school supplies, and sports equipment.
20Wet Bar
For the homeowner that loves to entertain, impress your guests with a bar nestled just beneath the stairs. It beats a simple bar cart any day!
See more at Cortney Bishop.
Erin CavotoErin Cavoto is the Editorial Assistant at ThePioneerWoman.com, covering food, holidays, home decor, and more.
This content is created and maintained by a third party, and imported onto this page to help users provide their email addresses. You may be able to find more information about this and similar content at piano.io
Sours: https://www.countryliving.com/home-design/g4300/under-stairs-storage/
Made-to-measure stair shelves
These cookies and technologies enable us to improve the functionality of this website and to offer you advanced features such as live chat or convenient appointment scheduling. This means that some of our services may not function properly if these cookies are disabled.
Calendly Appointments
To enable you to make appointments for a furniture consultation on our website, we use the service of Calendly, LLC. The data you enter when booking an appointment is stored in encrypted form in data centres operated by Amazon Web Services and Google. You will find further information here.
Google Analytics
This website uses Google Analytics, a web analytics service provided by Google Ireland Limited ("Google"). The cookies help to analyse how users use the website. As a rule, the use of data such as the browser type/version, use of the operating system, and the time of the request are all transmitted to a Google server and stored. You will find further information here.
Google Optimize
In order to improve our offer, we use Google Optimize. This allows us to carry out user tests, such as so-called A/B tests. These allow us to optimise our offer for you based on technical information such as the visit time or the click rate. You will find further information here.
Zendesk Live Chat
To enable you to write directly to a specialist furniture consultant on our website, we use the service of Zendesk, Inc. This allows us to integrate a live chat on our website. This involves the transmission of personal data to the USA. You will find further information here.
Show moreShow lessSours: https://www.pickawood.com/eu/shelving/stair-shelves
You will also be interested:
.
208
209
210
211
212