It may still seem like summer with heat and humidity impacting many areas, but winter is coming. It's time to think about how you'll be storing your patio furniture, outdoor pool, shrubs, and other summer items. It's also time to think about creating walls on a covered deck or porch to extend the use and keeping winter fuel like firewood or wood pellets protected from rain, snow, and ice.
What Are You Covering?
The type of tarp you need depends on your project. You wouldn't use a fire-retardant canvas tarp that's been treated with an oil and wax coating to cover your pool or motorcycle as it would leach the oil and wax into the pool water or stain your motorcycle. You wouldn't want a light-duty tarp to add walls to a deck or porch where wind gusts are common as the tarp would tear quickly.
What are the best tarps for covering your outdoor items or enclosing outdoor space during the winter? Chicago Canvas has some suggestions to help you out.
Shop all our tarps by clicking here.
Tarps That Extend Usage of a Covered Deck or Porch
On those chilly, clear fall nights when mosquito season has ended, enjoy your covered outdoor porch or deck by adding tarps to form walls that block wind and rain. You need a tarp that withstands blustery winds, and iron horse polyester tarps are perfect for that reason. They're designed to stand up to heavy use and strong winds.
Tarps That Cover Pools for the Winter
Outdoor pools don't have to be covered, but you'll find it's easier to open your pool back up if you do take this step when the swimming season ends. By covering the pool, you're keeping leaves, sticks, and other types of debris from getting into the pool. It also blocks out sunlight, which encourages algae growth. Try heavy-duty poly or silver UVR heavy-duty poly tarps for an affordable pool cover.
Tarps That Protect Firewood and Wood Pellets From Snow, Ice, and Rain
Firewood and wood pellets are often stored outside, but it poses problems. If firewood gets wet or icy, it will burn damp which increases smoke, takes longer to catch, and can increase build-up in a chimney. Wood pellets come in plastic bags, but those bags can get small tears that allow moisture in. Moisture will quickly ruin wood pellets.
Covering your wood or wood pellets is the best way to keep it dry while also allowing air to flow. Light-duty tarps may work in areas where the wind isn't a factor. If it gets windy in your neighborhood, look for heavy-duty poly tarps or 16 or 18-ounce canvas tarps that are water and mildew-resistant.
Tarps That Cover Patio Furniture
Cover your patio chairs and tables, lawn chairs, and zero-gravity recliners with tarps that resist mildew and are also waterproof. UV-treated 18-ounce vinyl coated polyester tarps are ideal furniture covers. They're tough and help prevent mildew stains and damage from ice and snow all winter long.
Tarps That Protect Hay and Straw
Hay bales and rolls need to stay dry. If you have leaks in a barn roof or lack the room to store your hay bales and rolls inside, you must keep them dry. It's estimated that farmers and ranchers lose about one-quarter of their hay to moisture. That's a lot of wasted money and labor. Heavy-duty UV-resistant hay tarps come in a variety of sizes and keep hay dry in rainy and snowy winter weather.
Tarps That Prevent Damage to Shrubs That Are Near the Road
Shrubs that are close to a road are susceptible to damage from road salt. As plow trucks pass your home, the slushy snow and road salt get sprayed onto your shrubs, which can kill them. Protect your landscaping investment by wrapping the shrubs. The material you use needs to breathe and keep excess moisture from building up and damaging the needles.
Some people use burlap, but road salt can get through that material. A lightweight tarp is a better option if salt is your main concern. Aim for a lighter color. If you choose a dark color, such as black, it may warm up in the sun and cause rapid temperature changes between day and night, which is also harmful to shrubs.
Chicago Canvas is your trusted source for tarps of all sizes. We have a wide range of tarp fabrics, weights, and colors to make it easy for you to find exactly what you need for the upcoming winter. We're also happy to help you find the right tarp for your needs. If you have questions or need help, reach us via live chat or by calling 1-866-389-2218.
Sours: https://www.chicagocanvas.com/best-tarps-for-covering-outdoor-items-for-the-winter/
How to Cover My Patio with a Tarp
A patio is a pleasant addition to a house, but when sunshine beats down mercilessly or a sudden downpour drenches its table and chairs, you may wish the patio had a cover, points out Tarp Hire Australia. Adding a tarpaulin, or tarp, over a patio is as simple as using a few grommets, eye-bolt screws and cord. The tarp can extend from the house's eaves to a nearby fence to cover the patio. As long as the tarp is lashed tightly, so wind can't tear its grommets, your patio shade will last at least one season.
Preparing the Tarp
Measure the space between the tarp's existing grommets, which are round metal pieces with holes in their center. Depending on the tarp, the grommets may be 3 to 4 feet apart. Mark locations for new grommets at equal distances of about 8 inches between the existing grommets, using a permanent marker to make the marks.

Place a piece of scrap wood under the tarp where you made marks. Cut an X at each mark with a utility knife, making each cut 1/2 inch long. Snip off the corners of each X to make holes in the tarp for the new grommets.

Put on gloves and earplugs or earmuffs, and place the die from a grommet kit under one hole you made. A grommet has two parts or pieces; one piece has a center post, and the other piece is a flat or nearly flat washer. Set one grommet piece that has a center post on the die, and place the tarp on that grommet piece, pushing the tarp down and over the center post. Place one washer over the tarp and grommet center post. Center the kit's grommet tool on the washer, and tap it firmly with a hammer until the washer and other grommet piece attach firmly.

Repeat the procedure at each hole you made for grommets.
Installing the Tarp
Measure the distance between each grommet. Mark on the house eaves and/or another support structure the halfway points between those grommet locations, using the permanent marker.

Drill a pilot hole at each mark you made on the house eaves and/or other support structure by using an electric drill. Insert one 1/2-inch eye-bolt screw into each hole, and screw it firmly into the eaves' wood.

Tie a 1/4-inch cotton or nylon cord tightly to one of the end eye-bolt screws you placed in the eaves and/or other support structure. Thread the cord through each grommet, instructs All Day Smoke, and eye-bolt screw in a zigzag pattern, lashing the tarp to the eaves and/or other support structure. Keep the tarp taut so wind can't whip it and tear the grommets.

Wrap the cord around the last eye-bolt screw, and tie it tightly so the tension is distributed evenly around the entire tarp. Cut the excess cord with scissors or the utility knife.

Things You Will Need

Tape measure

Permanent marker

Scrap wood

Utility knife

Scissors

Earplugs or earmuffs

Gloves

Grommet kit

Hammer

Ladder

Electric drill

1/2-inch eye-bolt screws

1/4-inch cotton or nylon cord

Tip

Some grommet kits include a hole cutter. Place scrap wood under the tarp where you want a new grommet, and center the hole cutter above that mark. Tap the hole cutter with a hammer until it cuts through the tarp. Tarps are not waterproof, only water-resistant. Install the tarp at an angle so rain flows off its lowest edge. If possible, lash the tarp around all four sides. Otherwise, lash it tightly along its top and bottom.

Warning

Keep all tools and the cord out of reach of children and pets. Tarps are not made to withstand high wind or extreme weather conditions. Before inclement weather, cut the cord and remove the tarp to prevent it from tearing loose or damaging the eaves and/or support structure.
Sours: https://homeguides.sfgate.com/cover-patio-tarp-95787.html
Waterproof Patio Tarp, BEST Covers for Outdoor Garden
Cover your patio, porch or deck with waterproof outdoor tarps and tarpaulin covers in our garden tarp covering list.
Do you have a patio that doesn't have any walls or roof?
Have you been looking for an affordable way to protect your patio from the elements while still enjoying it year-round?
Did you know that you can purchase sun blocking tarps for this very purpose?
If you've never considered setting up your patio with a tarp to protect it from the sun, you're in the right place. Below, we've got reviews for five of the best tarp covering for patio options on the market today.
By checking out our product reviews, you'll be able to find a tarp that will fit your patio and work well for everything you're looking to accomplish, no matter what your plans might be. Whether you have a spacious concrete slab in your backyard that needs a lot of covering or you just have a small patio space off the back of your house, you're sure to find a tarp that can take care of shading for you with no trouble.
But what else can these tarps do? Obviously, when you purchase one that's designed for UV protective purposes, it's going to keep you and your whole patio safe from the sun. But what about wind and rain?
In short, these tarps are also great for keeping your patio protected from wind and rain, but since they may not cover every inch of space perfectly, they aren't 100% weather-proof. This goes double for insects. Unfortunately, bugs will often still be able to get into your patio whether you have one of these tarps up or not.
However, if you're looking for something for a lot of great UV protection for your patio, read on.
Waterproof Tarp #1. Lightweight Outdoor Tarp
With this Lightweight Outdoor Tarp, you can enjoy shade and comfort in no time. This is a traditional 5 mil tarp in an 8'x10' size with metal grommets spaced along the sides. It's available in blue, dark blue, or green, and it's designed to hold up to wear and tear due to rust, rotting, and mildew as well.
PROS
This is an affordable tarp that is budget-friendly enough to stock up on.
The tarp is a nice quality for the thickness available.
CONS
This tarp is only a temporary fix and it is not designed for long-term or year-round use.
The tarp is very thin and may be damaged in storms easily.
CHECK PRICE
Waterproof Tarp #2. Sunshades Depot Heavy Duty 10 Mil Waterproof White Tarp
With the Sunshades Depot Heavy Duty 10 Mil Waterproof White Tarp, you'll enjoy all the durability of a 14x14 weave and the weatherproof qualities of sturdy polyethylene fabric and aluminum grommets. The reinforced corners on this tarp help reduce tension and weight on your tie-downs efficiently.
PROS
This is a good lightweight product that's easy to maneuver and to keep clean.
The tarp's reinforced corners function well and are very durable.
CONS
There aren't as many grommets present on this tarp as there are some others.
The wind is more likely to cause damage to this tarp than to many of the others on the list.
CHECK PRICE
Waterproof Tarp #3. Patio Paradise General Mult-Purpose Tarpaulin
Cover your patio with the Patio Paradise General Multi-Purpose Tarpaulin and enjoy comfort and durability both. This reinforced tarp is waterproof and reinforced at the edges to make it last as long as possible, and it has aluminum rust-resistant grommets in place for easy hanging.
PROS
This tarp is available in tons of different sizes to suit your needs.
The tarp is lightweight enough to hang and take down as needed.
CONS
Some products may arrive with the sizing off, which can be a problem if you are looking for something precise.
Some products may arrive with small holes, although this is uncommon.
CHECK PRICE
Waterproof Tarp #4. Dry Top Heavy Duty White Full Size 10-mil Poly Tarp
When you're looking for a good-quality tarp in a variety of sizes, check out this Dry Top Heavy Duty White Full Size 10-mil Poly Tarp to meet your needs. Pick between a long list of size options and enjoy this industrial-strength polyethylene for all your covering needs.
PROS
This is a nice heavy tarp without being too heavy for an individual person to hang without assistance.
The tarp is very easy to keep clean, which is especially crucial with a white tarp.
CONS
Some products may arrive with grommets misplaced or missing altogether.
The tarps may arrive torn in some rare cases.
CHECK PRICE
Waterproof Tarp #5. Super Heavy Duty Brown Poly Tarp Cover
This Super Heavy Duty Brown Poly Tarp Cover is 16 mil in thickness and has a durable weave count. It's easy to tie down using the included metal grommets and holds up well to a lot of different weather—including ice.
PROS
Many customers use this tarp as a cover for years with no need for replacements.
This tarp is heavy-duty enough for use with pets.
CONS
Some grommets may fall off of this tarp ins one instances.
The thickness of the tarp may make it challenging to put up without help.
CHECK PRICE
Explore Tarp Covers for Patios Today
Now that you've taken a look at some of the great tarps for patio covering on the market today, you may be wondering if you can use these products all year long. You may want to know if this is something you can use to protect your patio in the long-term, or if it's something that's better used for short periods in-between the use of your patio.
In short, you can use these long-term, but it's a good idea to keep an eye on them if you plan to. Although these tarps are designed to be used in the sun and other elements, they may break down over an extended period of time.
For this reason, it's a good idea to stock up on a couple of tarps and alternate between the two of them if you're looking for something to cover your patio for a long period of time. This will extend the life of both tarps, and you'll have better results when you're giving one tarp a chance to "rest" in storage while the other takes over for a while.
Remember, too, that you should always clean and properly dry your tarp before storing it for best results. This way, you'll be sure to prevent damage related to mold, mildew, and other similar problems that can occur from long-term use of patio covering tarps.
Keep all this in mind when choosing the right tarp for your needs. In no time, you should be well on your way to protecting your patio successfully with a heavy-duty tarp that will be a huge help!
Sours: http://canopykingpin.com/sun-shades/tarp-covering-for-patio/
15 Shelters with a Tarp - Camping \u0026 Bushcraft
Through a summer of social distancing, outdoor gatherings and backyard hangs have become the go-to method for getting together with others safely. Sunny weather has drawn to a close and our Pacific Northwest rains have returned—and that's going to make six-foot socializing outside a lot more difficult.
That's why we wanted to share this DIY temporary outdoor covering. The project is simple—it's basically just a tarp strung between sturdy anchor points—but it'll keep you out of the drizzle. You can also hang it so that fits a propane or wood-burning fire pit underneath to keep you warm into the cooler months.
This is one of those projects where no two situations are the same, so we've tried to show you a variety of hardware you can choose from to fit your space. Whether you're hanging your shelter between your house and some trees or placing temporary posts, you can design this covering to work in your outdoor area.
As always, safety first! This project is intended to provide shelter from light rain—not to stay up all the time. If the weather turns particularly blustery, you can quickly disassemble the covering to prevent your temporary "ceiling" from becoming a sail.
With this project, there's no reason the end of summer has to mean the end of open-air gatherings. This DIY canopy gives you a dry space to safely distance into the rainy months ahead.
Now let's get to building!
Step 1: Pick a tarp size
Tarpaulins (or "tarps") come in a variety of rectangular sizes—six-by-eight-foot and up. They also come in different weights and colors, so you're not limited to the common, light-weight blue tarp. For our temporary shelter, we chose a heavy duty, twelve-by-sixteen-foot white tarpaulin, which has reinforced grommets about every 18 inches along all four sides. We special-ordered this all-white tarp from Dunn Lumber. It reflects a lot of light and keeps things brighter under the tarp.
Step 2: Determine mounting points
You might be tying off to trees, posts, poles, or other existing structures. Choose hooks or other fasteners that will securely attach to the corners of the tarp either directly or with rope. Always err on the sturdy side of things—you don't want the weight of a tarp or tension on ropes to pull a mount loose, especially in a breeze.
Another thing to consider is height. You probably don't want to brush your head against the tarp, so pick some spots pretty high up—probably at least eight feet higher than the ground. Another advantage of creating a high "ceiling" is you may be able to safely use a fire pit, depending on the final height of the tarp and whether the slope will allow heat to escape.
Mounting hardware might include some of the following:
- Tarp hooks
- J hooks
- Screw eyes
- Screw hooks
- Snap rings (these are like a carabiner)
- Hook/hook turnbuckle
- Hook/loop turnbuckle
- Eye bolts
For rope, we used 1/4" nylon line. For the corner where we put up a temporary post, we used ratcheting straps.
Step 3: Secure tarp to house
For our space, we're going to attach two corners of the tarp to the house. We used brackets similar to a tarp hook and screwed them securely to the house. We used several snap rings in this project; they're like a carabiner and snap closed around a loop, grommet, or other hardware. Here we used a snap ring on one corner and a snap ring plus a turnbuckle on the other. The turnbuckle gave us a little more length and allows for adjustments later since it provides a way to take up slack or loosen as desired.
Step 4: Secure tarp to tree
Our space has a tree nearby to mount our third corner to. Using ¼" rope, snap clips, and a turnbuckle, we tied the third tarp corner off to this tree about ten feet up the trunk.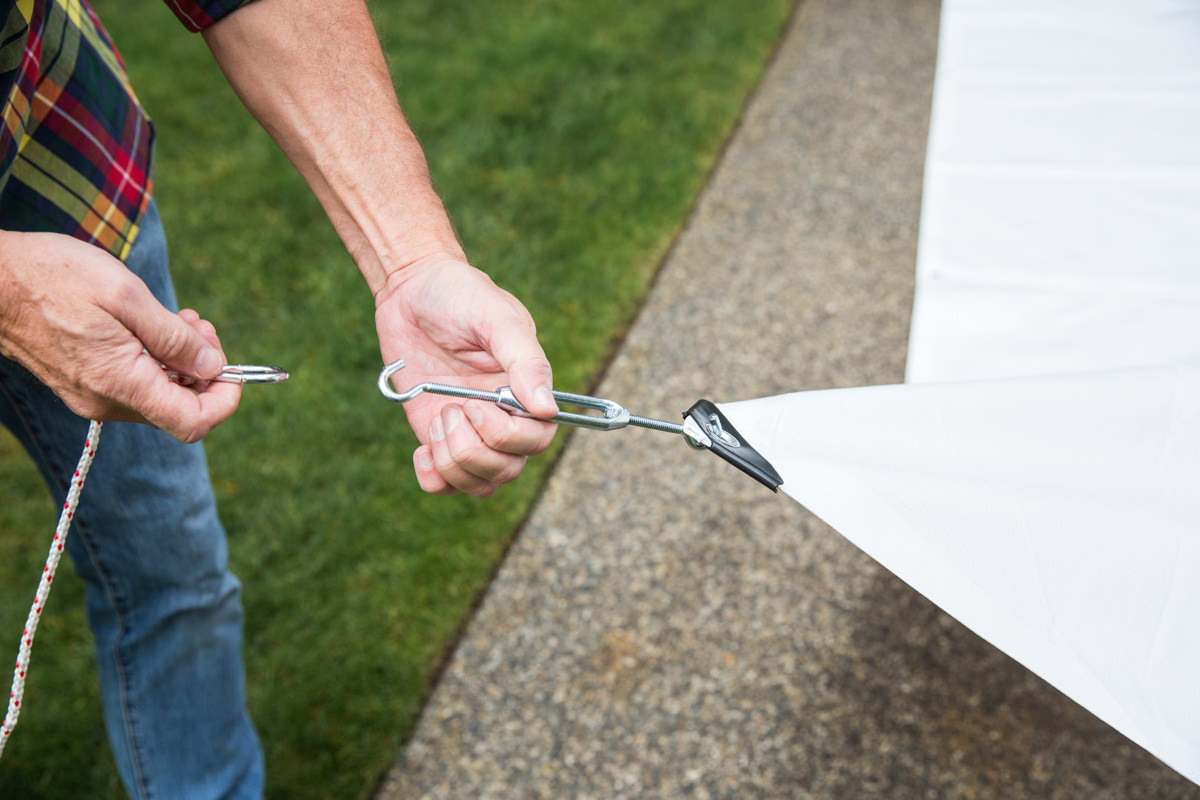 Step 5: Secure tarp to temporary post
Maybe you don't have a tree or structure to tie one of your corners to. We decided we'd tackle that problem with a temporary post. Near the top of a four-by-four post, we installed three sturdy screw eyes. One will be for the rope that leads to the tarp and two will be for the straps that keep the post upright when tension is on it (i.e. when the tarp is tied to it). To keep the bottom of the post firmly on the ground and avoid it kicking out, we drilled a 6-inch-deep, ½-inch- wide hole in the bottom of the post and stuck a short piece of rebar in it. This is essentially a spike—so be careful with it once it's sticking out.
To keep our temporary post upright, we will use ratcheting straps that run from the top of the post down to stakes driven into the ground. Mounting a screw eye near the top of the stake will allow the hook of the ratchet strap to attach easily to the stake. Find a spot for your stakes and drive them in place. Using two people, we strung the fourth corner of the tarp to the top of the post. Then, with one of us holding the post upright, the other person ran the ratchet straps from the top of the post to the stakes and tightened them.
Step 6: Mount a "ridge" line
If your tarp now looks like it might collect water, you're in for trouble. Water weighs about a pound per pint, so puddling rainwater will quickly pull a tarp down—probably causing damage along the way. To avoid this we strung a rope under the tarp diagonally to make a "ridge". This was a simple task of stringing a line with snap rings on either end underneath the tarp and making it taught enough to lift the tarp - creating a bit of slope for rainwater to drain away to either side.
Step 7: Adjust tension
Adjust tension at any points that need it so that your tarp is relatively taught and won't collect water if the skies suddenly open up.
Step 8: Enjoy your new space
Now you're ready to set up your outdoor gathering space and enjoy open air with a temporary roof. Since our tarp was more than 8 feet off the ground, we were able to fit a propane fire pit safely underneath and position chairs around it. If using a wood-burning fire pit, you'll want to angle your roof so as not to collect smoke and hang it well above the flames.
Sours: https://diy.dunnlumber.com/projects/how-to-build-a-diy-patio-cover
Cover outdoor tarp
Tarp Products
The best uses are the ones you come up with on the fly, however. For more than 25 years, we've been helping customers find high-quality tarps on sale for a variety of creative, innovative tasks.

Canopies and Tarps offers heavy-duty tarps in a wide range of colors and styles at competitive prices. Built to last, Canopies and Tarps offers the finest selection of durable canopies for sale shipped straight to your door.

Tarps are available in every color and style imaginable. Canopies and Tarps stocks huge tarps in silver, orange, green, red, blue, yellow and even has white tarps for sale. Special color types include two-toned tarps in silver, tan tarps, camouflage UV tarps and clear tarps perfect for a job that calls for a transparent canopy. We promise colors on UV-resistant tarps will not run or fade, even after spending day in and day out under the sun.

Our large range of colors is rivaled only by our massive collection of canopy styles that includes silver mesh sunshade tarps to keep you and your goods protected from the sun. You'll also find fire-retardant poly tarps to secure your goods against fire hazards, chemical-resistant tarps to offer protection against chemical splatters and spills, outdoor canvas fabric tarps and privacy fence tarps to give homeowners and businesses an inexpensive way to maintain their privacy in high traffic areas.
In addition to colors and styles, we also offer a wide range of sizes, materials and shapes. Take our round tarps for example, which are an excellent choice for covering circular above ground pools or the pitcher's mound of a baseball field.
As far as materials and options, Canopies and Tarps offers tarps that are waterproof, mildew-resistant, heat-resistant, insulated, made of woven fabric or woven mesh and tarps that are stitched in five sides for covering machinery. Going a step further, Canopies and Tarps also offers a variety of grommet styles to ensure the most secure tarp installation is achieved. The flexible sizing options offer standard sizes, ranging from the smallest at 8' x 10' to the largest size at 170' x 170' and custom cuts for unique jobs.
Sours: https://www.canopiesandtarps.com/tarps.html
How To Build Backyard Canopy Under 50$ PART 2 - Affordable Cheap And Easy Backyard Tarp Canopy
.
Similar news:
.
1
2
3
4