Boyds Makes Classic Stock Dreams a Reality
SPONSORED CONTENT
You are one in a million…your gun should be, too. Like the glove of a baseball pitcher or the race car of a NASCAR driver, the gun of a sportsman works best when it serves as an extension of the self. In other words, it should feel comfortable, worn-in and like it was made just for you. But becoming "one" with your gun is easier said than done. Though the market is flooded with options for different firearms, the options to customize those firearms and gunstocks to fit you "like a glove" are still lacking.
Many of us spend years pining for the ultimate gun. Imagine, or maybe you've experienced it yourself, saving and searching until the day you finally mount it to your cheek, only to realize what you thought was the perfect firearm doesn't feel or fit quite right. In this scenario, one can place that treasured gun back on the shelf and begin the search process all over again…or turn to Boyds.
Boyds Hardwood Gunstocks is a custom gunstock manufacturer that makes it its mission to make your firearm feel one of a kind. Because Boyds only uses top-grade hardwoods and seals with chemical-resistant finishes, you can feel at ease knowing the comfortable, natural feel of your custom gunstock will maintain its integrity through years of use.
But "customizing" your gunstock doesn't necessarily mean adding ornate gadgets, bells and whistles. Boyds understands the sportsman's need to have a gun that does what it needs to do – nothing more, nothing less – while also contouring to the unique and specific needs of the shooter. The standard, classic shapes of Boyds' Heritage, Platinum, Pro Varmint, Rimfire Hunter and Classic custom gunstocks are up to the task.
Heritage
The Heritage design features a Monte Carlo comb. The comb is slightly raised to parallel the bore, which aids with proper cheek alignment to ensure optimal use of the scope. Flutes in front of the comb are blended to conceal the thumb and prevent thumb-to-nose contact during recoil. A cheek piece gracefully provides additional support. Because it is blended into the stock and grip, the cheek piece discourages the shooter from climbing up onto the scope. It also helps to keep the stock aligned with the shoulder for maximum recoil absorption. The open oval pistol grip is slender and slightly includes a slight palm swell to give you a firm grip, allowing for quick mounting to the shoulder and aiding with proper eye-to-scope position. Lastly, the round forend is in cross-section to allow for the addition of a checkering pattern that wraps around the forend and to aid in the grip of the shooter's forward hand.

Platinum
The slender, somewhat open grip of the Platinum is well defined, but does not extend far below the toe line. Like the Heritage, the comb is parallel to the bore. Because of its straight-line design, this minimizes cheek slap under recoil. The forend of the Platinum is round in cross-section to allow for the addition of a checkering pattern that wraps around the forend and aids in the grip of the shooter's forward hand.

Pro Varmint
Boyds designed the Pro Varmint to meet the needs of its customers who were looking for an affordable, tactical design for their rimfire rifles. The beavertail forend allows for greater stabilization off bags but is still trim enough for general-purpose shooting. The dual-purpose butt hook allows for greater control of the stock and firearm with your non-trigger hand and allows for a better grip on the rear bag when shooting from the bench. The Monte Carlo comb brings the shooter's cheek up for use with larger scopes and comes with an ambidextrous grip that allows either hand to assume a more natural position. The slight palm swell on either side provides for a more comfortable grip.

Rimfire Hunter
The Rimfire Hunter is a synthesis of design elements requested by hunters and shooters, which have been incorporated by Boyds' highly skilled design team into this non-thumbhole, ambidextrous, all-purpose design. A slender, slightly closed grip with slight palm swell on both the right and left sides enables any shooter a firm but relaxed grip. An oval beavertail-designed forend allows superior palm-to-forend weld to improve off-hand shooting, yet it is wide enough to ride the bags for a session at the range. The forend is proportioned to complement barrels 18-22 inches in length and can be opened up by the customer to accept customer barrels up to a diameter of 1 inch if desired.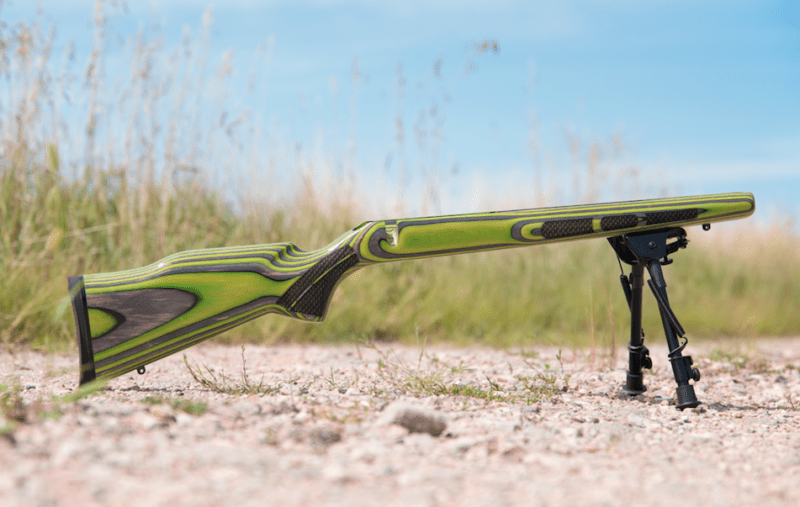 Classic
Finally, the Classic is a compilation of design elements Boyds has found to be the most elegant and user-friendly examples of the classic style. The slender, somewhat open grip is well defined, but does not extend too far below the toe line. While the comb and facial support of the Classic is similar to that of the aforementioned stocks, the forend is flat/oval in cross-section and is proportioned to complement barrels of 22-26 inches. However, some minor fitting may be required even on fully finished drop-in parts to achieve that perfect fit to your action.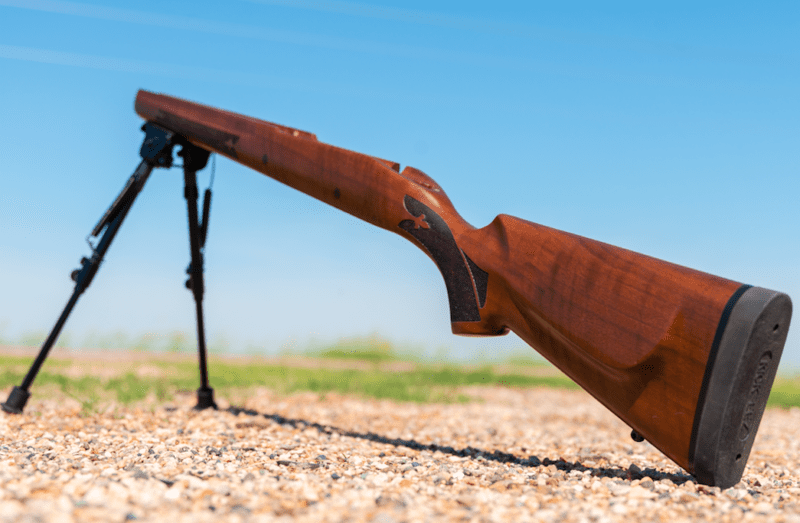 These standard gunstocks are the perfect starting point when delving into the world of custom stocks in that they have the ability to make your dream gun fit like it was made for you without sacrificing the tried-and-true technology, aesthetic and appeal of classic firearms. With Boyds Hardwood gunstocks, becoming one with your gun comes as naturally as it should.
Sours: https://sportingclassicsdaily.com/boyds-classic-stock-shapes/
Boyds Spike Camp is very likely the best aftermarket rifle stock you can buy for the money. The proof is plain as the clover leaves on the target.
What Assets The Spike Camp Delivers:
Ergonomically-designed thumbhole
Free-floated barrel channel
Abbreviated Monte Carlo Comb
Manageable 2.5 pounds in weight
Durable laminate hardwood construction
Pillar bedding available
It used to be that if you wanted to customize or personalize your rifle, you had to enlist the services of a gunsmith. Not only was this time-consuming, it was also expensive. Today—at least when it comes to rifle stocks—shooters have a seemingly endless variety of aftermarket stocks to choose from, with prices ranging from a few hundred bucks to over a grand; and most are DIY projects.
I recently tested a variety of aftermarket stocks and was impressed with how an affordable stock from Boyds performed. Not only was it the least-expensive stock tested, the rifle shot more precisely from that stock than with any of the others. Wondering if this might have been a fluke, I reached out to Boyds and asked if it would support a more comprehensive test.
Most of the time, when you read about a replacement rifle stock, it—much like the test I recently conducted—involves only one stock. The results, whether good or bad, are then based on an example of one. As a consumer, you might not feel confident spending your money on a review involving a single sample.
For 2020, Boyds released a new, drop-in rifle stock called the Spike Camp. I suggested that the company send me three of them so I could test them all to determine if they would perform equally well (or badly). Boyds agreed, and that's the basis for this test.
---
More Gunsmithing Tips:
---
Spike Camp Details
In a world of gadgets and adjustable features, the Boyds Spike Camp stock was designed to be an essentials-only stock, costing right at $100. It's made of American-sourced hardwoods, it's laminated, and then, it's passed through multiple CNC processes. Before a stock is completed, it'll also pass through the hands of more than 20 people to ensure strict quality-control standards are met.
The Spike Camp is about 29 inches long and weighs approximately 2.5 pounds. It's a thumbhole design with a low Monte Carlo negative drop comb. The forend is relieved enough for the barrel to free float. There are 14 color options available, and sling swivel studs are included as standard. It has a length of pull of 13.5 inches. Front and rear aluminum bedding pillars are available for an additional $55, bringing the total cost to about $170.
Boyds sent me three Spike Camp stocks to fit a Remington 700 SPS tactical AAC-SD. I didn't request any particular color and ended up with one of each of a Coyote laminate, a Forest Camo laminate and a Zombie Hunter laminate. Other than color differences, all three stocks were identical, including the aluminum pillars.
Establishing a Precision Baseline
Prior to testing, I wanted to establish a baseline for precision with the rifle. With the current AG Composite stock on the rifle, and with the help of a Nightforce ATACR riflescope and several boxes of Federal Premium 168-grain Sierra MatchKing ammunition, I fired three, three-shot groups at 100 yards from a sandbag rest. However, unlike most accuracy or precision tests, I fired these rounds quickly—nine shots in 150 seconds—because I wanted to see how the stock would respond to a hot barrel. The factory Remington-barreled action in the AG Composite stock shot really well, averaging 0.69-inch for three, three-shot groups.
Before we get into the actual shooting results with the Boyds stocks, we need to establish a practical fact: When it comes to the measurement and comparison of little groups, the shooter's skill level is a prime consideration.
With a really good-shooting rifle, I can occasionally shoot groups measuring as small as ½ inch. Regardless of how precise a rifle shoots, if I shoot a group smaller than ½ inch, celebration is in order. I mention this because, as far as I'm concerned—when I'm the one doing the shooting—group variances of under ¼ inch are inconsequential; I'm just not good enough to call a measurement "definitive" that's that small or smaller.
Now, I know that when I'm compared to other gun writers, it must seem as if I'm a terrible shot. I read those articles about rifles averaging under ½-inch and also about multiple one-hole groups. However, before you start believing I'm just not skilled enough to be a gun writer, consider the fact that I've actually seen most of the current gun writers shoot. I know of only a few folks who can consistently shoot groups measuring under ½ inch. It's not that easy.
So, with that in mind, when you look over the measured groups from this test, I suggest that you consider any groups or averages within ¼ inch of each other to represent the same level of precision. For example, the test rifle averaged 0.69 inch for three, three-shot groups out of the AG Composite stock and 0.81 inch out of the first Boyds stock tested. That's a difference of 0.12 inch. As far as I'm concerned, the barreled action performed the same from both stocks. On the other hand, the third Boyds stock I tested averaged 0.45 inch, which is 0.36 inch better than the first Boyds stock tested. I'd rate the third stock as delivering a level of precision equal to ¼ inch better than the first stock. Make sense?
It would appear that the Boyds stock I worked with in my previous test was representative of the line. If you're confident enough to take my shooting ability as gospel (I'm not!), one of the Boyds stocks performed 34 percent better than the $600 AG Composite stock. One performed 1 percent worse, and one 17 percent worse. But here's the thing: We're talking tenths of inches, and we're talking about shooting three, three-shot groups in under two minutes.
I think it's fair to say that for all practical purposes, all these stocks delivered the same level of precision and that there was more variance in the shooter than the stocks. I also think it's fair to say—definitively—that when it comes to Boyds Spike Camp stocks, you can expect one to work just as well as another. And finally, and I'm going out on a limb here: Based on my experience with this manufacturer's stocks, I wouldn't have any hesitation in saying that you can expect very good things from them, regardless of the stock you order. And I certainly don't think they'll make your rifle shoot worse.
But this needs to be qualified. I tested these stocks with a barreled action that shot very well; it's one that's proven to shoot well in many different stocks. But that won't always be the case. For example, Boyds stocks are made well and very consistently. As a consumer, that's what you expect, and that's what you should get.
That doesn't mean a Boyds stock—or any stock—will make your rifle shoot better. Some rifles come from the factory with a little bit of upward pressure on the barrel from the forearm. This is to help dampen barrel vibrations and allow the rifle to shoot better. You might take an action such as that and put it in a Boyds—or any other stock that free-floats the barrel—and discover the rifle doesn't shoot as well as it did in the factory stock. After all, rifles can be fickle creatures.
Some Observations
Let me also offer a few additional comments on the Spike Camp stock. The inletting was masterfully done, and the wood-to-metal fit was excellent. The Remington action had a Timney trigger, and no additional fitting was required. Installation only took a few minutes. In fact, I installed all three stocks right at the range.
However, as with almost any rifle stock, it's critical to tighten the action screws to a specified torque setting. Boyds suggests 27.5 pounds. I used the FixIt Sticks 25-pound torque setting, which seemed to work perfectly. Would glass-bedding have helped? Maybe. But one of the reasons I think the Boyds stocks work so well without bedding is because the recoil lug recess is not oversized (as you might find on many other aftermarket stocks).
Should you order a Boyds Spike Camp for your rifle? I'll leave that up to you to decide.
I'm not a fan of the thumbhole design. There's nothing wrong with it, but I just don't like it: When it comes to rifle stocks, I'm more of a traditionalist. I do, however, like the straight comb with the negative drop on the Spike Camp, which helped mitigate felt recoil very well. I found the stock very comfortable from the bench and when shooting off-hand.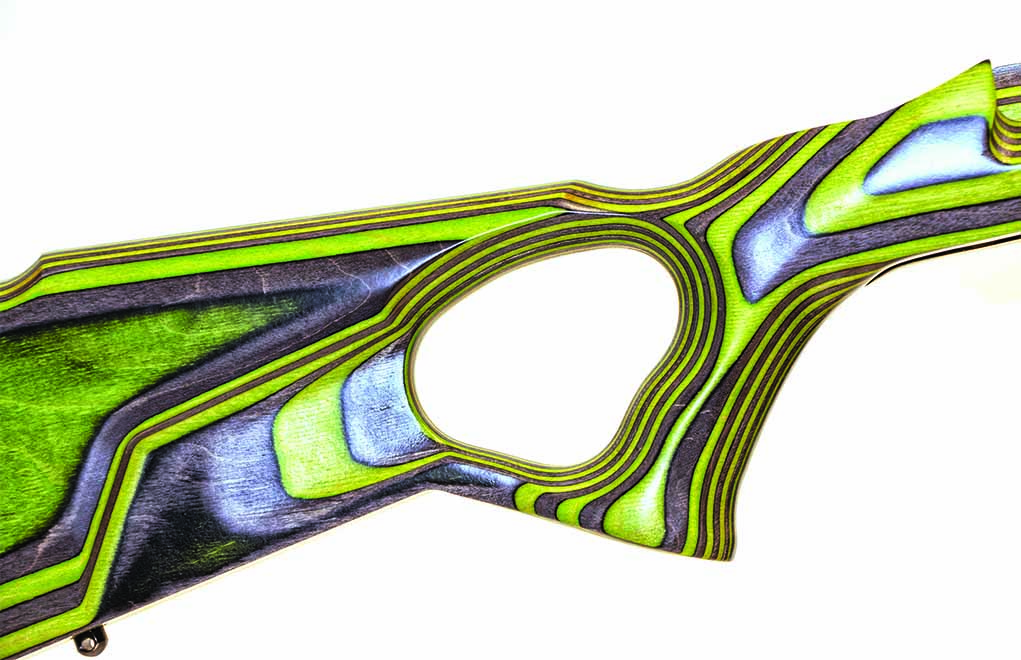 I think that regardless of your opinion about what this stock looks like, there's one undeniable fact: A Boyds stock is very likely the best aftermarket rifle stock you can buy for the money—period!
And finally, as a side note, we can't ignore how well the box-stock Remington-barreled action performed. To come from a rifle with a suggested retail price of only $842, and to average only 0.66 inch for 12 three-shot groups (36 shots) fired in fewer than 10 minutes—which equates to one shot every 16 seconds—is damned astounding! Not a single group fired exceeded the MOA mark!
For more information on Boyds Spike Camp stock, please visit boydsgunstocks.com.
The article originally appeared in the 2020 Buyer's Guide issues of Gun Digest the Magazine.
NEXT STEP: Download Your Free Storm Tactical Printable Target Pack
62 Printable MOA Targets with DOT Drills - Rifle Range in YARDS
This impressive target pack from our friends at Storm Tactical contains
62 printable targets
for rifle and handgun range use. Target grids and bullseye sizes are in MOA. Ideal for long-range shooting!
Get Free Targets
---
Richard A. Mann
A former police officer and serviceman with the U.S. Army, Richard A. Mann is one of the most well-respected firearms authorities writing on the subject today. He serves as contributing editor for several magazines, including NRA's American Rifleman and Shooting Illustrated, Varmint Hunter, and Combat Handgunner, and is the editor for Gun Digest's Cartridges of the World 13th Edition.
Sours: https://gundigest.com/more/how-to/gunsmithing/boyds-spike-camp-drop-in-stock-test
Please Enable Your Browser's Cookies Functionality Cookies are not currently enabled in your browser, and due to this the functionality of our site will be severely restricted. Web browser based cookies allow us to customize our site for you, save items in your cart, and provide you with a great experience when shopping OpticsPlanet. Your privacy is important to us, and any personal information you supply to us is kept strictly confidential.
If you cannot enable cookies in your browser, please contact us — we are always here to help!
JavaScript is blocked by AdBlocker or ScriptBlocker We're sorry - it looks like some elements of OpticsPlanet are being disabled by your AdBlocker. Unfortunately we are unable to offer our excellent shopping experience without JavaScript. Please add "opticsplanet.com" and "https://opl.0ps.us/assets-935323afca6/" to whitelist, or disable AdBlocker for this site (please note that we do NOT feature any annoying ads on this website). Thanks!
Boyds Hardwood Gunstocks offers Rifle Stocks for well over 1200 different gun models in more than 255 different firearm brands. With numerous choices of stock shapes, colors and additional options, you can configure the exact stock of your dreams. Boyds HardwoodRifle Stocks come in a large variety of wood grains and finishes and are available Finished, Unfinished, Semi-Inletted and made for House Action. Boyds craftsmen preserve the tradition of true artisans by producing the largest selection of Gun Parts that you will find anywhere and through continual improvement to manufacturing processes, Boyds continues to offer highest quality gunstocks at some of the lowest prices in the industry. Head on over to our Hunting Gear store for great deals on shooting essentials. OpticsPlanet is elated to offer FREE SHIPPING On Orders Over $49.
Sours: https://www.opticsplanet.com/boyds-hardwood-gunstocks-rifle-stocks.html
.
Stock boyds
.
.
You will also like:
.
137
138
139
140
141