Sixty mph in 4.8 seconds. A quarter-mile time of 13.6 seconds at 102 mph. Braking from 70 mph to a stop in 162 feet. On paper, it looks like this test subject is a mildly interesting performance car with an above-average ability to go and a somewhat ordinary ability to stop.
On pavement? Oh, on pavement the whole script flips. It isn't until you whirl the wheel of the car to which those numbers are attached that you realize what an incredible machine you're piloting. It amazes like a Dwyane Wade drive to the hole; nothing should be able to move the way it does. It is, in short, breathtaking.
The car we are referring to, of course, is the Lotus Elise.
A Quick Interlude
If you think the Lotus Elise is cute or bitchin' and you have perhaps otherwise never heard of it before, you should probably back away slowly. This car is not for the casual user or fainthearted. The ride is harsh by daily-driver standards, there are no cup holders—well, there is one included in the optional Touring Pack, but we've never seen it; the Lotus guys tell us it looks like a jock strap. There's almost no trunk space, and the whole car vibrates and buzzes at cruising speeds. If you want something that's small, zippy, decent to look at, has a top that goes down, and is actually sort of useful on a day-to-day basis, allow us to point you in the direction of the Mazda MX-5 Miata.
Tenacious Grip and Sublime Steering
Although the Elise's acceleration and braking numbers might seem slightly pedestrian in sports-car land, here's one that's not: 1.00. As in 1.00 g of lateral grip. That's more than a Porsche Boxster S has and about the same as a Corvette Z06, both of which ride on much wider rubber. And this feat happened on the base Yokohama Advan Neova AD07 tires; stickier tires are an option. We took our Elise to a track day at Grattan Raceway in Belding, Michigan, where this car clawed and gnashed at the pavement—allowing it to keep up with cars packing twice as much horsepower—and refused to give up its hold until absolutely coerced to, usually by a ham-footed driver's ill-advised midcorner lift. (And, yes, that would be me we're talking about.)
Only a cliché can describe the turn-in: telepathic. You turn exactly the amount that's dialed on the wheel—no more, no less—and with only 2.8 turns lock to lock, you usually don't have to move your hands too far from three and nine. But at the same time, where the unassisted steering is laser-precise on track, at speed, it stays manageable on the road, too—it's never overly twitchy.
Different Bolt-Ons, but Mostly the Same
The 2007 Elise is pretty much the same car that came to America for the 2005 model year after several years and a whole other generation of European sales. An extruded-aluminum chassis is suspended via control arms front and rear. A Yamaha-sourced, Toyota-branded 1.8-liter four-cylinder engine provides 190 ponies' worth of power. A copious amount of brake feel is handed out by dual-piston AP Racing calipers in the front and single-piston Brembos out back; 11.5-inch cross-drilled and vented rotors give them something to hold onto.
Specifications
SPECIFICATIONS
2007 Lotus Elise

VEHICLE TYPE
mid-engine, rear-wheel-drive, 2-passenger, 2-door targa

PRICE AS TESTED
$47,855 (base price: $44,915)

ENGINE TYPE
DOHC 16-valve inline-4, aluminum block and head, port fuel injection
Displacement:
110 in3, 1796 cm3
Power (SAE net):
190 bhp @ 7800 rpm
Torque (SAE net):
138 lb-ft @ 6800 rpm

TRANSMISSION
6-speed manual

DIMENSIONS
Wheelbase: 90.5 in
Length: 149.0 in
Width: 67.7 in
Height: 44.0 in
Curb weight: 1975 lb

C/D TEST RESULTS
Zero to 60 mph: 4.8 sec
Zero to 100 mph: 13.1 sec
Zero to 130 mph: 29.7 sec
Street start, 5-60 mph: 5.8 sec
Standing ¼-mile: 13.6 sec @ 102 mph
Braking, 70-0 mph: 162 ft
Roadholding, 300-ft-dia skidpad: 1.00 g

FUEL ECONOMY
EPA city/highway driving: 24/29 mpg
C/D observed: 25 mpg

c/d testing explained
ExpandCollapse
This content is created and maintained by a third party, and imported onto this page to help users provide their email addresses. You may be able to find more information about this and similar content at piano.io
Sours: https://www.caranddriver.com/reviews/a15146116/2007-lotus-elise-short-take-road-test/
One from the Vault: 2006 Lotus Elise First Drive
Originally published April 17, 2006
Review and photos by Grant Yoxon
Duluth, Georgia – Motorcyclists know all about power to weight ratio. It doesn't take a large engine to move a machine that weighs less than 200 kg very quickly. For example, the Suzuki GSX-R's 998.6 cc engine will power the 166 kg (366 lbs) bike and rider to 60 mph (96 km/h) in just 2.9 seconds, and 0-100 mph (160 km/h) in 5.5 seconds.
There may be "no replacement for displacement," as American muscle car enthusiasts are fond of saying, but taking the weight off can be an effective way to go fast without piling on the cubic inches.
This was Colin Chapman's philosophy. The founder of Lotus Motor Cars was well-known for being able to find the loopholes in a rule book. His experiments with aerodynamics and weight reduction resulted in Formula One successes in the 60's and 70's. From 1958 until Colin Chapman's death in 1982, Lotus won 79 Grand Prix championship races and seven Constructor's Championships.
The philosophy that guided Colin Chapman still guides the company he left behind. Lotus has remained steadfastly dedicated to building innovative, lightweight cars that are fun to drive. And the Lotus Elise, the most successful sports car in Lotus history, is the epitome of the philosophy.
This is one fun car to drive.
Weighing just 902 kg (1984 lbs), the Elise is capable of 0-60 mph times of 4.9 seconds and a top speed of 241 km/h (150 mph). Under the hood, or the trunk lid in this case as the engine is located just behind the driver and ahead of the rear axle, is nothing more exotic than a Toyota 1.8-litre 4-cylinder engine. Yes, it's the same engine that powered the recently departed Celica. The only difference is the engine management system, which was developed by Lotus in-house. The high-revving four produces 190 horsepower at 7,800 rpm and 138 ft.-lb. of torque at 6,800 rpm.
The transmission is also sourced from Toyota, with a shift linkage re-engineered by Lotus for quicker, more positive shifts. But building a great sports car is not as simple as pulling an engine and transmission off a Toyota parts shelf. The truly innovative features of the Elise are the chassis and body. The latter is moulded of a glass-fibre and polyester-resin composite material. It is light, strong and paints up well. The chassis, constructed from 27 aluminum alloy extrusions, is stunning in its simplicity. There are no welds and only a few mechanical fasteners. It is held together with bonding techniques borrowed from the aerospace industry. It weighs just 68 kg. And yet it is strong and extremely rigid.
As a driver, you sit within the chassis, which is evident throughout the interior. It is a minimalist approach to interior design that is both practical – there is no additional weight from unnecessary trim pieces, at least in base trim – and artful. The side rails of the chassis form the interior side panels. The foot wells are all aluminum and the passenger's feet rest on an aluminum cross brace. The lower portion of the dash and parcel shelf is also aluminum. Other pieces – the window handles and the door hinges, for example, are pure sculpture.
While there are very few fasteners used in the Elise, those that are used are visible. There is no attempt to hide trim fasteners. The HVAC seems placed on the parcel shelf for convenience. The radio controls look aftermarket. You could say this is less than one would expect in a car costing close to $60,000, but to my mind and others who have seen the car or the photos, these oddities work with the overall concept of the car as a purpose-built machine. They are industrial camp, engineering art.
An optional 'Touring Pack' adds leather door trim and full carpet set (as well as leather seats, electric windows, upgraded stereo, storage net behind the seats and additional sound insulation), but these just cover up all that beautiful aluminum.
Sours: https://www.autos.ca/first-drives/first-drive-2006-lotus-elise/
The 2006 Lotus Elise is like the Mosquito of cars - Classic Review
#ThrowbackThursday Article originally published on MGReviews.com on November 30, 2013.
Back in 2013, I had the pleasure of taking this car for a short drive and photoshoot. I had just driven a C6 Corvette Z06 and that's why I briefly referenced it in the original review. I thought I experienced an exciting car with the Z06 but this Elise was so much more fun, even on city streets. Enjoy the review.
----------
I thought I had experienced an exhilarating car when I test drove the Corvette Z06 with its raw V8 power. I thought it offered unfiltered simplicity but the Lotus Elise is on the other end of the spectrum and takes simplicity to another level.
Performance
In today's modern times, auto manufactures have got it into their heads that more power means more excitement. Now that is true if a car has 500+hp but those type of cars usually cost more than an apartment. This little Elise makes due with just 189hp from a Toyota engine that once called the Corolla home. That doesn't sound like much power but this Lotus can accelerate just as quickly as cars with twice the power; 4.9 seconds to 100km/h. In this car the sensation of speed is much greater than in any other car because you sit very low to the ground and even normal sedans look like SUVs next to this little mosquito. Speaking of mosquitoes, the engine with the sport exhaust sounds like a mosquito happily buzzing away at rpms higher than 3000.
Power though is not what Lotus is known for but rather handling. Its superior handling comes from the fact that this car weighs just over 850kg. In comparison, "normal" sports cars weigh anywhere around 1300-1600kg. The compact design and superb handling means that the car can be thrown into corners at what feel like breakneck speeds. The steering response is so quick that it almost feels as though your driving this car by telepathy rather than with your hands. Every minute movement of the steering wheel is precisely mimicked by the front tires. The steering feel and feedback is sublime and it's as though you can feel the texture of the road through the steering wheel. Apart from proper race cars, the only car that even comes close to having the same steering sensation is the iconic 911.
Comfort
In terms of comfort, it has none because it's basically a track car. The interior is completely gutted of any creature comforts to keep the weight as low as possible. The seats are of one-piece design and only have a thin layer of foam and leather on top to provide a small cushion between the hard seat and your bum.
Along with the stiff suspension, driving on city streets should be done only when it is necessary to avoid any injury to oneself. To my surprise I actually managed to fit in the Elise, all 6'4" of me. I could only see directly in front and around me but when arriving at a set of lights, I found my vision obscured by the windshield frame and I had to duck down to see the light. Also getting in and out of this car should be considered a gymnastic sport in the Olympics because tough would be an understatement.
Odds and Ends
Most cars that have monumental performance like this Lotus, usually have fuel economy that is worse than poor. With the 1.8L Toyota engine that powers this Elise and its light weight, the fuel economy is similar to that of a regular compact sedan from the same year. 11.2L/100km in city and 8.7L/100km on highway can be called almost economical.
If you do find yourself in a city, everyone will be looking at you. The car looks like no other car on any street. People will want to talk to you at stop lights, when you park, or as you just pass by.
In today's world of 500+ hp cars with adaptive electronic controls, the Elise offers pure and simple driving fun that no other car can match.
Sours: https://drivetribe.com/p/the-2006-lotus-elise-is-like-the-BSNC31G8Rce3bs3k0eUaXg
Lotus Elise vs Alfa Romeo 4C - Head to Head Review!
2006 Lotus Elise
Retail Price
$42,990 - $42,990MSRP / Window Sticker Price
| | |
| --- | --- |
| Engine | 1.8L I-4 |
| MPG | 24 City / 29 Hwy |
| Seating | 2 Passengers |
| Transmission | 6-spd man w/OD |
| Power | 190 @ 7800 rpm |
| Drivetrain | rear-wheel |
Smart Buy Program is powered by
Hi! We notice you're using an ad blocker. Please consider allowing Autoblog.
We get it. Ads can be annoying. But ads are also how we keep the garage doors open and the lights on here at Autoblog - and keep our stories free for you and for everyone. And free is good, right? If you'd be so kind as to allow our site, we promise to keep bringing you great content. Thanks for that. And thanks for reading Autoblog.
Here's how to disable adblocking on our site.
Click on the icon for your Adblocker in your browser. A drop down menu will appear.
Select the option to run ads for autoblog.com, by clicking either "turn off for this site", "don't run on pages on this domain", "allow this site" or similar. The exact text will differ depending on the actual application you have running.
Refresh the Autoblog page you were viewing. Done!
Hey again!
You still haven't turned off your adblocker or allowed our site. It only takes a few seconds.
You must be logged in to perform that action.
Sours: https://www.autoblog.com/buy/2006-Lotus-Elise/
Lotus review 2006 elise
2006 Lotus Elise Road Test
Hardly Ideal but Just About Perfect
I'dthought I'd driven a true purists' sports car before, having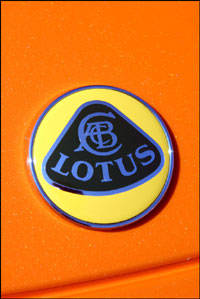 Now there's a brand logo we haven't seen here in quite some time... (Photo: Trevor Hofmann, Canadian Auto Press)
pilotedeverything from Mazda's pesky little MX-5 Miata to Ferrari's superblycrafted F430, and most everything in between on the street and aroundrace tracks, but while each has been wonderful in its own way, nothingcould have prepared me for the ultra-light Elise.
In NorthAmerica, anyway, nothing as inherently visceral exists. No car connectsas intuitively to its driver, or relates as much information about whatit is doing and what it's about to do. Certainly Mazda's littleroadster is minimalist compared to an everyday midsize family hauler,and Porsche's Boxster is about as much fun as any open-top luxurysportster can get, but believe me when I tell you that even the agilePorsche feels like it's wearing lead boots when put side-by-side withthe Elise.
It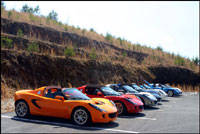 You can't see it, but all seven Elises are actually anchored to the ground to prevent them from being blown away by the wind. (Photo: Trevor Hofmann, Canadian Auto Press)
only makes sense, after all, what with a Boxsterweighing in some 400 to 700 kilos (900 to 1,500 lbs) greater, dependingon trim level, its suspension is more taxed and engine needs to put outa lot more power to achieve the same levels of performance. The Elise,on the other hand, weighs only 900 kilos (1,984 pounds) in base trim,which in perspective is only 140 kg (309 lbs) more than the smallestcar currently being sold in Canada, the smart fortwo, and 245 kilograms(540 pounds) less than a base Mini Cooper, the smallest car availablein Canada before the smart came along. Then factor in that the Elisecomes equipped with an engine more powerful than even the top-line MiniCooper S, by 22 horsepower no less, and it's easy to understand why acar with only 190-horsepower feels like a Ferrari at takeoff.
Fewcars can manage a sub-5-second sprint to 100 km/h (4.9s to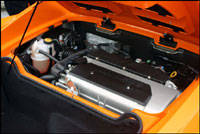 Toyota engine provides robustness, and plenty of thrust for tiny Elise. (Photo: Trevor Hofmann, Canadian Auto Press)
be exact),much thanks to its thorough use of aluminum, blatantly exposed insidethe cabin, and rigid composite body panels - even the exterior painthas been scrutinized to make sure its not adding excessive weight.Actually, I've never been around a team of engineers so obsessed withweight reduction (no doubt we journalists should be so concerned). Needto know the weight of the right front fender, each individual seat, thegas cap... they can tell you. Fortunately their somewhat disturbingpreoccupation has resulted in a car that can transform Toyota's peakylittle 1.8-litre four, with a rather thin torque curve maximized at6,800 rpm to 138 lb-ft, into a blistering performer.
To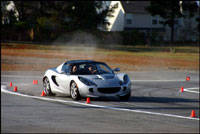 Not only does it shift the Elise, the high-revving engine creates a rather joyous sound. (Photo: Trevor Hofmann, Canadian Auto Press)
befair, this 190-horsepower mill, that features a Lotus engineered enginemanagement system, is a fabulous little beast. At around 6,200 rpm itwakes up as if juiced by a hidden can of nitrous, forward momentumpersisting as it whips into a frenzied 7,800 rpm maelstrom to deliverpeak power. I kept it up over 6K most of the day, the power instantlyon tap and mellifluous whine zapping the synapses to my brain, abarrage of nervous impulses force fed from one neuron to another, withwhat seemed like constant electric stimuli - OK, I spent much of myearly adulthood strapped to Japanese sport bikes, so the sound of ahigh-spirited small displacement engine is beyond intoxicating to me.
Sours: https://www.auto123.com/en/car-reviews/2006-lotus-elise-road-test/43167/
LOTUS ELISE REVIEW - I think I'm in love?
.
Now discussing:
.
134
135
136
137
138