Why Good Girls Is Such a Rewarding Show
Culture
The series, which wraps its second season on Sunday, has blossomed into a uniquely flavored, daring drama of the sort found more frequently on cable.
By Shirley Li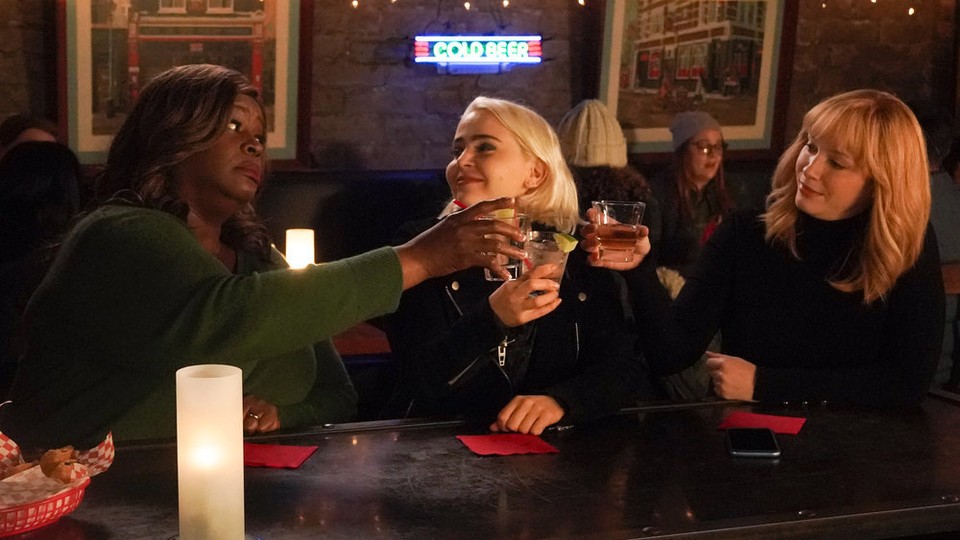 When Christina Hendricks first read the script for Good Girls, she was certain the gutsy story—about three Detroit moms who turn to crime to make ends meet—would get neutered by NBC. A broadcast network, the actor explained at a panel, meant constraints, constraints that could dull daring programming. "My big fear was that it was on network television," she said. "I was terrified that they were just not going to allow the real rawness of it."
Good Girls, which wraps its second season on Sunday, was indeed a rather bold choice for a network that prefers dramas such as the wholesome This Is Us and procedurals set in Chicago. The story follows three women—Beth (Hendricks), a steely mother of four; Annie (Mae Whitman), Beth's little sister and a single mom; and Ruby (Retta), their happily married best friend with two kids—who, at a loss over how else to solve their various crippling financial troubles, decide to rob a supermarket in a heist that attracts the attention of a local gang.
It's a log line that didn't seem like it would yield multiple seasons, let alone one. But over the past two years, Good Girls has kept the story wheel turning while also quietly challenging the network-TV status quo. (Though it has struggled with low ratings, the series reportedly does well on Netflix, which helped it earn a third-season renewal last month.) Complicated antiheroes, audacious plotting, and inventive camerawork don't often live outside of cable and streaming, and yet Good Girls makes it work.
When the show began in early 2018, its premise led critics to call it a "gentler" and feminist version of Breaking Bad. Those comparisons worked decently back then: Season 1 treated the women's plight breezily—as breezily as a show introducing a trigger-happy neighborhood crime boss named Rio (Manny Montana) could, at least. There were zingers ("Aw, you guys didn't hit me up to do brunch?" Rio teases when the women ask him for some face time), mommy jokes (criminal activities are basically bake sales, no?), and the occasional wig.
Season 2, however? Not really gentle anymore—and much less network TV–friendly. The series is interested in showing not just the messy consequences of the women's criminal actions, but also the difficulties they face trying to hold on to their moral center. This year, they nearly committed murder—and their decision not to kill Boomer (David Hornsby), the slimy supermarket manager who threatened to rat them out to the FBI, comes back to haunt them. In last weekend's penultimate episode, the women realized that they had accidentally disposed of an innocent stranger's body—a task they performed in the first place because of their failure to kill Boomer. (In Breaking Bad terms, they'd chosen a half measure.) Now they have an extra corpse, the still-alive Boomer to take care of, and the feds on their tail anyway. The show leans in to the challenge of being good: The more the women try to maintain normal lives—Annie has started calling their criminal activity "extracurriculars" to downplay it—the worse things get.
If Good Girls has become a more fascinating show by digging into and raising questions about morality, it has also, this season, more deeply probed the costs of female ambition. Since discovering her talent for crime, Beth has developed an appetite for a more thrilling existence. She seduces Rio and takes control of her husband Dean's business. But her drive doesn't go unpunished: The neighborhood moms become threatened by her self-assuredness. Dean (Matthew Lillard), feeling emasculated by his wife's success, lashes out and takes the kids away. By the back half of the season, Beth feels trapped: She craves more than the life she thought she wanted, but wanting more hurts the life she built. Looks like women just can't ever, you know, have it all—the kids, the career, and the crime ring.
Ruby and Annie, too, have had deeper, meatier arcs this year. Ruby comes close to betraying her friends, while her husband, Stan (Reno Wilson), compromises his job as a cop by tampering with evidence to protect her. Toward the end of the season, he gets arrested and handcuffed in front of his and Ruby's daughter, who now no longer looks up to him. Annie, meanwhile, gets romantically involved with her ex-husband and loses her child Sadie's trust. She wins it back just in time: Sadie (Isaiah Stannard), in a tender scene, comes out as a transgender boy—a groundbreaking moment for trans representation, especially for network TV.
That's not to say the show has stopped being comedic. If anything, it's amped up its gallows humor, supplementing it with visually striking sequences. During a job Ruby and Annie try to pull off on their own, the camera lingers on them as they sit in the front of a school bus—yes, they attempt it while chaperoning a Girl Scouts trip—capturing the tension in a nerve-racking shot that ends only when Ruby blurts out a confession. When Beth, after angering Rio, starts receiving a severed body part in the mail each morning, the show makes a brilliant scene of her reaction: Her daily destruction of the package in the kitchen sink's trash compactor is edited to become more unnerving each time, underlining Beth's frustration and horror at having to dispose of an appendage before her kids are awake.
In a way, Good Girls has created a genre all its own. Led by the showrunner Jenna Bans (Scandal), the series is neither crime drama nor black comedy, but something in between. It's a strong character study of three flawed women challenging what's right and what's wrong, what's good and what's bad. Beth, Ruby, and Annie are being recognized—and rewarded, via mounds of cash—for their resourcefulness, and they like it. It's like a twisted notion of self-care: By moonlighting as criminals, they scratch an itch they can't in their daily lives. It's not like Beth's four kids thank her every morning for making breakfast, packing their lunch, and baking hundreds of cupcakes for their classroom social.
Maybe a clue to the show's casual rebellion was in the pitch process to NBC, which was apparently quite easy. It probably helped that Bans met with women executives who could presumably grasp the characters' tricky motivations. ("I think I got three sentences in before [the then–NBC exec] Jen Salke screamed, 'We have to do this!'" Bans told Variety.) Maybe they understood Beth, Ruby, and Annie's urge to defer to their id. Maybe they saw the show as a guilty pleasure, and didn't see it becoming something a little more subversive than that. Whatever the reason, Good Girls is, so far, proving its worth.
Sours: https://www.theatlantic.com/entertainment/archive/2019/05/good-girls-nbc-season-2-christina-hendricks/590173/
"Good Girls" experiences the ennui of being bad in season 4
Good Girls digs deeper into the grind of a life of crime but loses a bit of its spark in the process.
In the first three episodes of Season 4 provided to critics, Good Girls one begins to feel a creeping sense of the same. The "girls"—Ruby (Retta), Beth (Christina Hendricks), and Annie (Mae Whitman)—are still jockeying for power with Rio (Manny Montana). Beth is finding herself, once more, in a sexually charge situation with a known felon—this time a hired killer named Mr. Fitzpatrick (Andrew McCarthy)—while her husband Dean (Matthew Lillard) is left in the dark in that and so many other ways. Ruby and Stan's (Reno Wilson) child, this time their son, is getting in trouble, the kind of trouble their criminal endeavors make both easier and harder to deal with. A zealous federal agent, Phoebe Donnegan (Lauren Lapkus), is closing in on them all, too.
The more things change, the more they stay the same.
This is not, however, a bug of this latest season but rather, clearly, a feature. The people behind the show, led by creator and executive producer Jenna Bangs, haven't lost control of the wheel or gotten lazy. No, it's all very intentional. Crime may pay better than a grocery store job, but, at a certain point, it can be just as repetitive. If the previous seasons have all been about exposing the rot at the heart of the idea that Americans work hard and get rewarded as a result, season 4 stands ready to remind us the promises of an easy life brought to you by crime are just as hollow.
Girls also nails the sensation we all have when we do the same thing over and over, the feeling of the loop somehow getting tighter and tighter. Take, for example, Rio's relationship with the trio. In the past, Rio would hang over one threat of blackmail and send Beth and Co into anxiety-fueled fits for episodes after, if not an entire season. Here, in the first three episodes, he makes several and they parry effectively in kind. But there's no joy to it, no sense of thrill. This is crime as the rat race, a daily cycle of two steps forward, one step back.
Even new challenges feel similarly grey and empty. In other seasons, in other shows, a shopping spree designed to hide criminal endeavors would likely end up a candy-colored celebration of rampant consumerism. Here, Retta's Ruby uses it to get school supplies she seems more annoyed with than anything. Whitman goes even further, draining the dominance of a charity auction of any feeling beyond desperate defiance, raging against her reputation and the fact that her son Ben (Isaiah Stannard) is outgrowing her. In a room full of people impressed with her charitableness and a tropical getaway waiting for her, she has never seemed more miserable.
Not all of it works, certainly. Fitzpatrick's romantic fixation on Beth induces eye-rolling for sure. Yes, Hendricks is an undeniable presence on-screen but does that really mean every criminal she partners up with inevitably wants to sleep with her? The situation does, however, go to show Beth no longer gets lit up by her criminal pursuits. Contrast her reactions to Fitzpatrick's interests with that of Rio's and you find someone who is very much done connecting risk and sexual satisfaction. Having a "work" husband to flirt with, and maybe more, just isn't that much fun anymore.
There is a cost to this approach. By driving Girls deep into its malaise, the show does lose a bit of its kick. While still more than capable of landing a dry aside or darkly funny case of mistake communication, it nonetheless has a little less zest. It's being honest about how dull crime can be. It rightly portrays how hard it can be to shake loose of crime due to a combination of the trouble you court and the dependence you develop. But these aren't as fun to explore as illicit sexual trysts or Robin Hood-esque stickups. In the series' commitment to emotional truth, it ends up losing a bit of what drew viewers to it in the first place.
This is crime as the rat race, a daily cycle of two steps forward, one step back.
It's difficult to figure out how the show can resolve that conflict. On the one hand, it doesn't exactly feel as though Girls can support a full and complete exploration of "regular" people falling totally into a life of career crime. On the other, Retta, Hendricks, and Whitman have all done such strong work capturing how small moral compromises gather and change you that it feels like a betrayal to simply roll back the clock on the show's tonal evolution.
In the final episode of those provided to critics, there does seem to be a suggestion the show has an awareness of the possible problem too. In many ways, the last third or so of that installment presents like an ending. If you told me it was the series finale, I would believe it. So, perhaps, Good Girls is about to pivot in a new direction and it just needed these first three episodes to clear the decks.
Regardless, even with a little less spring in its step, the show remains one of the few network hour-long series that actively seem to be trying to do more than just stay on the air. As a family-driven drama that feels grounded in some reality, that consistently rejects going for easy tears in favor of more complicated relationships, Good Girls more than earns its timeslot.
Good Girls starts up the printing presses again on March 7th.
Good Girls Season 4 Trailer:
Liked it? Take a second to support The Spool on Patreon!
Tim Stevens
Tim Stevens is a freelance writer and therapist from the Nutmeg State, hailing from the home of the World's Smallest Natural Waterfall. In addition to The Spool, you can read his stuff in CC Magazine, Marvel.com, ComicsVerse, and The New Paris Press. His work has been quoted in Psychology Today, The Atlantic, and MSN Ireland. And yes, he is listing all this to try and impress you.
All posts
Sours: https://thespool.net/reviews/tv/good-girls-season-4-review/
Good Girls: Season 1 Reviews
Page 1 of 3
March 9, 2020
It's such a reliable and adaptable chassis to hang a show on, it's not really any surprise that the makers of Good Girls manage to inject some truly funny material and situations into every episode.
Full Review
June 5, 2019
There is good chemistry between [the protagonists] and the minutes flow quickly. [Full review in Spanish]
Full Review
March 15, 2019
"Good Girls" is a serious show about three women on the verge of suffering from a nervous breakdown, and as someone watching at home -- you feel for them, easily. But even with such a serious tone, the show still manages to be laugh-out-loud funny.
Full Review
March 8, 2019
Regardless of its flaws, Good Girls provides entertaining and complex female protagonists who are neither good nor bad. They are perfectly human.
Full Review
December 20, 2018
Charming as their performances were, the trio of beloved actors couldn't redeem a series burdened by tepid writing, underdeveloped characters and a conspicuous thirst for armchair-liberal and internet-feminist approval.
Full Review
October 30, 2018
Rather than revel in female Robin Hood types, we get a more rote tale of women from different privileged backgrounds dealing with a life of crime.
Full Review | Original Score: 2/4
July 20, 2018
For all the slapstick and zingers, it's still a drama about three suburban Detroit mothers having a hard time trying to make ends meet.
Full Review
July 19, 2018
The problem here is that the makers haven't decided whether they're making a comedy or aiming for a female Breaking Bad, and so it's neither.
Full Review
June 19, 2018
In the midst of all the criminal activity, Good Girls finds time to devote to its other storylines. Specifically, the emotional family arcs.
Full Review | Original Score: 4/5
June 14, 2018
There's still room for improvement, but Good Girls hasn't found its footing by its first few episodes; a crime drama of this ambition needs time to percolate.
Full Review
April 4, 2018
... with the #MeToo movement still going strong, a story about three women taking control of their lives and perhaps breaking bad a little bit was intriguing.
Full Review
March 1, 2018
It feels like there's a built-in shelf life for Good Girls, but watching these frazzled moms use their hard-won problem-solving skills to get out of scrapes is a fun caper while it lasts.
Full Review | Original Score: B
Page 1 of 3
Sours: https://www.rottentomatoes.com/tv/good_girls/s01/reviews
Crime Centric: Good Girls Series Finale Review
Network television doesn't get much attention anymore, aside from GIFs from The Good Place and This Is Us, or a passing, curious mention of The Masked Singer. (And, of course, The Bachelor and sports and stuff.) All the cool things seem to be happening on streaming and cable, further from the pressures of supposed public decency, where TV is freer to be weird and dangerous. What a nice surprise it is, then, that there's a show on network television—NBC, specifically—that is daring and full of fun, that often feels as nervy as anything on FX or HBO. You should watch Good Girls, is what I'm saying.
The show's second season premieres on March 3, giving you a few days' time to catch up with the first season, a Breaking Bad–esque narrative about three suburban Detroit women turning to crime to solve financial ills. Good Girls may borrow from other series, but what it does with those revisited tropes feels fresh and exciting. The series, created by Jenna Bans, has a nice coil to it, tense enough that cliff-hanger endings land with a crack, but loose enough that there's room for playfulness, for sweetness, for discursive ramble that the show's three leads maneuver with natural charm.
Those performers are the major asset of Good Girls.Christina Hendricks takes the first-among-equals lead as Beth, a harried mother of four who realizes she maybe wouldst like to live deliciously as she takes a spin around the room with the devil. She's the Walter White of the group, I guess, and Hendricks is great at communicating that dawning appetite for dark energy, the sudden conflict between Beth's settled life and the one that until recently she never dared to imagine. Hendricks also has an irresistible chemistry with Manny Montana as a local gangster who becomes Beth's main antagonizer and enticer. Their circling of one another, juggling threat and flirtation, is the stuff of perfect TV drama, sophisticated in its soapiness.
As Ruby, mother to an ailing daughter and the moral compass of the three women, Retta richly expands on her Parks and Recreation appeal, deftly crafting a complicated marital bond with Reno Wilson and managing all of Ruby's gnawing, mounting worry with sharp humor. It's a thrill watching an actor prove their range, and Retta would be on Emmy shortlists were there any justice in this world. (I guess Good Girls would argue, in some ways, that you have to make your own justice.)
Mae Whitman rounds out the trio as Beth's scrappy sister, Annie, a single mom with an anarchic streak that is sometimes the teensiest bit cartoony, the show's most frequent indulgence. Otherwise, though, Whitman is just as dialed-in as the other two; when the three of them are together, bickering and negotiating and consoling, the show hums along. They get able support from Wilson, Montana (swoon), Zach Gilford, David Hornsby, Matthew Lillard (yes!!), and especially this season, Allison Tolman as another exhausted mother hip to the crimes being perpetrated and wanting her cut for staying quiet. It's a really well-curated group of actors, all reveling in the clever contours of the writing.
In Season 2, the complications must take on extra shape, as certain problems from the first season are resolved (in violent fashion) and new quandaries present themselves. In setting all that up, Good Girls is sometimes a little blithe, trying to sweep grim things out of our minds too quickly or skipping hurriedly through time to get somewhere new. For the most part, though, the show remains compelling as ever, a smart mix of comedy with serious stakes—ones that are rarely not felt. The show isn't afraid of the grisly, but it's also not interested in shock value. Its naked and admirably simple main motive is to entertain, which it does in abundance.
This kind of television show shouldn't feel as rare as it does—an intelligent yarn that's broadly accessible, that's digested easily and satisfyingly while still provoking hunger for more. Which isn't to say Good Girls is junk food or a guilty pleasure or anything like that. It's genuinely well-made TV, on par with a lot of "prestige" series on slicker networks. What distinguishes it is that it has no intention to alienate or over-impose—it's not at all aggressive about its artistry, and doesn't preen or indicate or crow about its own embellishment.
I guess the word I'm looking for is "modest," but I don't like the gendered connotations that word comes with. All I'm trying to say is that Good Girls is a simple pleasure: a good, solid series that isn't getting more hype because it refuses to hype itself. You should watch! The dragons and the zombies and the existential murder mysteries and all the rest will still be there after you take a break to catch up on Good Girls, which is like having a great, zippy conversation with a new friend. One not laden with history and expectation and concerns about returned investment. The women of Good Girls may be thieves, but they demand little of us but our enjoyment.
Sours: https://www.vanityfair.com/hollywood/2019/03/good-girls-is-the-best-crime-show-youre-not-watching
Review good girls
Why Good Girls is as good as, if not better than, Breaking Bad
Opinion
By Jenna Guillaume
Good Girls is one of the best shows you probably haven't watched.
Or maybe you have now, if you're one of the people who caused the show's fourth and final season to trend on Netflix when it dropped this month. As a longtime fan of the show, it was heartening to see, especially after feeling like I was screaming into the void whenever I talked about the show and was met with blank stares from usually pop culture-savvy friends.
Over the years, I've been surprised that more people weren't watching and talking about Good Girls. It's entertaining, addictive and has a great cast including Christina Hendricks, Retta, Mae Whitman and Matthew Lillard. Not to mention the fact that it bears so many similarities to one of the most watched and talked about shows of all time: Breaking Bad.
Both shows are about desperate suburban parents who find themselves in dire financial straits due to a broken capitalist system and who turn to crime in order to solve their problems. In both, we watch the main characters morph from ordinary, well-intentioned members of the community to murkier, more sinister criminals who willingly – even happily – do terrible things.
Where Breaking Bad is about drugs, Good Girls is about robbery and money laundering. And while Breaking Bad is a gritty "prestige" drama, Good Girls balances its darker elements with a comedic and occasionally frothy tone. But this contrast itself makes it worth interrogating our concept of what is classified as prestige and why – because the biggest difference between these shows is that Breaking Bad is about men and almost revels in toxic masculinity at times, while Good Girls is about women and, amongst other things, the way that such toxic masculinity unravels their lives.
Loading
Part of the issue is the way our culture in general treats serious and dramatic stories as more worthy, while comedy is often seen as lesser – even though it's much harder to make someone laugh than it is to make them cry. But at the heart of it is also the fact that men's stories are deemed serious and worthy, while women's can be treated as less important, even frivolous.
Interestingly, this is where Good Girls′ greatest strength lies. The show leans into the frivolous and feminine, not just in tone, but in character and plot, too. It takes assumptions and stereotypes about womanhood and motherhood and cracks open the layers contained within them, and the power they can hold.
It's there in the very premise: the last people you'd expect to become armed robbers and money launderers are three suburban mums who usually spend their time focused on carpools and bake sales. The three women use that to their advantage and are able to evade suspicion many times over. Even when their activities arouse police interest, the show's other characters assume they're just accessories to the men in their lives – not the masterminds behind the whole operation.
Loading
The crimes the women commit and the way they carry them out are also grounded in the feminised world. They launder their money through shopping at big box stores, enlist the help of other women in a pseudo-multilevel marketing scheme, and utilise their knowledge of beauty products, baking, crafts and literal laundry to print money. All the while, the men in their lives struggle with their actions, and the shifts in power dynamics, and consistently create new problems for the women. It makes for a fascinating interrogation of gender dynamics and the way toxic masculinity undermines women.
With the show not renewed for a fifth season, it's too late for a true sense of closure on Good Girls. But the journey it takes over four seasons is still well worth the ride, and definitely worth talking about.
Who needs prestige TV anyway, when there's so much nuance – not to mention fun – to be found in the frivolity.
Find out the next TV, streaming series and movies to add to your must-sees.Get The Watchlist delivered every Thursday.
From our partners
Sours: https://www.smh.com.au/culture/tv-and-radio/why-good-girls-is-as-good-as-if-not-better-than-breaking-bad-20210927-p58v4i.html
The Good Girls Ending Explained
Good Girls is trapped in familiar, messy territory in season 4
With its solid first two seasons, NBC's crime dramedy Good Girlsestablished itself as enjoyably escapist TV. The main plot—three suburban women rob a grocery store to make ends meet but end up working for a wanted criminal as their personal lives crumble—was elevated by the show's dark humor and commentary about society's expectations of women and the struggles of the working class. The lead trio of Christina Hendricks, Mae Whitman, and Retta delivered remarkable performances as Beth Boland, Annie Marks, and Ruby Hill, respectively. A middling third season couldn't take the luster off the ensemble, and they continue to shine in season four, even as the newest episodes rehash similar arcs without much character development.
Good Girls is now stuck in repetitive storytelling when it needs a fresh start. This could've come from the apparent death of crime boss Rio (Manny Montana) in the season-two finale. Instead, Rio continues to live on in season four, and the women are still figuring out how to get rid of him for good and survive on their own. They just keep coming back to season square one.

ReviewsPre-Air
B-
Good Girls
Starring
Christina Hendricks, Retta, Mae Whitman, Matthew Lillard, Manny Montana, Reno Wilson, Isaiah Stannard
Premieres
Sunday, March 7 at 10 p.m. Eastern on NBC
Format
Hour-long dramedy; three episodes watched for review
For the first couple of episodes, Good Girls hovers in a comfortable narrative pattern. Beth is still working for Rio, using the hot tub store she runs with her husband, Dean (Matthew Lillard), as a front to launder money, as opposed to their now shut-down car dealership. She is also confronted by the hitman she previously hired to kill Rio, Mr. Fitzpatrick (Andrew McCarthy), in a storyline that is reminiscent of Leslie, a.k.a. Boomer, from season one. Ruby and Stan (Reno Wilson) deal with more financial woes as they help out their daughter Sarah's kidney donor family. Agent Phoebe (Lauren Lapkus) has gone undercover with Beth instead of Ruby, hoping to uncover the details of her scheme, even though her higher-ups don't believe a soccer mom could be involved in such crimes.
However, it's Annie who gets the short end of the stick yet again. Whitman delves into Annie's emotions with a lot of heart, much like she did with her character in Parenthood, but the scripts don't give Annie the opportunity to evolve. While she spent most of the third season trying to hook up with her therapist and failing her GED test, this season mostly tests her abilities as a mother. Her relationship with teenage son Ben begins to falter, and Annie just refuses to grow up. It was fun to see this carefree Annie in earlier seasons because it aligned with the plot. After all, it was her initial idea to rob the place where she worked that started everything. But in its fourth year, it is tiresome to watch Good Girls not give Annie (and Whitman) worthy material. The episode "Fall Guy" does finally kick things into gear, as it expands Ruby and Stan's arc, hopefully giving them more to do together, because Retta and Wilson share delightful on-screen chemistry.It also lends some maturity to Annie's parenting style and delves into the Beth and Dean romance, giving much-needed insight into their relationship as the show continues its attempts to redeem Dean's character. But it's the third episode of the season, so you'll have to be patient.
While these are promising storylines, the biggest issue remains the same: The main trio somehow still make the same glaringly stupid decisions they did when they were rookie criminals. All that time spent transforming Beth into a badass boss feels wasted if she's still just going to play cat-and-mouse with Rio. He's a formidable, charming villain—and Montana excels in the role—but one of the biggest problems with season four is that it doesn't offer anything new to his fraught, hot-and-cold relationship with Beth. Perhaps getting rid of him (as much as it would hurt) and introducing a fresher, stronger enemy is the jolt Good Girls needs. What hasn't slowed down this season, though, are the performances. Hendricks, Whitman, Lillard, and Hill have all perfected their characters. Retta is the MVP, making the most of the softer notes and continuing to show her range after Parks & Recreation.
Good Girls creator Jenna Bans' previous series include Desperate Housewives,Grey's Anatomy, and Scandal. The former kept reinventing itself every season with new mysteries without losing momentum for its protagonists, while the latter two are ideal examples of blowing up what audiences thought about the narrative and then rebuilding (see: Derek Shepherd's arrival, Rowan Pope's villainy, etc.). Perhaps this crime drama works better as a binge-watch, which is why the show picked up steam when it dropped on Netflix almost a year after its premiere on NBC in 2018. But for now Good Girls needs a creative lift.
Sours: https://www.avclub.com/good-girls-is-trapped-in-familiar-messy-territory-in-s-1846367883
Similar news:
8/10
Very good...but...
MartinHafer19 March 2019
I am enjoying "Good Girls" very much as I watch this series. It's about three lady friends who live in suburbia who resort to crime in order to dig themselves out of their financial holes. One has a sick daughter and they cannot afford meidcal treatment, one is having trouble making ends meet and one has a husband who is cheating on her and has spent them into oblivion. So, they decide to commit one robbery...one and that's all....or so they think. Soon, they find that this one robbery leads them into becoming, believe it or not, gang members!

The show is very creative and enjoyable. My only complaint is that instead of these women being empowered by their lives of crime, too often they just seem like idiots who, again and again, luck out and don't get shot for dealing with very dangerous people. One of the women, in particular, is just too stupid to live. If this were mitigated, I'd consider giving the show a 9 or 10. Still, despite this, you can't help but keep watching.
3 out of 8 found this helpful. Was this review helpful? Sign in to vote.
Permalink
8/10
Breaking Bad-ish
SnoopyStyle24 July 2021
In the Detroit suburbs, sisters Annie (Mae Whitman) and Beth (Christina Hendricks) with best friend Ruby (Retta) are robbing a grocery store. Single mom Annie works there as a cashier. Her son gets bullied at school and her ex wants custody. Beth is married with four kids. Her husband Dean (Matthew Lillard) is sleeping with a young co-worker and ruining the family finances. Waitress Ruby is desperate for money to pay for her daughter's medicine. They expect 30k at most from the robbery but nets 500k. It's dirty money and gangster Rio (Manny Montana) wants it back with interest. Sleazy store manager Boomer blackmails Annie.

This is Breaking Bad for gals. It's also Network TV which keeps it in a gilded cage. The good is the excellence of the three female leads. They are amazing. Hendricks is itching to go full Walter White but Network TV is holding her back. She has to be the victim of circumstances. With more freedom, the show would let rise to be a ruthless kingpin. The husband is also problematic in that Beth should fish or cut bait. She should pull him fully into her crimes or get rid of him. In my opinion, she should make him one of girls and have to kill him herself during the second season. Sadly, network comedy thinking is keeping this show from fully exploding. It's still really good but it could be great.
4 out of 6 found this helpful. Was this review helpful? Sign in to vote.
Permalink
9/10
wild and crazy
blanche-26 September 2021
Christina Hendricks, Retta, and Mae Whitman are Beth, Ruby, and Annie, the not-so "Good Girls" in this 2018 series about a group of housewives gone bad.

There isn't anything realistic about this series, so people who are looking for realism, this isn't for you. Three women, desperate for money for different reasons, decide to rob a Walmart-type store where one of them works. The understanding is that there is "at least $30,000" in the vault.

They manage to pull it off, but wind up with $500,000, as it seems someone is involved in money laundering. They soon find themselves involved with a all-around crook, Rio (Manny Montana) who kills without compunction and forces the women to work for him transporting counterfeit money disguised as wrapping paper on the front. The women find themselves headed deeper and deeper into lives of crime.

The good thing about the series is that, while the situations may not be realistic, the characters are very well drawn, with Beth realizing her con-man side, Retta telling herself she's a good wife and mother while dealing the guilt of her crimes, and Annie, involved with her ex-husband, his pregnant wife, her transgender child, and a therapist trying to help her.

This is a suspenseful, exciting, and often poignant series. I love it.
1 out of 2 found this helpful. Was this review helpful? Sign in to vote.
Permalink
3/10
Not Good Enough
pennyelenabooks28 August 2021
Good Girls kind of have a good prompt for a story, but they can't make it fresh or actually pull it off. After three seasons, the story starts repeating itself: the three friends have money problems, try to solve them by doing something illegal, they get in more trouble, have to do more illegal activity etc (you get the drill). And, unfortunately, the bad guy doesn't even look intimidating enough to get that Godfather appeal to make him interesting enough to be the love interest. If the writers didn't try so hard to make the husband the worse character ever created, the two of them wouldn't have been a probability in the first place. They didn't even have any moment of romance between them, so it's difficult to root for them. The other two were just there to support the main lead, who, in the first season at least, was constantly making bad decisions, and she then regrets them, and only because she was bored and regretted her life choices. Even the whole running from the police wasn't intriguing enough. Really disappointed.
1 out of 2 found this helpful. Was this review helpful? Sign in to vote.
Permalink
10/10
Excellent Series - Excellent Actresses - A Fun Storyline For Viewers To Watch Unfold
dwp194817 February 2021
02/17/2021 It's definitely an excellent series that draws the viewer in right away and holds them, episode after episode. When you're left wanting to watch more after a season ends, you know that it's a winner. The only negative aspect that has bothered me from the beginning is the character Annie played by Mae Whitman. The writers/director have her character appear overly goofy, young and dumb, with sympathetic eyebrows and chopped bleached blonde hair. Her real life images online prove her real beauty which proves that the director has created her characters appearance artificially . Now in series 3 they've changed her appearance to be more in sync with her costars and have since dropped much of that little girl (I'm an air head) routine. It's an excellent series that I hope will continue on for many more years to come? Bon Appetit'

Online season 4 info: Season 4 debuts March 7, 2021 on NBC. Based on the past three seasons, Good Girls Season 4 will probably be on Netflix in early 2022. The premiere date could be as early as January 1, but it's more likely that Season 4 will arrive on Netflix in March of 2022.
1 out of 2 found this helpful. Was this review helpful? Sign in to vote.
Permalink
3/10
Kind of pathetic.
mhorg20182 September 2019
After Breaking Bad set the bar incredibly high, any show about average people trying to make ends meet through crime, has a lot to show. This show fails miserably. It has a decent cast, but the writing is ridiculous. By the third episode they all should have been in jail or dead. How many people can possibly know what's going on before the police are knocking down their various doors? The 'drug' lord is a moron, and in real life would have murdered all these people already. The Fed is another corrupt pinhead, who any decent lawyer would destroy in court. They go from one stupid situation to another. The writing is just poorly thought out.
2 out of 7 found this helpful. Was this review helpful? Sign in to vote.
Permalink
5/10
BREAKING BAD FOR 5YO GIRLS
MadamWarden27 September 2021
I watched 7 episodes as I really wanted to give it a chance but I ended up fast forwarding through more of it than I watched. Too much hysterical housewife melodrama and too little Breaking Bad.
2 out of 2 found this helpful. Was this review helpful? Sign in to vote.
Permalink
9/10
good, entertaining, some originality with an old idea
braquecubism17 September 2019
Christina is a real surprise after MadMen. She is younger, fresher and sweeter with natural make-up- a real beauty. And a good actress- you can really like her. At times she seems girl like, altho mother of 4 with a rogue husband, played well by Matthew- yes you want to punch him in the face. Interesting diverse lead characters- all 3 women, markedly different, in looks and circumstances. I will avoid giving plots; OK, they get in deep and always get out- that's the formula in a series. When I 1st read the premise, I wasn't sure, and waited to watch. This could have gone really wrong. but didn't.
0 out of 2 found this helpful. Was this review helpful? Sign in to vote.
Permalink
4/10
Tried and Tried
svader3 October 2021
Tried a few times to get into this but i just cant get past the first 3/4 episodes.
1 out of 1 found this helpful. Was this review helpful? Sign in to vote.
Permalink
7/10
Decent Netflix Series
bazookamouth-221-8980972 September 2018
I binge watched the whole season now in the time frame of 24 hours. Its a good series, I wouldn't it was a great series as some of the reviews on IMDb have stated (7.9 IMDb). Trio of surburban moms turned criminals led by Christina Hendricks, with comic support from immature Mae Whitman and always a black lady (Retta) to appease to the African-American viewing dynamic. Hendricks steals the show though. Works best when they are doing the criminal stuff and least with the individual subplot family drama stuff. Matthew Lillard seemed to have aged 20 years all at once. Worth watching but gone out of the memory quickly now and I wont be in any hurry to watch Season 2.
2 out of 7 found this helpful. Was this review helpful? Sign in to vote.
Permalink
9/10
The opposite of Bad Boys? Good Girls!
adampkalb18 August 2018
I think it's a neat show to watch about 3 girls robbing a grocery store to help their families in financial trouble and wind up trouble with a gang who need them to smuggle counterfeit money on wall paper, and more stuff happens that's too complicated for me to describe in this comedy-drama series, which is good because that makes it hard for me to spoil anything. And it's filmed in Atlanta, which is also where they make Family Feud with Steve Harvey. I live in Horsham, and I would love to travel south to visit where they film Good Girls. I've traveled further for Florida in Thanksgiving 2004. The first season of this show was a little scary but awesome! I can't wait for the 2nd season!
4 out of 5 found this helpful. Was this review helpful? Sign in to vote.
Permalink
4/10
So Much Frivolous Nonsense
mcjensen-0592412 August 2018
I kind of got drawn into this after the first few episodes, although there were certain aspects I had to overlook to enjoy. By the end of the 4th episode I was ready to quit, but gave it 2 more. Why? Good question. I wish I hadn't! Nothing but awful people justifying rather unbelievable crimes, and constantly lying to their loved ones. If you like people acting in irrational ways time and time again, and inane plot twists that stretch the limits of credibility, this is the show for you. I tapped out 5 minutes into episode 7, and couldn't care less what happened to any of the schmos in this show. Only standout acting wise was the character "Rio". He was quite riveting in his role.
6 out of 14 found this helpful. Was this review helpful? Sign in to vote.
Permalink
7/10
Really good but repetitive
gallagherkellie3 August 2020
Warning: Spoilers
Season one was great, 7/10. Unbelievable but funny and entertaining! Season 2 was good but the same things kept happening, and season 3 is exactly the same all over again! Every time they make money, something happens where they either lose it or have to pay someone. So they are constantly broke and working for nothing. And now another cop is after them. Also I'm not sure if the writers are trying to make us feel sorry for them, but they are 3 normal mothers who are finding it tough to pay bills. Welcome to the real world, they aren't any worse off than most people. But still I will watch season 4 because it is an easy watch! A few shock moments here and there!
6 out of 7 found this helpful. Was this review helpful? Sign in to vote.
Permalink
9/10
A Really Good 10 Episode Series/Well Worth Your Time To Watch
fredgfinklemeyer6 January 2019
01/06/2019 Try to give this new series a chance, because right after it begins the first episode has a bunch of little girls incessantly, obnoxiously chattering coupled with alot of to much girly screams - not what I consider a pleasant sound, especially knowing there's nine more unwatched episodes to go. "I almost quit" right there and then, but the storyline changed quickly, the actresses began to look like they might be real actresses and the real series took off. I pretty much binge watched the majority of the series and now I'm left hanging and hungry for more until it makes a return? Good show/adult content! Bon Appetit
3 out of 4 found this helpful. Was this review helpful? Sign in to vote.
Permalink
8/10
One of the better 'crime' series from Netflix...
canuckteach2 March 2021
I am almost through Series 2 of this mini-series about 3 moms who, after desperate financial reversals, resort to crime to try to keep the heads of their family members above water. Things go from bad to worse when, it turns out, they have lifted cash (belonging to thugs) stashed in the retail outlet's safe. Eventually, the charismatic leader (Rio, played by a very gifted Manny Montana) recruits these ambitious ladies in other schemes (non-violent like money-laundering [so, it's ok]), which leads to further crises, all of which drives the plot of this series through two seasons. (There is a third, NOT highly spoken-of by IMDb reviewers). I will probably pass on the the 3rd season, since even lovers of this series, were turned off by it.

There is some PG content here, but, as far as Netflix series go, this, overall, would fall into the top-10 percentile of acceptable choices. The performances by the 3 lead ladies, are dynamic. Reno Wilson is superb as the cop-husband of one of the ladies. Lots of twists and turns, but the decision to push on with a third season was unwise. I'd compare another fine Netflix series IMPOSTORS, which had too much scope for one season, but not nearly enough for three. They wrapped up after 2 seasons. It was dope!

Lots of laugh-out-loud moments are plentiful also. Can't wait for episode 10 of Season 2. Enjoy!!!
2 out of 2 found this helpful. Was this review helpful? Sign in to vote.
Permalink
1/10
How Do These Ratings Happen 'Organically'?
helenahandbasket-9373430 March 2021
This is barely scraping one star (music is the one I'm forced to give), how in the world is this woke, virtue-signaling hot mess getting so many ten star reviews?

Given the caliber of the actors here, I sincerely hoped for so much more, but there's not a single thing I can find here to even come close to recommending this to someone.

The characters play like schizophrenic megalomaniacs- every single 'cliff hanger' makes me wish they'd fall off a cliff so I wasn't subjected to this a minute more.

STOP VIRTUE SIGNALING WITH EVERY SINGLE OPPORTUNITY!! Being woke only gets you 3% of the general population, and the rest of us would rather watch paint dry than be subjected to this nonsense.

Just because you can, doesn't mean you should- someone get this message to the industry.
11 out of 16 found this helpful. Was this review helpful? Sign in to vote.
Permalink
5/10
Good
fccs235215 August 2018
This is good but it could be so much better. Gets bogged down by that Netflix kind of dumb fluff.

This has the potential of almost Breaking Bad level good but isn't striving to fulfill it.

Great cast, almost all the actors have amazing chemistry, and it's fun.

Worth watching.
0 out of 0 found this helpful. Was this review helpful? Sign in to vote.
Permalink
7/10
Wants to be female Breaking Bad
Nightmarelogic1 January 2020
Warning: Spoilers
This show WANTS to be the female version of breaking bad where three housewives break the law in order to keep their families afloat. The big issue is that the show refuses to take the necessary step to have Christina Hendrick's Beth Boland to break bad. The show wants to have its cake and eat it too when it comes to Beth. They want her to be bad but not so bad that you don't want to root for her but also to have affairs with the increasingly unnessariy Rio. Who by the end of the second season is the one thing stopping Beth from breaking bad which is going to end up hurting the show in the long run.
0 out of 2 found this helpful. Was this review helpful? Sign in to vote.
Permalink
8/10
Funny
brandonneicke31 July 2020
If it wasn't a comedy this would be rated a 6 because the crime side is sooooooooo far from believable. I thought weeds was unrealistic but this is just far fetched to the moon. Very funny show and great characters with solid writing and descent stories. Sometimes I feel like if it's was more accurate then it be a 9 or 10. Almost as good as weeds but anyone comparing to breaking bad is on glue. Breaking bad is a 12
1 out of 2 found this helpful. Was this review helpful? Sign in to vote.
Permalink
9/10
I like it
LtlHippo17 February 2019
Just started and I really am enjoying this. Just something fun to take my mind off of the world's problems. Love all the female leads. Good casting.
3 out of 4 found this helpful. Was this review helpful? Sign in to vote.
Permalink
8/10
Really good
Jessicanu945 July 2018
Great characters and story. I wanna watch more. The ending was such a cliffhanger
1 out of 2 found this helpful. Was this review helpful? Sign in to vote.
Permalink
1/10
Breaking Badly
MongoLloyd10 May 2021
I couldn't finish season one. Sure, regular people doing crime aren't going to do it well and they're going to make a lot of mistakes, but the criminal housewives formula was already tired before it was tired. And why are the cholos constantly pointing guns at non threatening, unarmed housewives? And counterfeiting US currency is nearly impossible. Even IF someone who wasn't the government of a foreign country could do it, spending hundreds of thousands of it in retail-land would never happen.
5 out of 8 found this helpful. Was this review helpful? Sign in to vote.
Permalink
Has its moments, but not often realizes its potential.
Darwinskid20 January 2021
The premise isn't anything new or too interesting, and the characters themselves are not that exciting or three dimensional even, but all that can be forgiven if its entertaining enough for the viewer. Alas, Good Girls, even from its first episode, presents structural issues, mostly in regards to the tone of it as well as style. The tone strives a bit too serious sometimes while in others it aims to be more comedic, a balance is there for sure but it's not very solid for quite long and in the process gives the series an identity crisis. It seems NBC doesn't really know for sure if they want to make a more network friendly alternative to Breaking Bad or Fargo, certainly the creators of it are influenced by both but never are they able to capture what makes them quality programming. The principal cast of actors have all shown to be quite good generally but sometimes overdo it to make the material better than it already is - which just shows that the screenplays needed more refining. Coming in to a new season I feel the material is getting stale, this probably might've worked out better as an anthology instead but oh well.
1 out of 1 found this helpful. Was this review helpful? Sign in to vote.
Permalink
4/10
Interesting premise but goes from funny-dumb to frustrating-dumb
OneAnjel16 May 2021
I thought I found a great new series but after the first season it becomes mired in just being dumb instead of funny and dumb. In fact, it's actually frustrating. I'm really not familiar with Christina Hendricks except from Tin Star where I thought she was actually one of the few interesting characters. In Good Girls, they try too hard to keep Beth on the fence between bad ass and dumb blond, and her snarling at Rio & constantly questioning him as if she still hasn't figured out he's a baller gets sooo old. Mae Whitman as Annie starts out interesting but becomes grating with her endless sarcasm & animated caterpillar eyebrows. I'm calling it quits after Ruby & Beth rob the flop house and then stood there arguing, literally waiting to get busted by somebody. I mean, dumb can be funny for sure, but almost all of S2 is just not funny anymore. It spends too much time just framing the same tired scenarios again and again and having these never-learn-from-their-mistakes women throwing themselves against the brick wall of incompetency. I enjoyed the first season but halfway through S2 I'm feeling really let down.
9 out of 11 found this helpful. Was this review helpful? Sign in to vote.
Permalink
An error has occured. Please try again.
Sours: https://www.imdb.com/title/tt6474378/reviews
114
115
116
117
118